Established back in 2006, British loudspeaker company Q Acoustics is still in its early days. It might not have the rich heritage of other British brands like B&W or KEF, but engineering legendary speakers like the $4500 Concept 300 has made them a recurrent name in audiophile circles. The 3020i comes at a far more earthly price, and I've been spending a week with them hooked up to an Onkyo A-9110 amplifier to find out how good they sound. 
Sale
Q Acoustics 3020i Bookshelf Speakers Pair Carbon Black - 2-Way Reflex Enclosure Type, 5" Bass Driver, 0.9" Tweeter - Stereo Speakers/Passive Speakers for Home Theater Sound System
Powerful Hi-fi Speakers Bookshelf Set: Immerse yourself in music with our 3020i bookshelf speakers. The cabinet is 25% bigger than our previous models for larger scale sound and deeper bass. A 0.9" decoupled high frequency driver with wide surround creates a wide even dispersion of stereo image.
Low Profile Terminals: Designed with recessed cut-outs to reduce cabinet noise, and featuring low profile binding posts with sockets deep enough for 0.16" banana plugs, you can shelf mount or stand mount these stereo speakers near a rear wall.
P2P Bracing: With internal bracing placed with computer aid, the structural integrity of the bookshelf speakers' enclosures is greatly improved. This helps keep the enclosure extra quiet, enhancing the focus of the stereo image and giving the soundstage more accuracy.
Bookshelf Speaker Specifications: Enclosure Type: 2-way Reflex, Bass Driver: 5", Tweeter: 0.9", Frequency Response: (+3 dB, -6 dB) 64 Hz – 30 kHz, Nominal Impedance: 6 Ohms, Minimum Impedance: 4 Ohms, Sensitivity: (2.83 V@1 m) 88dB, Power Input: 50-125W, Cross-over Frequency: 2.4kHz
What's Included: 2 x 3020i Bookshelf Speakers (W6.7 x H10.9 x D11 inch, Weight: 10.6 lb), 2 x Foam Bungs, 2 x Speaker Grilles, 1 x User Manual, 1 x Pair Handling Gloves, 8 x Rubber Speaker Grips.
Design and Compatibility
Q Acoustics have consistently designed aesthetically pleasing cabinets and the 3020i keeps the same basic design as its predecessor, the 3020. The curved MDF boxes offer a modern take on the classic bookshelf design and the shiny chrome framing around the drivers mean most will opt to leave the magnetic front grilles off.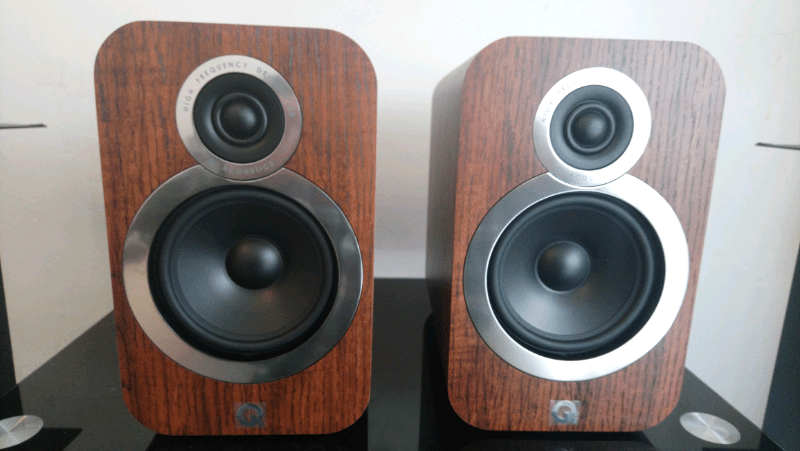 This time, however, each cabinet is 25 percent bigger and the terminal sockets are now sticking out rather than being embedded inside a small cavity. 
While they look relatively compact for a speaker with a 5-inch mid/bass driver and 0.9-inch tweeter, view them from the side and you'll realize they are very deep. Specifically, they're 11.1 inches deep and being rear-ported, you'll want to factor in an extra couple of inches for breathing room behind them.
While similarly priced enclosures often respond to a light knock with a hollow echo, the 3020i feels decisively solid. In fact, Q Acoustics have now deployed internal P2P (point-to-point) bracing to reduce cabinet distortion.  
I personally went for the walnut boxes, although they're also available in white, black and grey to satisfy every kind of taste. Q Acoustics rate the speakers for amplifiers ranging from 25-75W and hooking them up to my Onkyo A-9110 meant each one was getting over 50W per channel given their 6 Ω nominal impedance.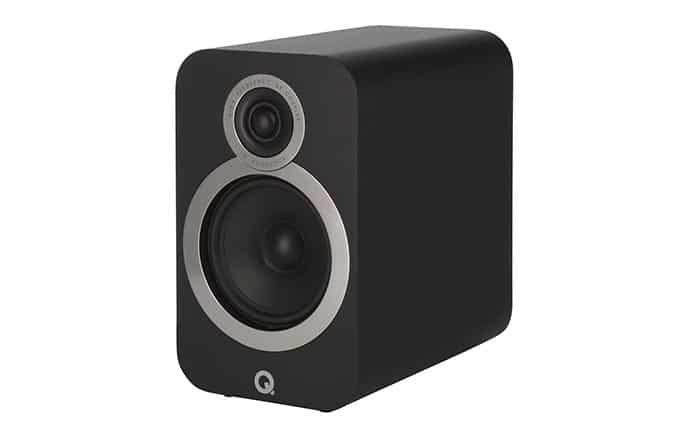 Sound Quality
Given the overwhelmingly positive reviews the 3020i received upon release, I came in with high expectations and was not disappointed. I've extensively tested passive bookshelf speakers in the ~$300 range and these are definitely up there with the best of the best. 
While a bit of extra warmth or bass boost can always give a pair of speakers a pleasant and unique sound signature, the 3020i have a very neutral and accurate tone. Sound is detailed across the spectrum but never overly harsh, while the soundstage is big and open for boxes of their size.  
In fact, its balanced tone is remarkably similar to the ELAC Debut 2.0 B6.2's I previously tested and raved on about. The mids feel a bit more forward in the 3020i, lending itself better to vocal-centric songs. However, the 64Hz – 30kHz frequency response doesn't have as much bass extension as the physically bigger ELAC boxes. Of course, a subwoofer can always be added into the setup to hit those lower lows. 
Last but not least, the 3020i's have a sensitivity of 88dB and go plenty loud if you really want them to. They sound great during near-field listening and far-field listening. Filling out small and medium room size is no issue.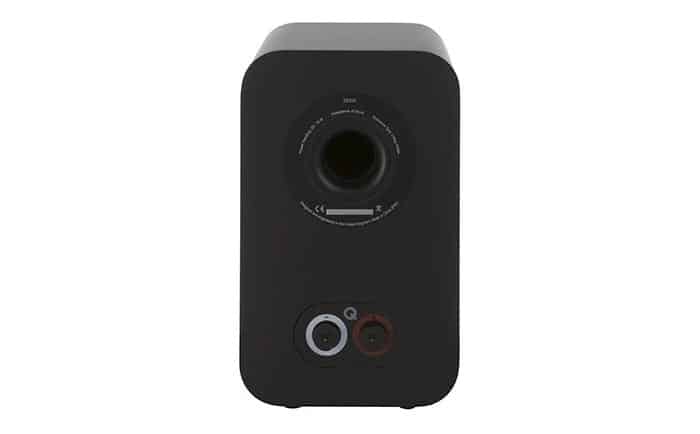 Verdict
Overall the Q Acoustics are an excellent sounding pair of bookshelf speakers. They are without a doubt some of the best sounding cabinets in the under $300 price range. Just five years ago I could confidently place them at the top of my list, but since then competitors have engineered some great speakers that make things a little less clear-cut. 
Comparing the neutral tone of the Q Acoustics to the livelier and brighter Polk Audio S20 or Klipsch RB-61 II, they wouldn't be my first pick as a left and right speaker in a home theater setup. 
But when it comes to listening to music, it's the ELAC Debut B6.2 that really gives the 3020i a run for its money. They both have a superbly accurate and uncolored sound signature that makes it impossible to pick out a clear winner. However, in the US at least the ELACs undercuts the Q Acoustics 3020i making it a fairly simple purchase decision. The tables are turned if you're buying in the UK, where the 3020i is significantly cheaper and thus makes more financial sense.
Rating: 9/10