ELAC are a German audio company that needs no introduction, and the new Debut 2.0 lineup is supposed to offer audiophile grade sound at an earthly price. Redesigned by the legendary ex-Pioneer sound engineer Andrew Jones, a lot of interesting decisions have been made to improve upon the highly successful Debut B6 that preceded them. In this review, we'll find out whether or not all of it was worth it. 
Changes From The Original Debut B6
The original Debut speakers were only just released back in 2016, so not much time has passed since their release. While it's unusual for companies to revise such a successful product in such a short time span, in this case it makes sense. Huge amounts of feedback came along with the roaring success of the Debut B6, and ELAC decided it was worth taking all those suggestions on board.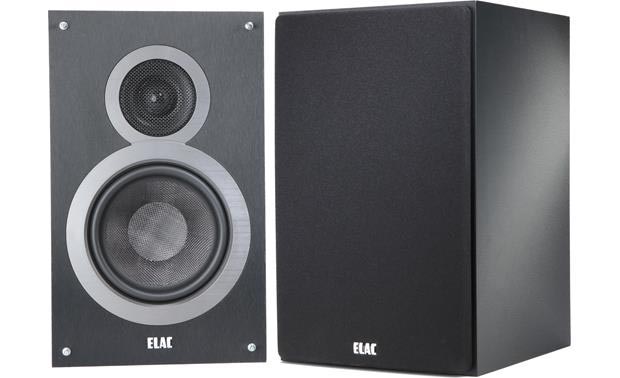 A lot of things remains the same. On the outside, the black ash wrapped enclosure of the Debut 2.0 doesn't look much different. The proportions are similar, although they're now taller, deeper and narrower—giving them a slightly less obtrusive appearance. The 6.5-inch aramid fiber woofer and 1-inch silk-dome tweeter keep the same grille designs, so nothing new here.
It is of course front ported instead of rear ported, giving listeners more flexibility as to where they place it. You can therefore have it slightly closer to a wall without resulting in an accentuated bottom end.
However, the biggest differences are invisible to the eye. ELAC have improved the internal bracing to better support the drivers and most importantly, tinkered with the voicing to give it an all-new sound signature.
Compatibility
Elac recommend hooking up the B6.2 to any amplifier that provides up to 120 watts per channel. Its 87dB sensitivity and 44Hz-35000Hz frequency response mean it won't have trouble filling entire rooms.
One thing that struck me was how well the Elac Debut 2.0 B6.2 scales with better sounding equipment. Jumping from a fairly standard $400 Marantz receiver to a high-end Roksan Blak, the improvement in sound quality was significant. Most budget bookshelf speakers simply don't scale this well.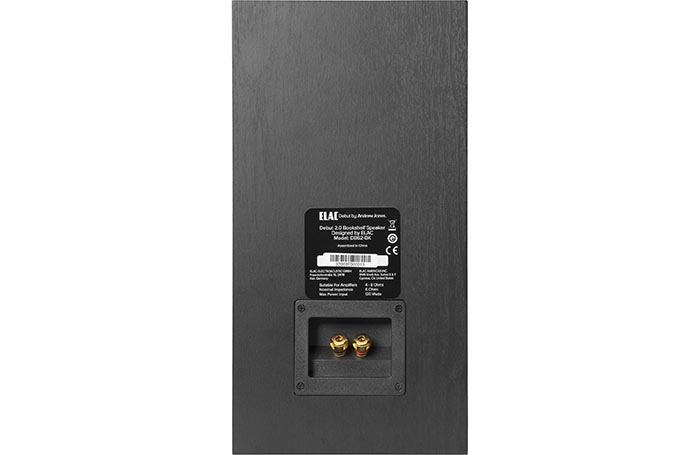 Sound
One of the things that made the original Debut B6's so popular among people buying their first pair of 'serious' bookshelf speakers was its beefy lower end. Many alternatives within the same budget from the likes of Klipsch or Polk Audio had a bright and sometimes harsh, treble-heavy characteristic. By contrast, the original B6 rolled off the higher end below 20kHz, making sure everything sound bass-rich and easy on the ears.
However, with the Debut 2.0 speakers, the high end extends all the way to 35kHz. This makes its sound signature much more balanced. In fact, balance is the name of the game with the Debut 2.0 B6.2 speakers.
They don't sound aggressive or super lively like Klipsch boxes, but aren't moody and rich like their predecessor. We've essentially ended up with a much cleaner and well-balanced sounding pair of loudspeakers that doesn't really divide opinion. Such a clean sound does accentuate shortcomings in partnering electronics or recordings. But, it's possible to appreciate the high-levels of accuracy, which at the same time aren't as unforgiving as studio monitors.
Some listeners will no doubt find them to lack a distinctive character that gives every unique pair of speakers its own charm. However, there is no doubt that for the majority of people who listen to a wide range of genres, the balance of the Debut 2.0 is its greatest asset.
Verdict
It was always going to be tough to improve upon its predecessor, but the Debut 2.0 has managed precisely that.
It sacrifices the bass heavy signature sound that we loved for something more balanced, and for that reason it's impossible to say that every single listener will see it as an improvement. However, less coloration and more detail makes them a slightly better all-rounder, and in my view the safest pick for those just entering the world of Hifi.
With all that said, the Debut 2.0's face more competition now than they ever did before. From the brighter Polk Audio S15 to the easy-on-the-ears Q Acoustics 3020i, consumers are more spoiled than they've ever been. Head over to my list of the best bookshelf speakers under $300 to see what other options you should be considering.
Rating: 9/10