Thanks to their compact size and versatility, bookshelf speakers are still the bestselling type of speaker for home listening. They can be used as desktop speakers, as part of a home theater setup or of course simply placed on either end of a bookshelf as the name would imply.
With a budget of $300, you'll typically be presented with options from high-end consumer audio manufacturers. You might not get the flawless sonic performance or luxury material construction that comes with four-figure audio setups, but rest assured you'll be amazed at how good the sound quality can be for the price.
In this buyer's guide we're going run through what we deem to be the best bookshelf speakers for under $300 on the market right now. We'll also follow up our recommendations with some further advice, as there are some extra considerations that need to be made when buying your first pair of quality speakers.
Our 7 Recommended Bookshelf Home Speakers For Under $300
Here are our 7 favorite choices within the under $300 price bracket (in no particular order, although the ELAC Debut 2.0's would be our first recommendation for most buyers):
1. ELAC Debut 2.0 B6.2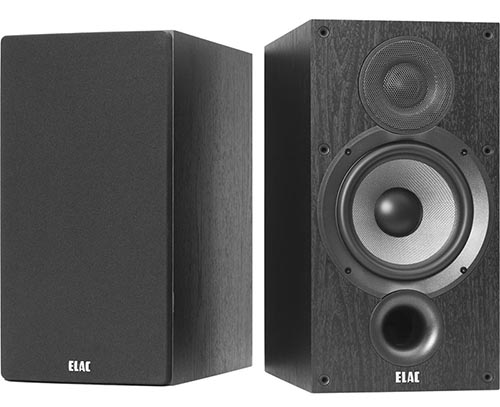 Renowned German audio manufacturer ELAC have been pumping out quality sound products since 1926 and these affordable speakers are no exception.
The 1-inch silk-dome tweeter and 6.5-inch aramid-fiber cone woofer have been custom designed by legendary loudspeaker engineer Andrew Jones. The result is a livelier and clearer sound compared to the original B6's which shook the budget speaker market back in 2015.
Compared to other speakers within the same budget, the ELAC Debut 2.0 B6.2 is capable of producing a satisfyingly deep bass without the need for an external subwoofer. It has a large soundstage with solid resolution at mid and higher frequencies which makes sure everything in a heavily layered mix of instruments and vocals are clearly revealed.
It should be noted that these speakers are quite large and those looking for something a little more compact might want to consider the smaller B5.2's. They also have a low sensitivity rating, so you will want to pair it with a powerful amp to drive them properly.
2. Polk Audio Signature Series S20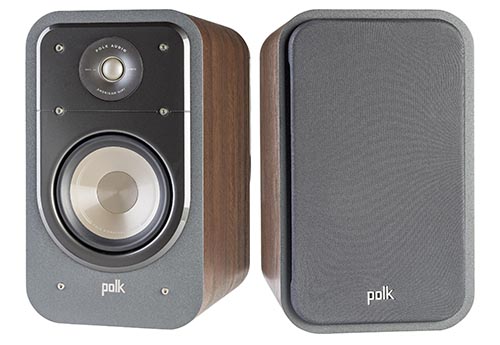 A widely recognized name in audiophile circles, Polk audio have a selection of decent bookshelf speakers under $300. The RTi A3, TSi 200 and our favorite, the S20. Whereas the former are brighter and better suited for home theater applications, the S20 is right up there alongside the ELAC Debut 2.0 in terms of audio fidelity.
The S20's 1-inch Terylene tweeters and low distortion 6.5-inch mica-reinforced polypropylene cones deliver a crystal clear high frequency response, a dynamic mid-range and clear bass.
There is a lot of debate as to whether the ELAC Debut 2.0 or Signature Series S20 is the better speaker. Sound wise, it comes down to a matter of preference, with the ELAC speakers having a punchier bass while the Polks deliver a more refined sound at higher frequencies.
Polk have done well designing the enclosure which looks even better when the magnetic grilles are removed. Unlike the front-ported Debut 2.0s, the S20 is rear ported meaning it isn't quite as forgiving when it comes to placement. However, the exclusive Polk Power Port design means you don't need to give it quite as much clearance from the wall as you would on a more typical rear port.
3. Q Acoustics 3020i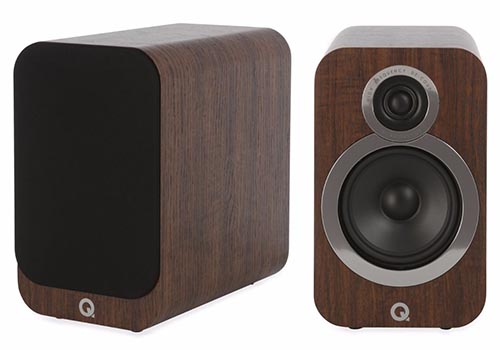 Q Acoustics released the all-new 3000i range in 2018, which made significant to the cabinet design of the original 3000 series. They're 25 per cent bigger in volume and feature additional internal bracing to provide important support for the tweeter and mid/bass driver.
The sound quality coming from these boxes are warm and rich like their predecessor, but have a bigger soundstage and more convincing bassline. They don't go quite as loud or deep as the bigger ELAC Debut or Polk Audio S20, but you'll be hard pressed to find speakers with such high levels of refinement.
All this comes with the incredibly attractive cabinet design which sports curved corners like the Polk Audio S20. You're also spoiled with a number of possible finishes, from carbon black to english walnut.
4. Wharfedale Diamond 220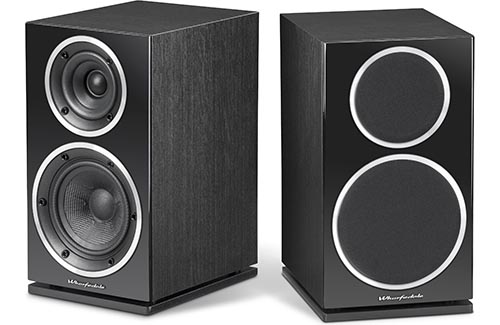 Released in 2015, British audio equipment Wharfedale's Diamond 220's aren't exactly new or particularly exciting, but the award-winning speakers sound just as good today as they did back then.
With the Diamond 200 series, Wharfedale really focused on improving the cabinet construction, which was often an Achilles heel in their previous offerings. The new layered construction better damps resonance and prevents the enclosure from contributing too much to the sound.
Wharfedale sound engineers are second to none, and their fine bass tuning gives the Diamond 220's the impression that they're physically much bigger than they really are. Dynamics are easily revealed across frequencies and stereo imaging is nicely projected and layered.
While we feel that there are newer and better options today, those in the UK would be doing very well for themselves to pick up a pair, where they can be had for around £110 ($140).
5. Klipsch RB-61 II Reference Series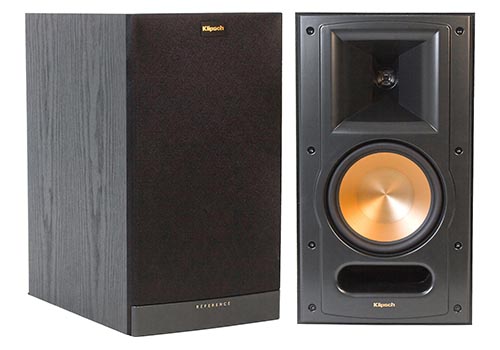 Klipsch are a hugely popular American consumer audio brand with an exciting and colored signature sound that makes them especially well-suited as home theater speakers.
Debuting in 2010, the Reference Series RB-61 are almost 10 years old. Big drops in price from the original $550 MSRP make them a great budget option today.
Klipsch go about designing their speakers differently. Their Tractrix Horn technology helps their speakers produce extremely high levels of volume for their size and power draw. They also have an open sound thanks to their titanium tweeter and cerametallic woofer cones which borrow technology from their flagship Palladium series.
Some audiophiles deem Klipsch to be too harsh or bright for music listening. However, the RB-61 II delivers a more neutral sound than the smaller Klipsch speakers like the R-41M/R-51M. As a result, they're perfectly suitable for all listening needs.
6. Fluance Ai60 Powered Bookshelf Speakers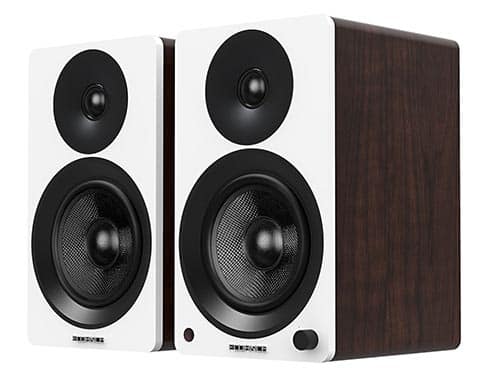 All bookshelf speakers covered thus far have been passive, i.e. you need to hook them up to a separate amp/receiver. While passive speakers have the advantage of being versatile, powered speakers like these Ai60's from Fluance are ready to play your music out of the box. Simply plug them into the mains and connect your Computer/Smartphone/Turntable or stream music wirelessly over Bluetooth.
While the Ai60 costs no more than the passive speakers listed here, they sound just as good and go just as loud. The 100W Class D amplifier powers the 1-inch silk dome tweeters and 6.5-inch woofer to deliver a fantastic sonic experience with punchy bass and clean highs.
The Ai60's offer a vast range of connectivity options. Besides the expected RCA L/R inputs, there's also a Micro USB port and digital TOSLINK input. The latest aptX Bluetooth standard means you can stream music at the highest bitrates—something many bluetooth speakers aren't capable of receiving. There's also a bundled remote control that makes it easy to control from across the room.
7. Edifier R2000DB Powered Bookshelf Speakers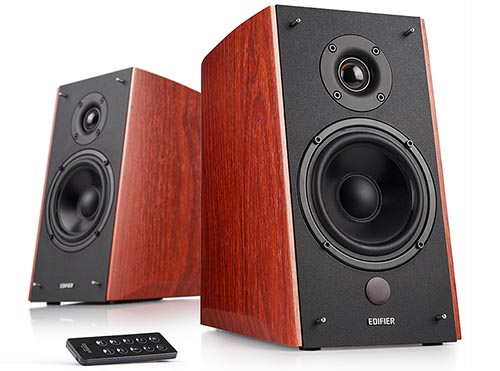 Edifier are a Chinese audio manufacturer who dominate their domestic market and are beginning to make waves globally. Here's another pair of decent active speakers, and it provides excellent value for money—something Chinese brands are really good at.
There's no shortage of features here. You get an optical input in addition to two auxiliary optical inputs, meaning you can easily hook them up to multiple audio sources and switch between them at the flick of a button. There's also Bluetooth support (albeit aptX is not supported) and bass and treble equalization dials.
The R2000DB is a big step up from the R1700BT, producing an impressive 120W RMS. That doesn't just make it louder, it improves everything from bass extension to treble resolution. The 55Hz to 20KHz frequency response on the specsheet isn't the most impressive, but it sounded like it could produce deeper lows than stated.
Edifier speakers do have a slightly colored signature sound, but they make for pleasant listening. If you're looking for powered bookshelf speakers, these Edifier speakers are definitely worth checking out. They can't match the refinement of the Fluance Ai60, but they cost less and reach higher volumes.
Under $300 Speaker Buying Advice
Do I need a separate amp for my new speakers?
Most bookshelf speakers are passive, meaning they need to be connected to an external amplifier or receiver. People who already have a suitable amp will be able to simply switch out their existing speakers with these ones, but those who don't have one will need to buy an amp. Powered speakers (for example the Fluance Ai60 and Edifier R2000DB in this list) don't require anything separate to be purchased.
If you hadn't factored in an amp into the cost, you might want to take a look at my recommended under $200 bookshelf speakers.
Where should my new speakers be placed?
Each speaker should be placed on an elevated and steady surface. This could be a table, a bookshelf or dedicated speaker stands.
They should not be placed right up against a wall and should be rotated slightly inwards towards the central listening position. Note that how the speaker is ported can influence the ideal speaker placement.
Can I use bookshelf speakers as desktop computer speakers?
Absolutely! These speakers make great desktop speakers, but aren't the most popular option. That's because they take up a lot of space on your desk and you generally don't need speakers designed to fill the whole room when you're right in front of the computer. However, there is no question that bookshelf speakers are far superior to most PC speakers.