Among budget audiophiles the Micca MB42X and PB42X are pretty much the only speakers around their budget that come recommended. The Micca MB42X is simply a MB42 with a crossover while the PB42X is a powered version of the MB42X with a built in amplifier.
The PB42X appears to hit a sweet spot. For less than a hundred bucks the MB42X is no doubt a bargain, but most buyers would probably be pairing it with a cheap amplifier that becomes the setup's Achilles heel. For not much more than the price of the MB42X, the PB42X comes with a well-suited built-in class D amp that also makes for a cleaner setup.
Despite all the good things I hear, years went by without ever listening to them. But recently, curiosity got the better of me—can they really rival boxes that cost twice as much as people suggest? Well, I finally got the chance to test the Micca PB42X powered bookshelf speakers. Here are my thoughts.
First Impressions
There is definitely a budget feel in the presentation of the Micca PB42X. From the bog-standard beige cardboard box to the rather cheap and cheerful colored 3.5mm jack cable and speaker wire, it doesn't seem like Micca are trying hard to look good.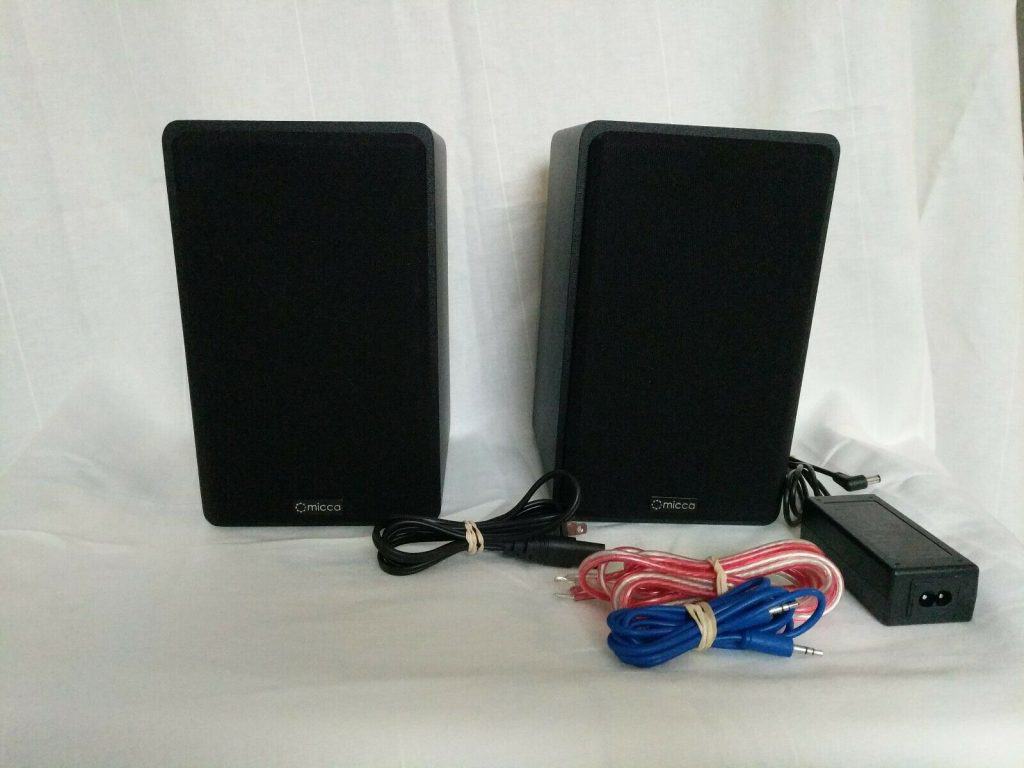 The cabinets themselves are low-key, with a simply ebony laminate finish being the only color option. The removable magnetic front grilles have the Micca brand tacked on, but once you remove them there's nothing distinctive about the enclosures that give them away.
Each speaker has a 0.75-inch silk-dome tweeter and balanced 4-inch carbon fiber woofer which combine to draw 15W of power. Being rear-ported, Micca suggest leaving at least 4 inches of space from the back of each cabinet.
Turn the parent speaker around and you'll find yourself dealing with a very barebones piece of equipment. A power switch, volume knob, DC connector and the RCA stereo input and 3.5mm jack are all you'll find. With many similarly priced active speakers featuring EQ controls, subwoofer connections, digital inputs and even Bluetooth, the PB42X is remarkably simple by comparison.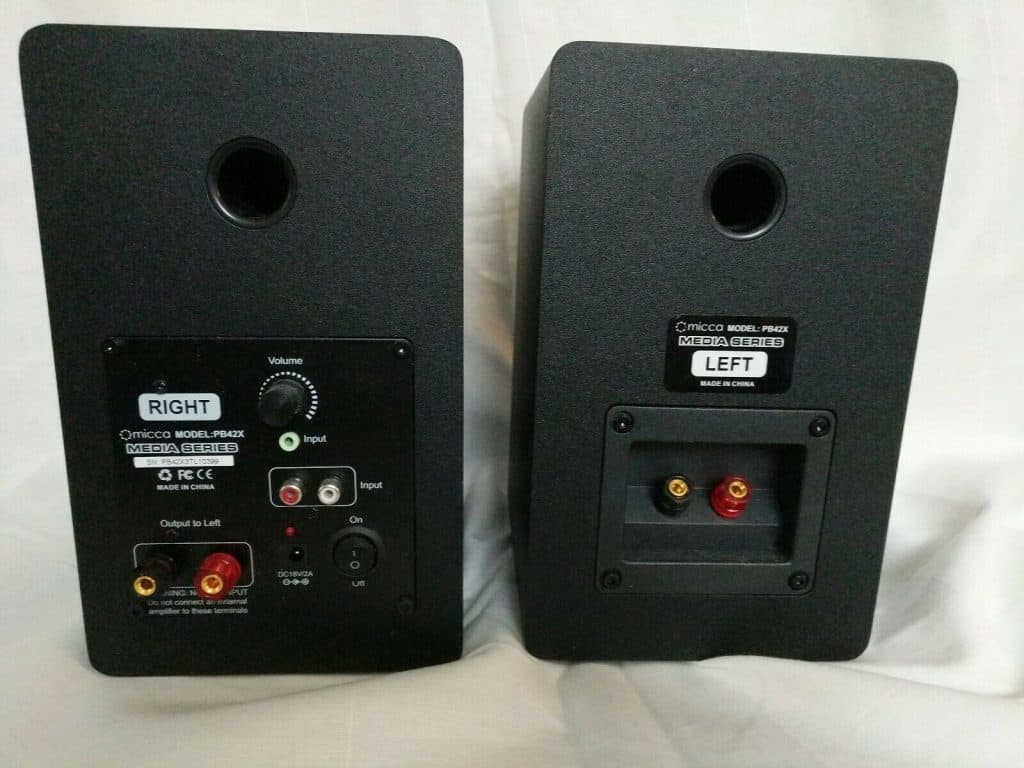 Sound
By this point it should be pretty obvious that the PB42X was never about fancy features or snazzy looks. So how do they actually sound?
By nature of being powered speakers, setting things up was a breeze. After slightly raising them off the surface of my desk and hooking them up to my external DAC, I listened to a mixture of tracks from Led Zeppelin's Stairway to Heaven to Michael Jackson's Man In The Mirror to George Gershwin's Rhapsody in Blue.
Overall the sound quality was very respectable, especially given the price of the speaker. I'm going to be honest, I wasn't exactly blown away as much as I had secretly been hoping for.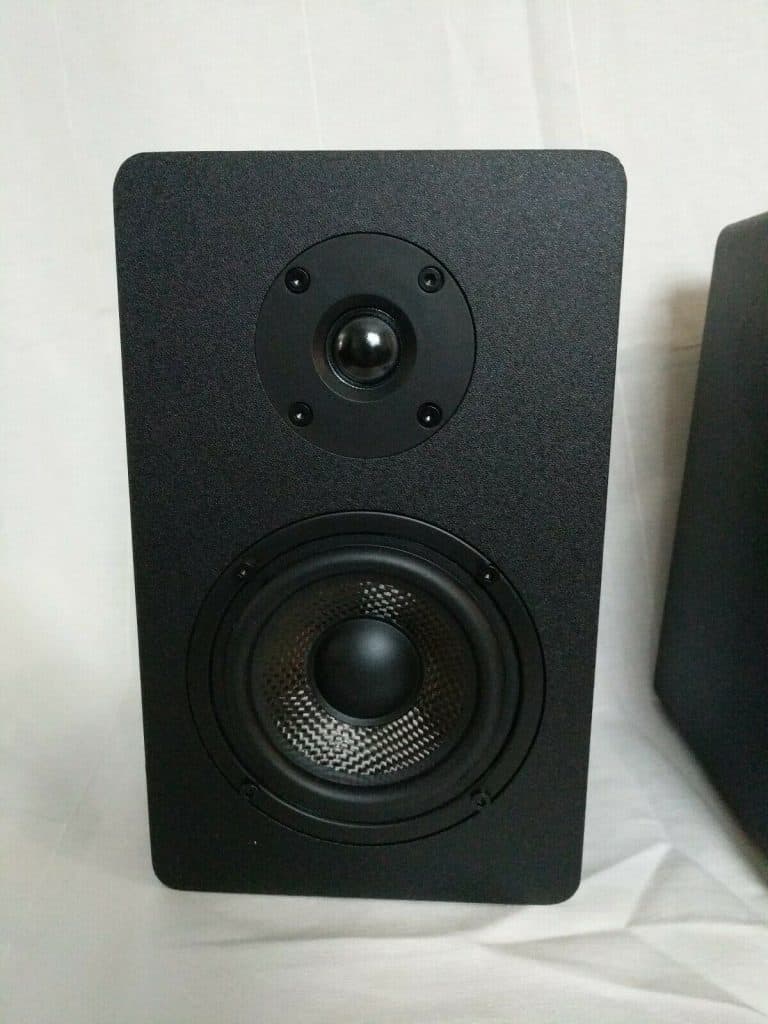 The 60Hz-20kHz frequency response (which is pretty standard for a speaker with the tweeter and woofer of its size) meant upper bass occasionally felt overemphasized and some highs were out of range altogether.
That being said, for the majority of songs there was a clear and balanced tone that sounded almost as good as my Q Acoustics 3020i's at low/medium volumes.
Speaking of volume, the PB42X speakers can go loud, but there is a big fall-off in sound quality at louder volumes. As a result, they make great desktop PC speakers used for near-field listening, and are also decent for medium volume listening within a small bedroom. However, they won't cut it for filling out medium/large rooms.
Before I wrap things up, I'd also like to talk about the sound quality difference between the MB42X/PB42X and the original MB42. I personally have never listened to the Micca MB42, so I can't compare them. However, knowing that crossovers can make significant differences and going by what some other people have been saying, the MB42X and PB42X sound vastly better. Here's a video which compares the two:
Verdict
The Micca PB42X have tons of hype surrounding them, to the point I found myself extremely eager to listen to them for myself. It was perhaps naive to expect them to perform as well as speakers in the $100-$200 price range, especially given the fact they're more like $80 speakers with the additional cost stemming from the built-in amp. 
However, looking at things objectively, it is difficult to see any speakers which cost as little and sound as good as the PB42X. They sound terrific when near-field listening at low/medium volumes. In songs which don't test the limits or have vast instrumental layers, you could easily mistake them for more expensive boxes.
Overall, they are my first recommendation for a ~$100 budget setup. They provide zero upgrade flexibility and aren't audiophile tier as some might have you believe, but as a pair of fuss-free bedroom PC speakers they are a very good deal.