Center channel speakers play a crucial role in surround sound systems by balancing the total sound of the system and providing a specific anchor location for dialogue and vocals.
They bridge the gap between the left and right stereo speakers facilitating the more detailed spatial acoustics that 5.1 and 7.1-channel audio formats like Dolby TrueHD and DTS-HD Master Audio were designed to provide.
Today we'll be running through our top picks for the best center channel speakers on the market today. For each pick, we'll list key features along with their various pros and cons. Additionally, we've gone ahead and compiled a buyer's guide that can be found at the end of the article to ensure you're well equipped to make your own purchase decision.
At A Glance
Here are the speakers we'll be covering in this article: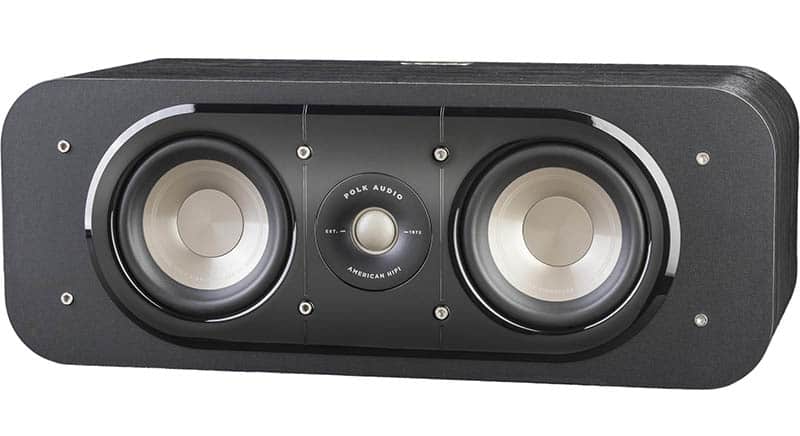 1. Polk Audio Signature Series S30
Best overall pick
Polk Audio are a household name you'll hear come up again and again when discussing home theater audio equipment. The S30 is the part of Polk's popular signature series collection, which also includes our favorite S15 bookshelf speakers.
The lineup actually offers two center channel speakers, the S30 and S35. The S35 has a unique space efficient design that makes it useful for squeezing into places that lack vertical room. However, the S30 is more of a 'true' center speaker that gives it a fuller sound and is also cheaper. This is what we'd recommend for the vast majority of people for film or music, assuming space is not an issue.
Key Features:
Two 5.25″ midrange drivers and one 1″ Terylene tweeter dome
Patented Dual Power Port technology provides an extended bass port which makes for improved bass quality and more forgiving speaker placement
Dynamic and slightly bright tone
Pros:
Incredible vocal accuracy
Great looks, especially when the magnetic front grille is taken off
Dynamic and lively audio
Cons: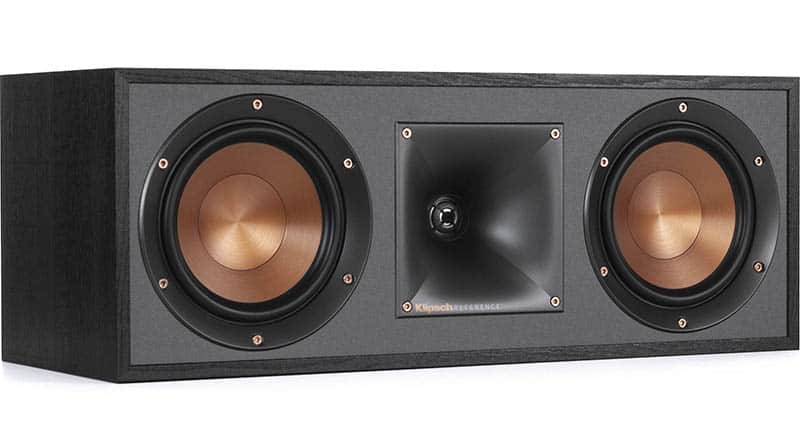 2. Klipsch R-52C Center Channel Home Speaker
A livelier and louder, if a little bright, alternative to the S30
Klipsch are probably the biggest name in home theater, and the R-52C is their best-selling center channel speaker. Klipsch are known for their use of horn-loaded speakers which are high sensitivity and capable of producing a high dynamic range.
The result? A center channel speaker that few speakers can match in terms of pure loudness or liveliness. The major success of Klipsch can be partly attributed to their signature sound's 'wow' factor, which makes them sound loud and vibrant which makes them especially good for watching action movies. However be warned, the bright and slightly oversaturated tones has opinions split.
Key Features:
Dual 5. 25-inch Spun-copper img woofers
1-inch aluminum tweeter mated to a 90×90 square tractrix horn
89Hz – 21kHz frequency response range
Impressive 400 watts power handling
Pros:
High sensitivity speakers which can deliver high volume levels and heart thumping bass without the need for a powerful amplifier.
High dynamic range – Rich variance in minimum and maximum volume levels (especially important in cinema audio)
Cons:
The signature Klipsch sound may be a little bright and fatiguing for some listeners
Slightly colored sound means they are best matched with Klipsch surround speakers for a consistent tone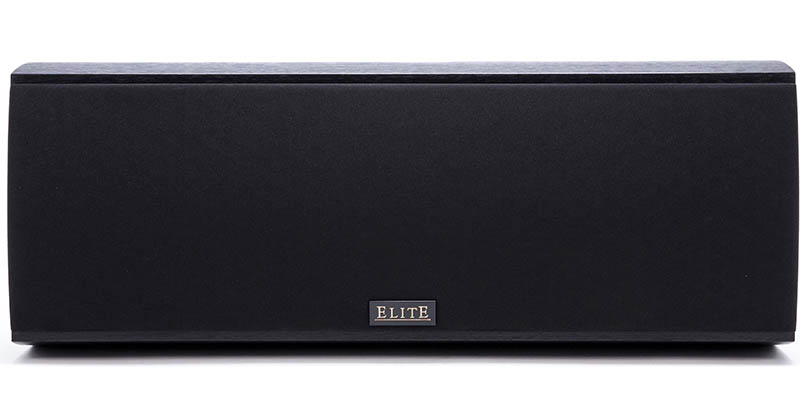 3. Pioneer Elite SP-EC73 Andrew Jones Home Audio Center Channel Speaker
Best sound under $500
Designed by legendary speaker designer Andrew Jones, this center channel speaker is part of the Pioneer Elite range that brings professional-quality sound to your own home's living room. The 3-way design means each primary frequency band is represented by a separate driver. The high-frequency, midrange and low-frequency drivers assist in achieving near-perfectly balanced sound for a better listening experience.
Key Features
Big sound with a small footprint: This center channel speaker is curved gently in order to stop standing waves that often occur in ordinary square speakers. One is able to place it in tighter spots as it also reduces the amount of space it takes up.
Coherent Source Transducer: The driver dramatically deflates the interference among the midrange and tweeter, specifically controlling sound directivity at all frequencies and guarantees direct and reflective sound.
Complex Crossover: Complex Crossover flawlessly meshes audio between the woofer and tweeter for higher efficiency.
Pros:
Great audio quality and detail across all frequencies
Small footprint
Terrific bass response
Cons:
4Ω impedance requires a powerful amp to drive them
Only one finish available

4. Cerwin-Vega SL-45C Quad 5 1/4″ Center Channel Speaker
Clear mids and excellent vocal clarity
Best known for their excellent audio engineering and craftsmanship, Cerwin-Vega's SL-45C Quad 5 1/4″ Center Channel Speaker sports a classic style with a removable grill. This center channel speaker was specifically designed to enhance vocal clarity and makes it especially good for those struggling to decipher movie dialogue. The wide frequency range on this model is particularly impressive, spanning from 55 Hz to 26 kHz.
Key Features:
8-Ohm Impedance: The Cerwin-Vega SL-45C 8-ohm impedance allows for it to be compatible with almost all amplifiers and receivers.
High-Frequency Response: The Cerwin-Vega SL-45C features five ¼ -inch drivers that improve the precision of vocals created. It has an additional five bidding posts for easy and safe installation. The 1-inch soft-dome tweeter produces crystal clear highs.
Pros:
Good value for money
Bass tones are very tight
Cons:
Bass-heavy, may need to crank up mids and treble for a cleaner sound
Power hungry, check compatibility with your amplifier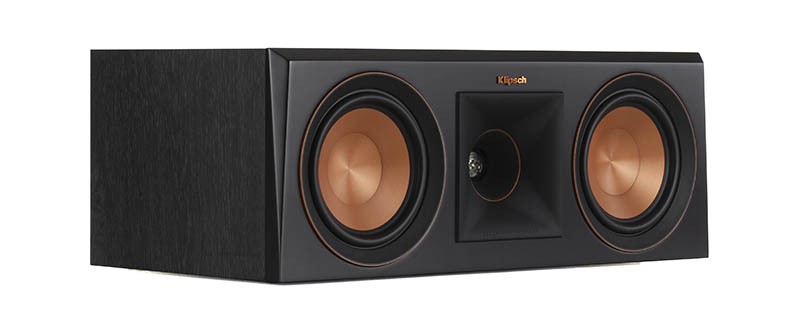 5. Klipsch RP-500C Center Channel Speaker
The ultimate center channel speaker for Klipsch home theater setups
Another center speaker from Klipsch but this one from the Reference Premiere line. As the name would imply, this one is designed to produce an even better sound than that of the aforementioned R-52C, for the ultimate movie experience.
The things that really distinguish the RP-500C from the cheaper Klipsch R-52Cs are the woofer and tweeter constructions. The RP-500C gets cerametallic woofers, instead of graphite ones, which have better damping and more powerful bass as a result. The RP-500 also gets vented titanium tweeters which are considered superior to the R-52C's aluminum dome tweeters or silk or polymer compositions often found elsewhere.
The RP-500C can get seriously loud and would fit well in soundproofed, dedicated home cinema rooms. The fact that it was first released back in 2018 means it also sports a more recent and stylish cabinet design.
Key Features:
Strong and flexible removable grille: Magnetized to attach for a seamless transition from a robust showstopper to a discrete display piece.
Tractrix Port: For a very powerful and rich low-frequency response, the patented Tractrix technology allows for more efficient and fast air transfer from the cabinet.
Pros:
High efficiency, low power draw
Attractive design
Durable dual woofers
Linear Travel Suspension minimizes distortion
Cons:
May be overbearing for a center channel speaker if other speakers are not Klipsch or high-powered.
On the bulky side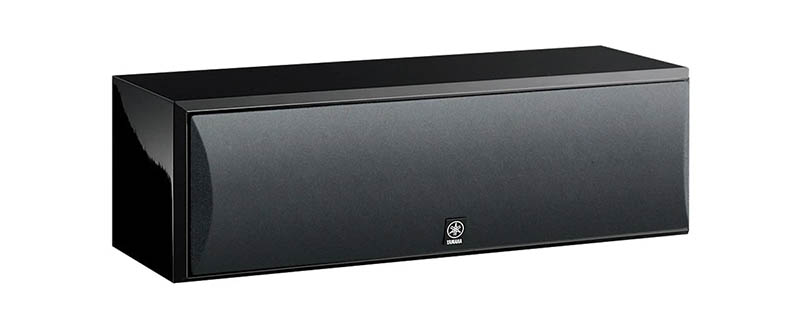 6. Yamaha NS-C210BL Center Channel Speaker
Our favorite sub-$100 option
An Amazon choice winner, this affordable speaker measures extremely well in sound testing and has a neutral signature that makes it fit into almost any home theater setup. For those who are looking for an affordable means to boost dialogue clarity and more complete spatial sound reproduction, this Yamaha speaker is a solid pick.
Its lack of power means it feels a little underrepresented in more powerful 5.1 speaker configuration setups, but that isn't an issue given the role a center speaker generally plays.
Key Features:
2-way bass-reflex
Highly Versatile: Enhances cinematic sound without clashing with other speakers
Slim design: Fits in smaller and tight spaces.
65 Hz – 45 kHz frequency response
Compact design: Weighing under 5 pounds and measuring 5.2" x 13.4" x 4.2", it won't be difficult placing it above or underneath your television
Pros:
Clear voices and neutral sound signature
Doesn't distort at higher volume levels
Affordable price that will help those on tight budgets.
Cons:
Aged and uninspired cabinet design
Weaker bass compared to others in this list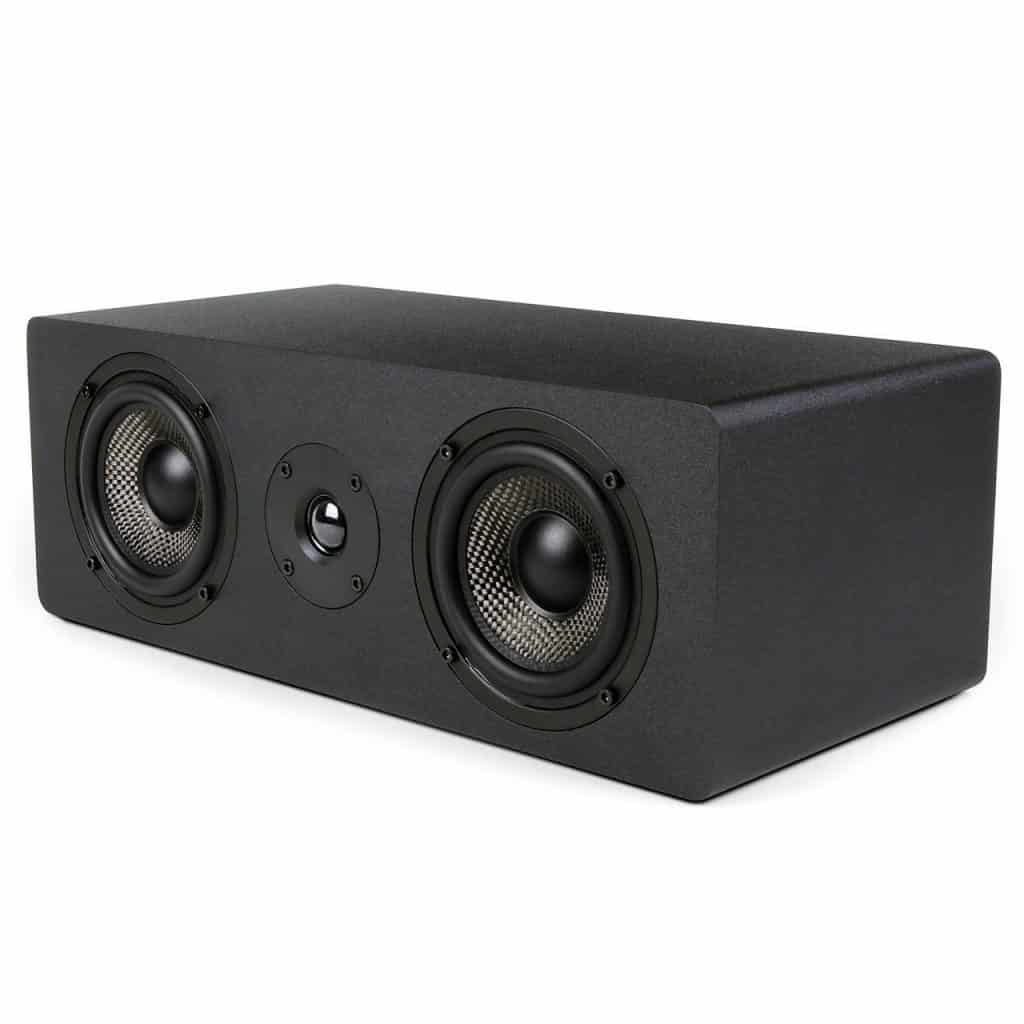 7. Micca MB42X-C
A solid alternative to the Yamaha NS-C210BL at an even cheaper price
One of the cheapest central channel speakers you can find, the Micca MB42X-C will help your reduce your audio system's dialogue distortion and smoothen out the transition between the front L/R stereo speakers.
LIke the Yamaha NS-C210BL, the MB42X-C can definitely be considered a compact center speaker, with dual 4″ Carbon Fiber woofers and a small 0.75″ Silk Dome tweeter.
It's difficult to say objectively which is a better buy between these budget Micca's and the Yamaha NS C210BL we just mentioned above. The Micca is cheaper and can go louder, but the Yamaha did a better job hitting high frequencies and producing more refined sound, which is a big part of a center channel speaker.
Key Features:
Rear ported design with 4-inch carbon fiber woofers and a 0.75-inch silk dome tweeter.
60Hz-20kHz frequency response
Compact cabinet and elegant design
Pros:
Budget-friendly price
Surprisingly powerful
Cons:

8. Sony SSCS8 2-Way 3-Driver Center Channel Speaker
A solid pick, especially if you can get it at a discounted price
A member of the Sony 'Core Series' which is renown for precise instrument reproduction and expansive soundstage, the SSCS8 is a quality center channel speaker with a broad frequency response of 55 Hz–25 kHz.
This 2-way, 3-speaker system has high-quality mica-reinforced drivers and a Wide Dispersion Super Tweeter that is specifically designed to deliver an ultra-responsive, high-frequency audio response which is ideal for High-Resolution listening with wide directionality.
It's not the best we've heard and we think offerings from Polk, Klipsch and Cerwin-Vega offer a better value proposition at the price. Nevertheless, it's still capable of delivering an at-home theater experience and you should absolutely consider it if you can pick one up at a reduced price.
Key Features:
Mica Cellular foam: Manufactured to keep the sound quality at a natural level and produce a clean bass.
Optimized Crossover Componentry to minimize signal quality loss
Pros:
Simple and sleek design
High quality build materials
Versatile and neutral tone makes it work well with any home audio setup
Cons:
Not a big jump from the cheaper Yamaha NS-C210BL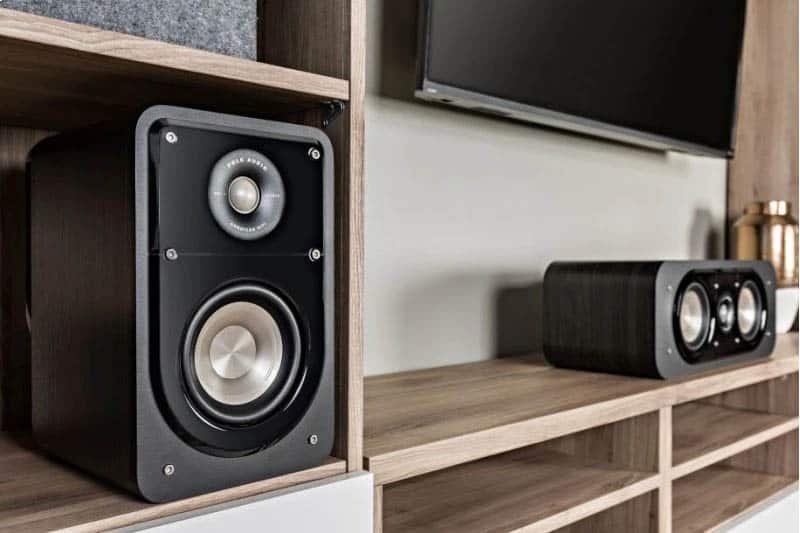 Center Channel Speakers Buying Guide
Now that we've run through our recommended center channel speakers, lets go through the key factors and points to look out for when deciding which speaker will best fit your home theater setup.
Things to Consider
There are various things you need to consider when purchasing home theater speakers. Here are the most important:
Budget
Generally speaking, the center channel speaker should cost around as much as your front or rear surround sound speaker pairs and subwoofer. Center channel audio is not designed to be the heart of your setup as some might wrongly assume, but rather just one of the many ingredients for cinematic audio, so you don't want to overspend or underspend on it.
Compatibility
Be sure when purchasing a center channel speaker that it is compatible with your amplifier or receiver and existing speakers. Of course you will be able to hook it up to an amp using standard speaker wires, but you don't want them to be underpowered. You also want them to sound harmonious alongside the other speakers, so opt for neutral ones or stick to the same brand (for example, Klipsch speakers have a relatively saturated sound that could sound 'off' when paired with equipment from other manufacturers).
Size and appearance
Though not particularly important in the grand scheme of things, the size and appearance of the center channel should also be considered. You will want to make sure you have enough room for it, and choose one that looks like it really belongs with the rest of your home theater equipment.
Usage Habits
Think of what you will be using the speaker for. If you want to watch movies and play video games at high volumes, you might want to focus on getting a high efficiency, high power output speaker that can go loud enough before reaching the point where distortion creeps in. If you don't need glass-shattering sound, you can focus on lower efficiency speakers which are typically what audiophiles and music listeners look for.
Technical Terms
When purchasing a center channel speaker, you need to know technical terms in order to understand what you really need.
Configuration ratio: The ratio is a set of numbers that show how many drivers are on a given speaker. It will also show if there is a subwoofer. If your configuration ratio is 3.0, it means there are 3 drivers with no subwoofers. A ratio of 3.1 would mean 3 speakers with 1 subwoofer.
Frequency response: This represents the frequency of sounds the speaker is capable of producing. Sound frequencies in the human ear can be heard between 20Hz all the way to 20 kHz, but because of of the way frequencies rolloff in audio equipment, things are much more complicated.
Bi-wire capability: Two sets of connectors are at the rear of the speaker, one for each frequency (low and high). Distinct lows and highs can be heard when the subwoofer and the tweeter currents are run on different cables.
Impedance: When the impedance is low on a center channel speaker, the more power an amp will supply. Always be certain the amp load is more than what is stated in order to avoid it blowing. Low impedance speakers are at 4 ohms or less and will often have issues with amplifiers or receivers that were not manufactured to deliver huge amounts of current.
2-way speaker: Two drivers (a tweeter and a woofer) paired up together to handle upper frequencies and mid-to-low frequencies.
3-way speaker: Three drivers (a tweeter, a midrange, and a woofer) paired up to handle high frequencies, mid-range frequencies, and lower frequencies.
Cabinet: An enclosure that holds the speaker.
Crossover: A unit that splits the frequency level into two or more sections.
Driver: A device in a speaker that assists in the sound.
HZ: The abbreviation for Hertz, which is a unit of sound frequency.
LCR: Left, center, right speakers
Mid-range: Frequencies that are above the bass and below treble.
Speaker cone: Responsible for the reproduction of sound, this part of the speaker is the cone-shaped element.
Frequently Asked Questions
Q: What are center channel speakers for?
Answer: A center channel speaker acts to balance the audio out between the left and right channels. Surround Sound audio formats have specifically encoded center channel audio for more accurate spatial sound, and it is often the channel with the most developed dialogue sound. As a result, they help your system produce more dynamic sound, clearer dialog and deliver a more enjoyable audio experience overall.
Q: How can I make a center channel speaker sound even better?
Answer: There are a few things that you can do in order to improve the sound of a center channel speaker. You should position the speaker directly below or above your TV, making sure it is centered. Should the speaker be above or below your head, be sure to tilt it towards you in order to have the best sound.
Q: What is the difference between a center channel speaker and soundbar?
Answer: A center channel speaker is just one part of a larger home theater system that includes other speakers. All of these work in unison to give the listener a great listening experience. An external AV receiver or a power amp is required for set up. By contrast, a soundbar is a solo speaker that is designed to provide high quality audio (often mimicking surround sound) without the need for multiple speakers and large amounts of space. The only similarity is that they both sit under/above your TV. If that is what you were looking for, you can check out our recommended budget soundbars.
Center Channel Speaker Tips
By following the tips below, you can have the best experience with your center channel speakers.
If you have a large center channel speaker, place it close to ear level below the screen.
Be sure to align the speaker drivers as close to the screen as you can. You don't want them too far ahead or behind the TV screen.
Leave some room behind the back of the speaker and the wall. Center channel speakers are typically rear-ported and need some air behind them to deliver bass at its best.
Make sure it is placed on a solid and level surface. If it doesn't fit on your AV furtniture, consider investing in a dedicated center speaker stand.
Conclusion
We hope you have enjoyed reading our buying guide as much as we loved testing these speakers out. A center channel speaker plays a vital part in any home theater system and should not be overlooked.
If you are looking for something that offers a great price-performance ratio, the Polk Audio S30 is our current favorite pick. Meanwhile, those who like the signature Klipsch sound and/or already own Klipsch components would be better off going for one of their offerings like the Klipsch R-52C Powerful Detailed Center Channel Home Speaker - Black or more expensive Klipsch RP-500C. Last but not least, the Yamaha NS-C210 is a good budget option which comes fairly close to the competition in terms of sound quality while costing almost half as much.