Tozo, a brand with a reputation for delivering affordable yet high-quality audio gear, recently ventured into the midmarket/premium segment with their flagship Golden X1s. They now introduce their take on the open-ear concept with the Tozo OpenBuds. Much like the Golden X1s, these new earbuds are a testament to Tozo's willingness to go beyond their ultra-successful basic TWS earbuds.
Open-type earbuds are designed to deliver an audio experience that doesn't wholly isolate users from their environment, a distinct departure from the almost ubiquitous noise-canceling trend. This type of earbud ensures that users can hear their music, podcasts, or calls while maintaining an auditory connection to their surroundings, be it busy city streets, tranquil parks, or bustling office spaces.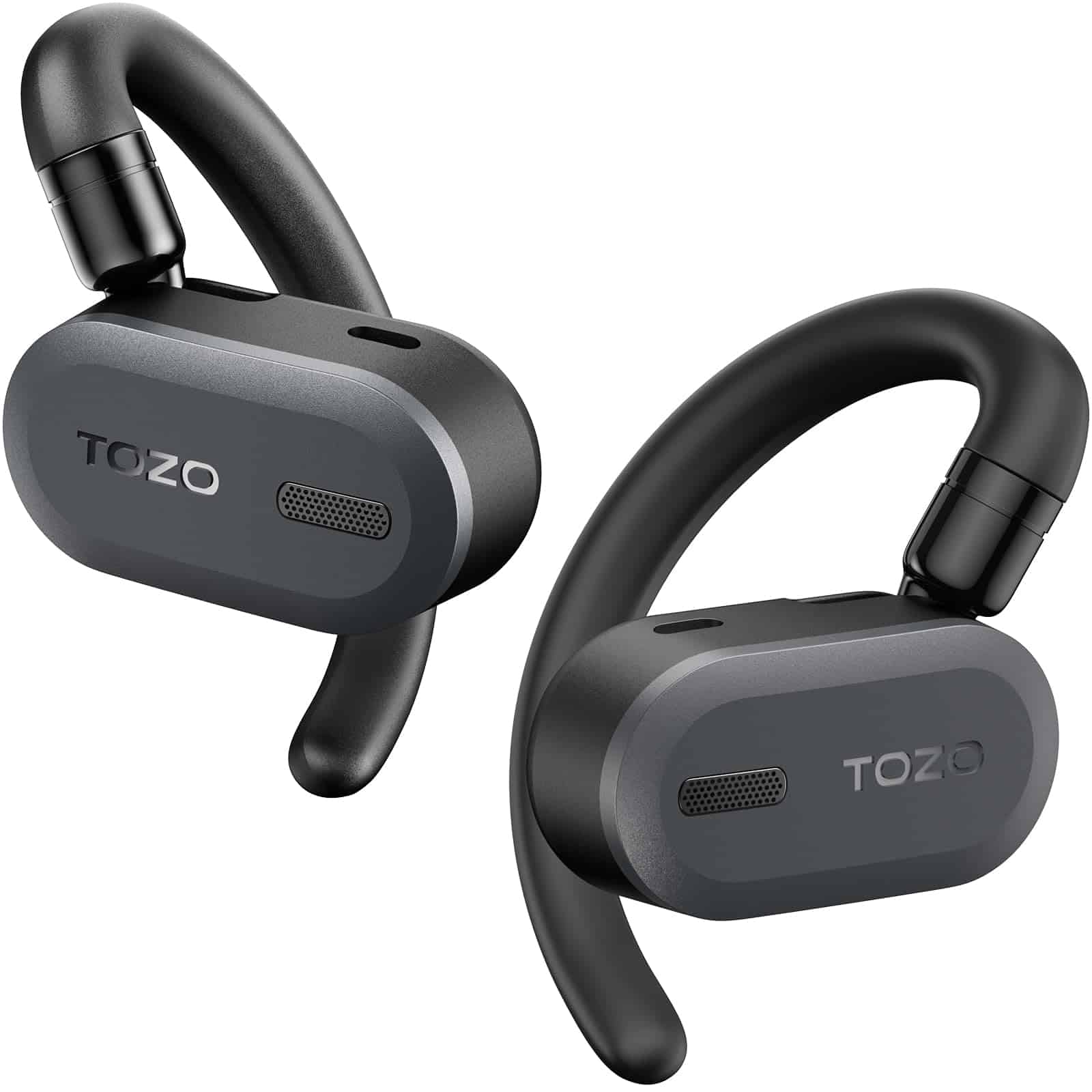 The open-ear Tozo Open Buds offer great sound, multi-point pairing, and a highly adjustable fit at a compelling price, but the microphone quality is lacking.
Pros
Excellent sound quality for the price
Comfortable fit with adaptable ear hooks
Simultaneously pair with 2 devices
Good battery life and IPX6 water-resistant
Cons
Bad microphone
Slightly big charging case
Not water resistant
While canceling out noise is usually preferred for commutes on noisy public transport, it can be dangerous to block out noise when you're navigating traffic or on an outdoor run, for example. The majority of in-ear earbuds do offer a transparency mode to combat this, but it often leads to a heavily compromised auditory experience. This can be characterized by the intrusion of unwanted white noise and artifacts, or hollow and metallic audio.
By contrast, true open-ear headphones like the Tozo Open Buds achieve a sense of transparency organically by simply leaving the ear canal open. The result is a more harmonious blend of your music and the world around you, without the need for artificial processing to achieve this balance.
There are a few other reasons why open-ear headphones are gaining popularity. Besides safety, comfort is arguably the most significant reason, since they are secured around the ear rather than lodged within your ear canal. The open-ear style also addresses some growing concerns regarding hygiene and ear health, which is the reason why we're beginning to see more and more open-ear offerings from the biggest brands like Bose and JBL.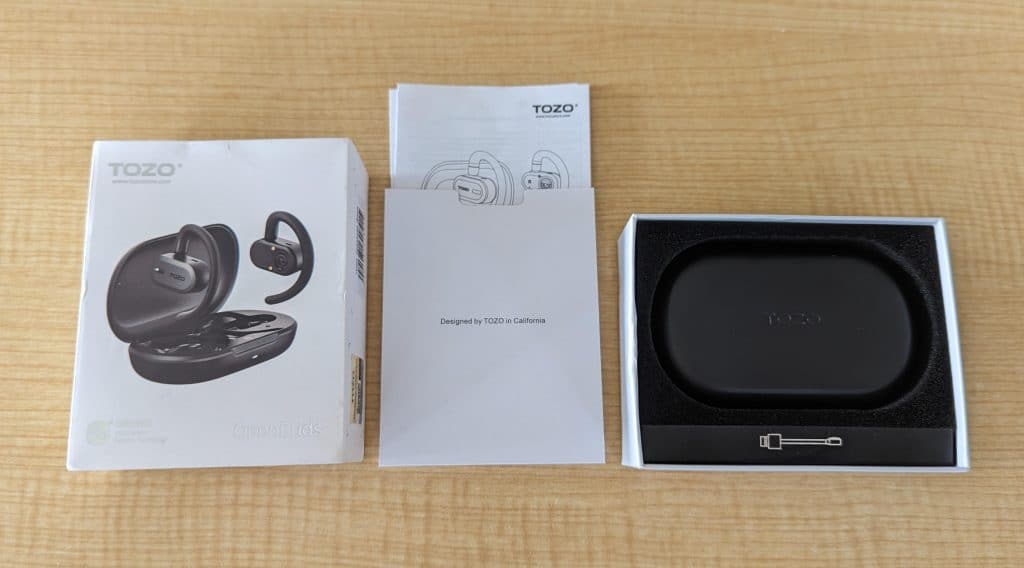 Setup
Tozo gives users a streamlined setup process that is quick and to the point. Besides the usual full user guide, there's a quick-start guide that covers Bluetooth pairing, how to adjust the ear hook and wear the earphones, and touch controls.
The initial Bluetooth pairing is uncomplicated, as it simply involves opening the charging case for the earbuds to enter pairing mode. The presence of red and white signal lights flashing alternately also indicates that the buds are in pairing mode. At this point, you're ready to search for and connect to the earbuds on your audio device.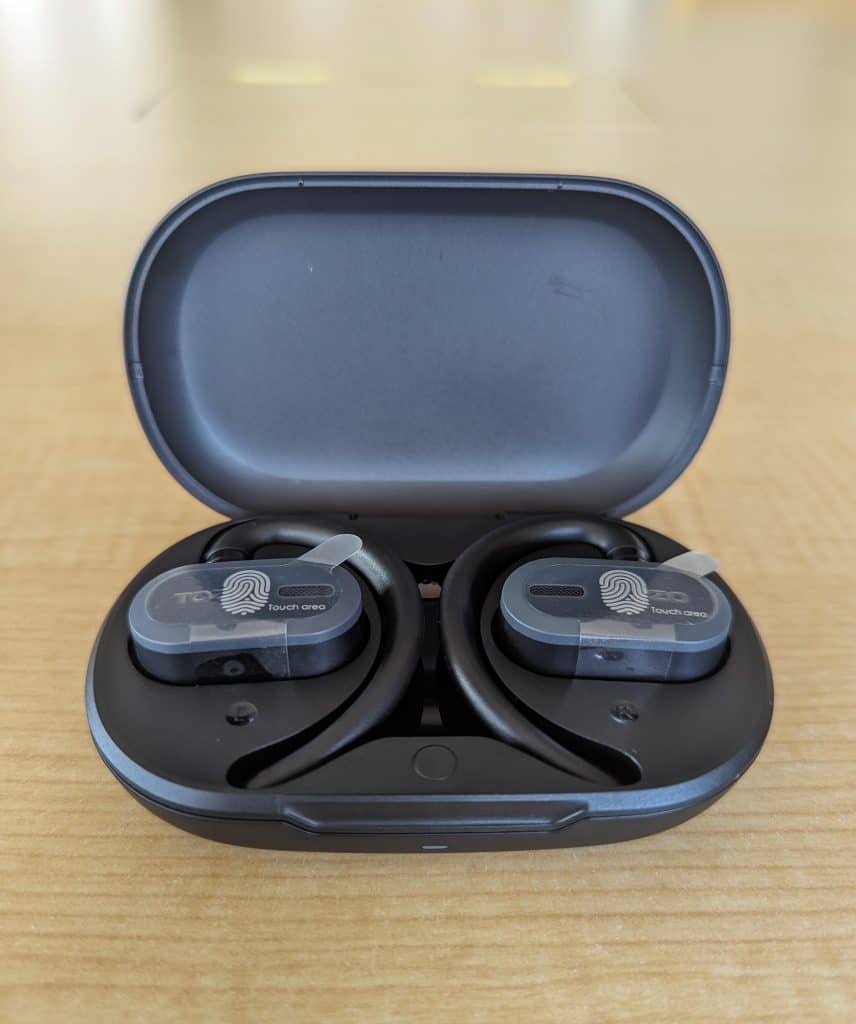 Tozo also made it possible for the Openbuds to enter pairing mode outside their charging case. To do this, hold both the left and right earbuds simultaneously for three seconds. This triggers pairing mode, which allows you to connect them with your device in the same manner as described above. This is an especially nice touch if you're like me and find yourself constantly pairing with new devices.
These earphones feature the latest Bluetooth 5.3 for minimal latency, as well as multi-link support which lets you connect to up to two devices simultaneously, for example, your laptop and phone. This is an especially welcome feature as many high-end earbuds still lack this feature, including much more expensive open-ear earbuds like the $180 Shokz OpenFit or Sony Linkbuds.
Design
The Tozo Openbuds feature a relatively plain appearance, consistent with the muted aesthetic found across much of Tozo's earbud line.
The earbuds have a distinctive pill-shaped design accompanied by symmetrical ear hooks. They avoid the overtly sporty aesthetic often associated with open-ear earbuds and lean towards a more professional look. This makes sense, since the OpenBuds are really more like lifestyle open-ear headphones as opposed to dedicated sports headphones, which Tozo offers in the OpenReal neckband headphones.
The lightweight charging case has a very simple black shell design. There's nothing remarkable about it, but it is worth mentioning that it is one of the bigger charging cases I've seen, a natural result of the slightly bigger footprint of the earbuds themselves.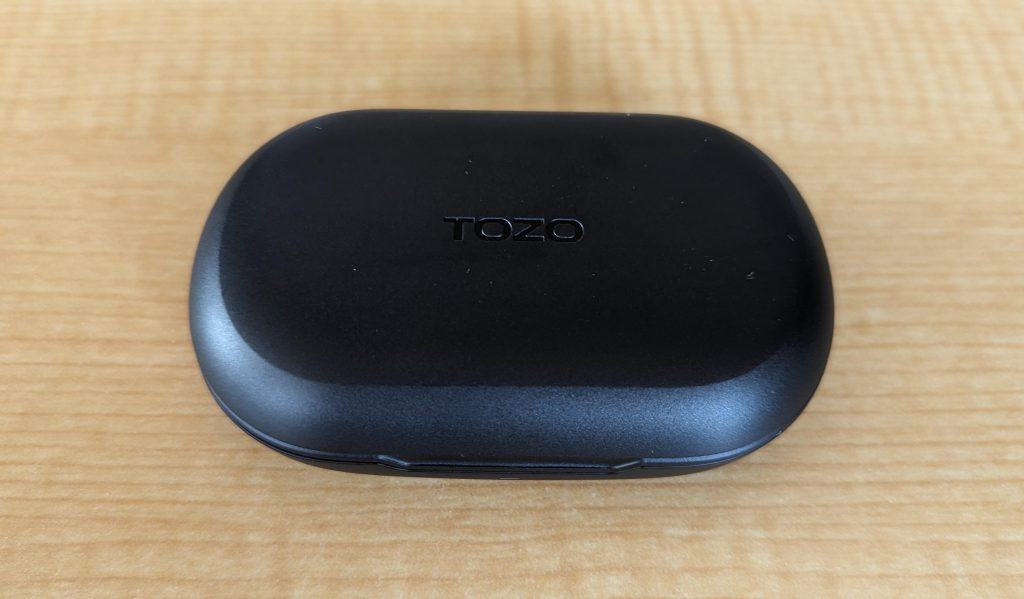 Comfort and Wearability
The comfort and wearability of the Tozo Open Buds hinge on their unique design choices. Notably, these earbuds feature relatively rigid ear hooks with little flexibility, diverging from the norm of softer, more pliable hooks.
However, what they lack in flexibility, they compensate for with a cleverly designed biaxial rotation mechanism. The ear hooks boast a 90-degree and 60-degree range of motion in two axes around the earbuds, offering a tailored fit that adapts to the user's ear shape and size.
I found I could wear the Openbuds comfortably for extended periods, and they felt neither too loose nor too tight. Despite this, they may not offer the same level of security as some sports-specific earbuds. I would probably feel a little nervous wearing them in extreme conditions like cycling in heavy winds, though the same would probably apply to any open-ear earhook earbuds on the market to some extent.
While the biaxial rotation mechanism should allow the majority of users to find a suitable fit, the comfort and security of the Openbuds will largely depend on the individual user's ear shape and size.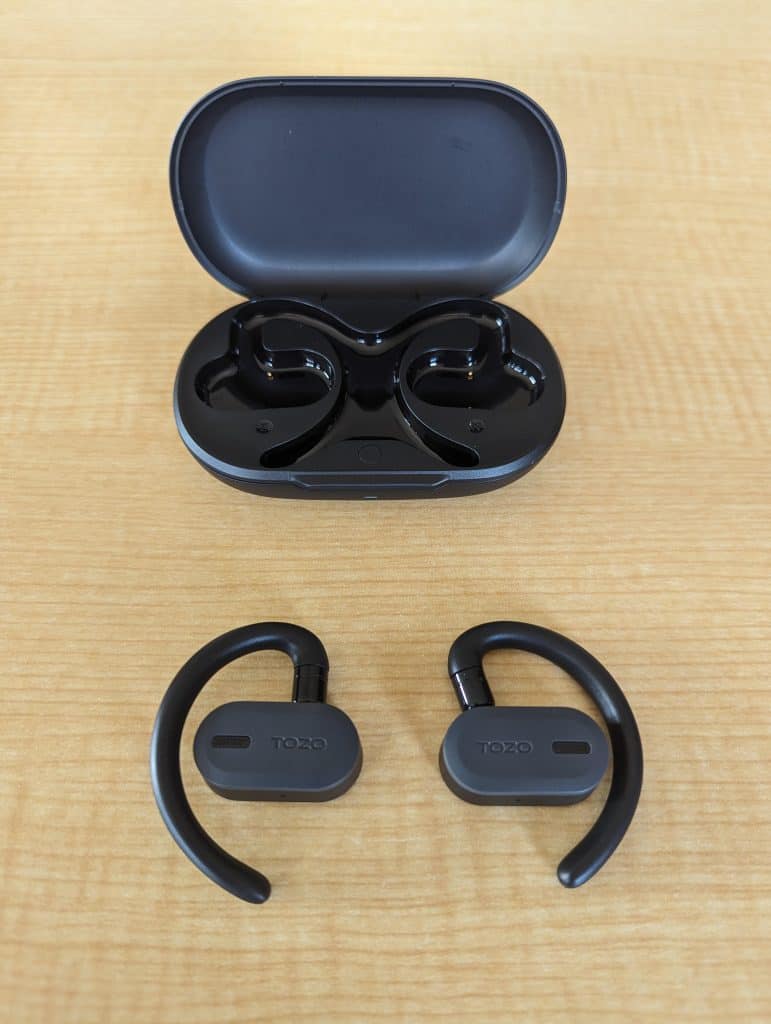 Sound Quality
The Tozo Openbuds continue the brand's tradition of offering great sound quality at a budget-friendly price. Their large 14.22mm dynamic driver, a feature that can only be accommodated in these physically larger-than-usual earbuds, sets them apart. This enables them to deliver a level of detail and bass richness that is not commonly found in smaller counterparts, such as the Bose Sport Pro or Cleer Audio Arc 2.
Despite the open-ear design typically resulting in a reduction in bass due to the lack of seal, the Openbuds still impress in this aspect. Bass delivery was good and not lacking. The standard tuning was good, without overly harsh treble that has been a problem for many earbuds I've used in the past.
However, it's worth noting that the open-ear nature of the Tozo Openbuds aren't ideal for all environments. Because they are designed to let in all the outside noise, the audio can be difficult to hear over the noise in places like busy cafes or buses. In these situations, earbuds with active noise cancellation (ANC) are a better option.
Overall, the Tozo Openbuds provide a detailed, bass-rich audio experience that punches above its weight, especially considering the price.
Microphone Quality
While the sound quality is arguably the OpenBuds' greatest strength, there's no doubt that the mic quality is its greatest weakness.
Throughout my testing, both during recordings and test calls, the microphone had significant difficulty capturing my voice, often failing to register much sound at all.
It remains unclear whether this issue is due to a technical glitch specific to my set of earbuds or a lack of design considerations. However, it is undeniably disappointing. Given the larger form factor of these earbuds, it would be reasonable to anticipate a comparatively high-quality microphone that more compact earbuds just can't accommodate.
Touch Controls and Tozo App
The Tozo Openbuds are equipped with a straightforward touch control scheme. This involves single or multiple taps on either the left or right earbud to execute different commands such as pause/play or skip tracks forward/backward. Adjusting the volume involves a long press on the left earbud to decrease and the right to increase the volume.
The Tozo App provides a layer of customization to these touch controls. Although the default settings were sufficient for my needs, the flexibility to adjust them according to personal preference is a plus point.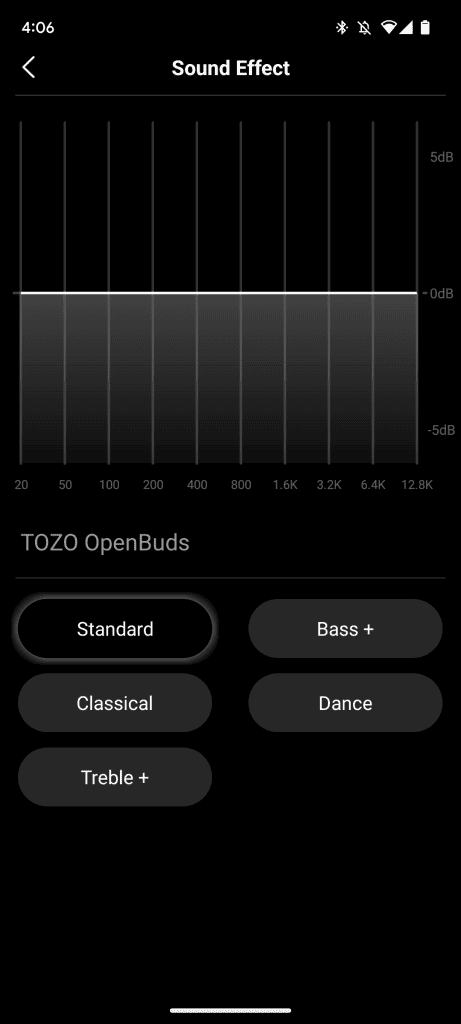 Beyond the touch controls, the Tozo App offers the ability to customize the equalizer, enabling users to switch between five different presets. However, it's worth noting that this falls short of the ten presets offered by other models, such as the Tozo Golden X1 earbuds. Being a software issue, this could be something that is changed in the future, but for the time being the options are slightly limited.
Conclusion
The Tozo OpenBuds are a welcome entry into the growing open-ear earbuds segment. In keeping with Tozo's legacy, the Open Buds offer good value for money, yet manage to feel more special than their older generation of earphones.
Sound quality is their strongest point, with the larger dynamic driver providing a bass-rich, detailed audio experience that makes these earbuds an excellent choice for casual listening.
Their design and comfort features, such as the biaxial rotation ear hooks, add to their appeal. These offer a personalized, snug fit that adapts to various ear shapes and sizes. In addition, they check the must-have boxes by including multi-link support for connecting two devices and the customizable touch controls via the Tozo app.
However, the Open Buds are not without their flaws. The most significant one being the poor microphone performance, which makes them difficult to recommend for those who plan to use them for calls.
All in all, the Tozo Openbuds are an excellent choice for individuals seeking open-ear headphones that offer an immersive, balanced sound, and comfort during extended use. They are especially apt for those who want to stay aware of their surroundings while enjoying their favorite audio.