Tozo, an emerging LA-based electronics manufacturer, has been making a bit of a name for itself in the budget earbud market. Their attractively priced and high-performing Tozo T10, T6, A1, and NC2 earbuds are absolutely dominating the budget earbud market, drawing comparisons to former budget-oriented brands like Soundpeats and 1More. In a similar fashion, Tozo too is now venturing into the premium earbud space with their latest offering, the Golden X1, which I'll be examining in-depth in this review.
Boasting a large 12mm hybrid dynamic driver system and LDAC codec support, the emphasis appears to be on sound quality above all. Naturally, this will attract the attention of audiophiles. But if the Golden X1s can check the other boxes and offer a well-rounded package, they could entice more casual listeners to use them as their daily driver.
In this review, I'll take an in-depth look at these new earbuds, which are priced at $149.99, and see if they can hold their own in the mid to high-end market. Full disclosure: Tozo provided me with a pair of Golden X1s for the purpose of this review, but my opinions and assessments remain unbiased and honest.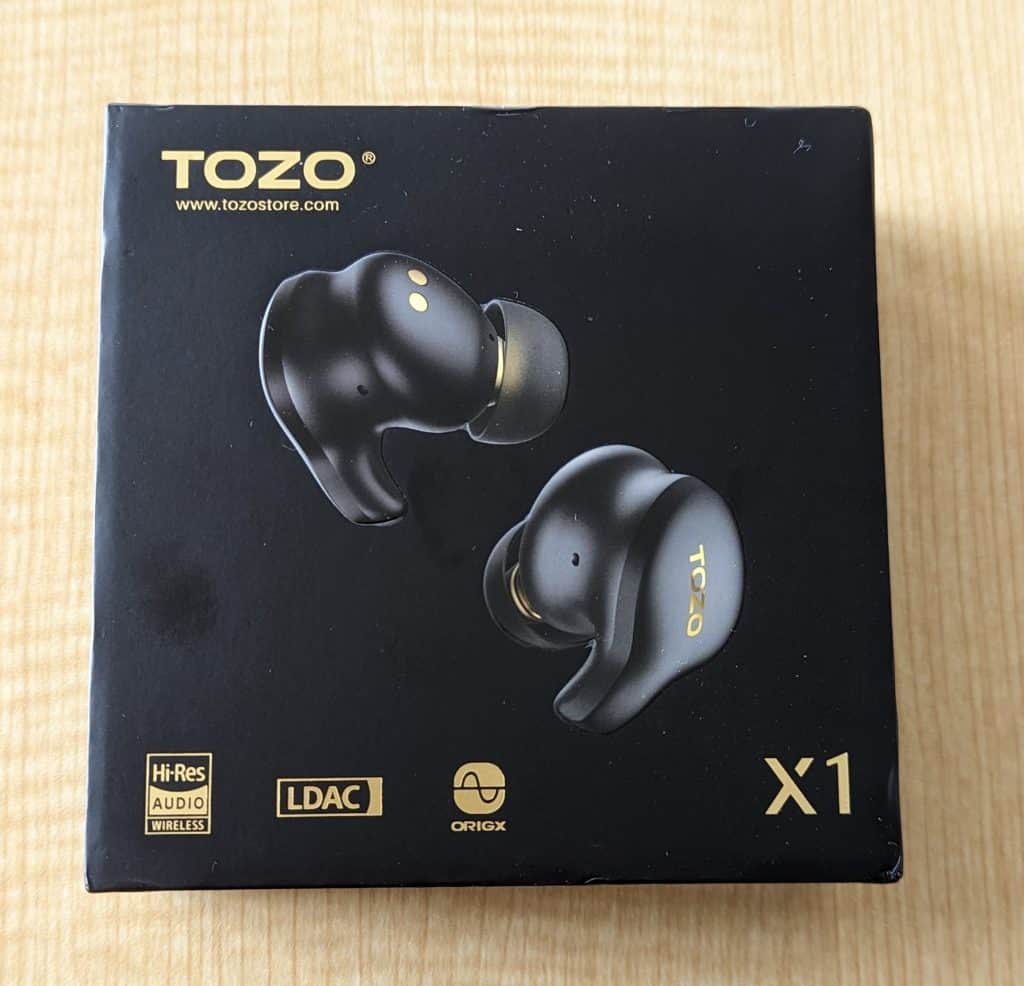 Key Features
LDAC Support: The Golden X1 earbuds offer LDAC support, which allows for high-resolution audio streaming over Bluetooth. This technology enables 3x the data transmission compared to standard Bluetooth codecs. However, it is important to note that LDAC is only compatible with Android devices, and iPhone users won't be able to benefit from this feature.
Multipoint Connectivity: These earbuds utilize the latest Bluetooth 5.3, enabling simultaneous connection to two devices. This means you don't have to constantly disconnect and reconnect between devices, like say a laptop and phone. Multipoint is basically a must-have feature for any premium set of earbuds nowadays, so it's good to see it being listed here.
Hybrid Driver System: The Golden X1s have a 12mm bass midrange dynamic driver and a Balanced Armature tweeter from Knowles Electronics. The large-diameter driver should theoretically provide ample bass while the balanced armature should ensure a more balanced sound signature, so it will be most interesting to see how the Golden X1s fare when it comes to audio fidelity.
Battery Life: The earbuds offer 8 hours of playback time at 50-60% volume without ANC, which should be sufficient for most users. They last longer than the likes of the 2nd Gen Airpods Pro (6 hours) and Bose QC earbuds 2 (6 hours) but are bested by some models such as the JBL Reflect Flow Pro (10 hours).
IPX6 Rating: With a certified IPX6 waterproof rating, the Golden X1s are resistant to sweat and anything but a total soaking, making them suitable for workouts and most outdoor activities. They aren't the only earbuds featuring an IPX6 rating, but it does make them more water-resistant than popular earbuds like Airpods and the Sony WF1000-XM4, which are both rated at IPX4.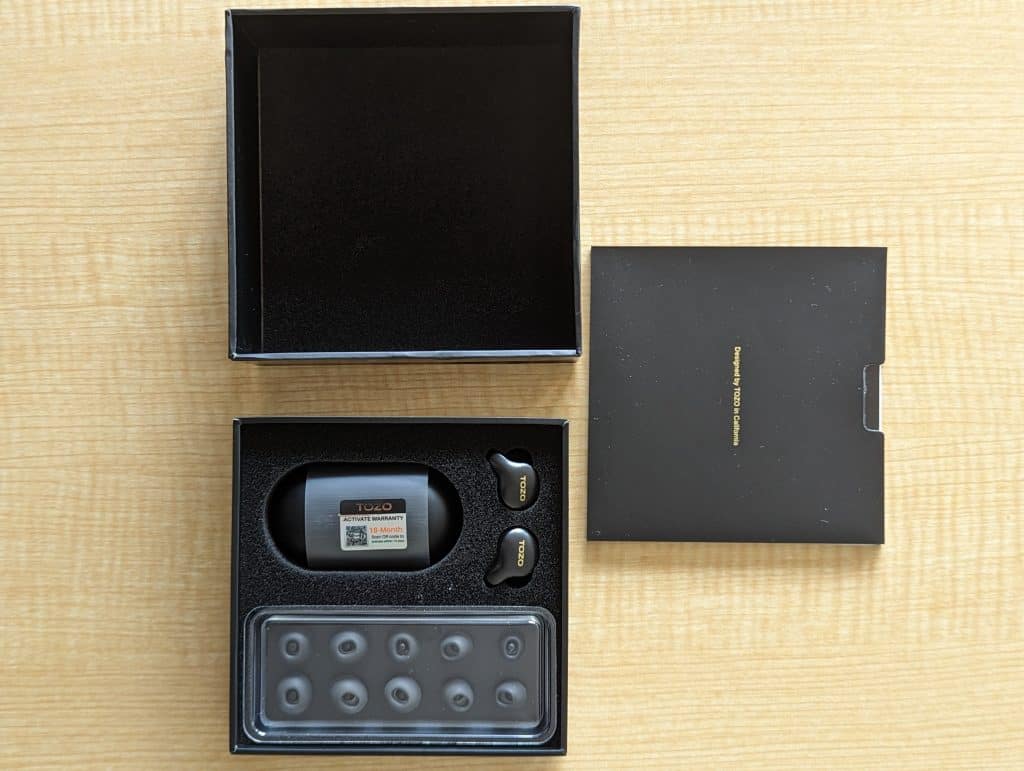 Unboxing
Upon unboxing the Tozo Golden X1 earbuds, the first thing you'll find is the earbuds themselves. To help users get started quickly, Tozo includes a Quick Start Guide on top of the usual more detailed user manual, which provides essential information about the earbuds and their operation.
To ensure a comfortable fit and proper seal for optimal audio quality, Tozo provides six additional oval-shaped silicone eartips in various sizes. This range of ear tip sizes caters to different ear shapes and sizes, allowing users to find the best fit and create a perfect seal.
The package also contains a charging case designed to store and charge the earbuds when not in use. Notably, the charging case features battery indicators for both the case itself and each earbud, a convenient addition that keeps users informed about battery life.
Lastly, a USB-C charging cable is included for charging both the earbuds and the case.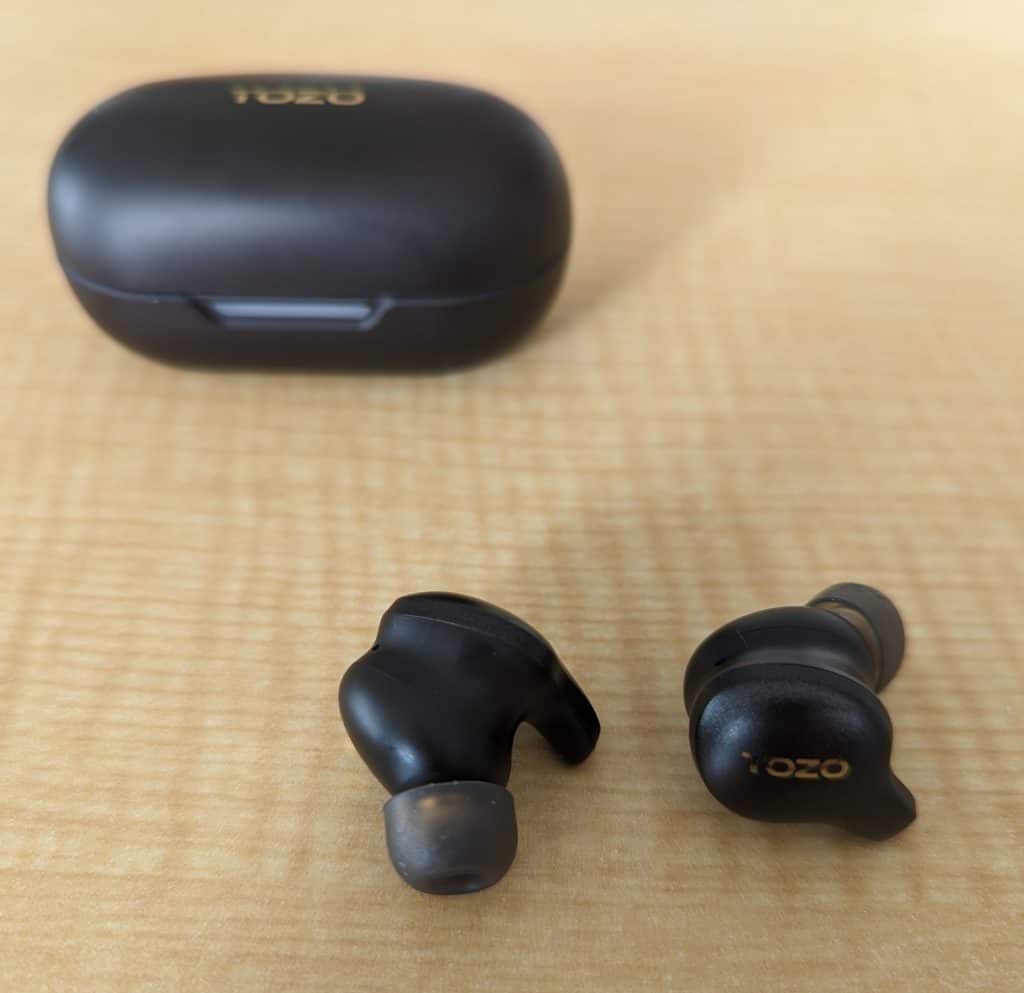 Design and Comfort
The Tozo Golden X1 earbuds feature a short stem design and attractive gold foil lettering, giving them a visually appealing, if somewhat unremarkable, appearance. The accompanying charging case keeps the same design theme and includes a tasteful status light on the exterior that adds a touch of character.
A useful feature of the charging case is the battery indicator for both the case itself (displayed as a percentage) and individual battery indicators for each earbud (displayed as bars). You don't see this on most earbuds, although they are becoming increasingly common, with some companies like JBL even perhaps taking it too far by introducing 1.45-inch color touchscreens.
Comfort was excellent, though this will ultimately depend on the individual's ear and ear canal size and shape. The inclusion of six different eartip sizes ensures that most users will be able to find a comfortable fit. Although the earbuds don't feature wingtips like some workout-oriented models, such as the Beats Fit Pro, they remain securely in place and shouldn't easily fall out during intensive use.
Sound Quality
As a reviewer specializing in hi-fi, most of my time spent with these earbuds was assessing the actual sound quality as opposed to considering all the other bells and whistles like design, companion app, battery life, etc. With LDAC support, large diameter drivers, and an impressive 12Hz to 44kHZ frequency range, the Golden X1s are very good on paper.
With out-of-the-box stock tuning, I was impressed by the overall sound quality and surprisingly wide soundstage for earbuds. They rank among the best-sounding earbuds on the market right now and deliver exceptional sound for the price.
As with pretty much all earbuds on the market, sound reproduction forsakes accuracy for a more colored sound to wow listeners. It's still well-balanced overall, but the highs and lows are a little too exaggerated for my taste. Using the app to switch the sound preset or manually adjusting EQ settings got things much closer to my ideal sound signature.
I've tried other earbuds in similar or higher price ranges, and the Golden X1s deliver sound that is just as good, if not better. These definitely score top marks for sound quality and are a considerable improvement over most ~$100 earbuds or older premium earbuds like the Gen 1 Airpod Pros. However, they are not necessarily ahead of well-received earbuds on the market right now, like the slightly pricier Sony WF-1000XM4 or 1More Evo, meaning sound quality alone can't be the determining factor for potential buyers.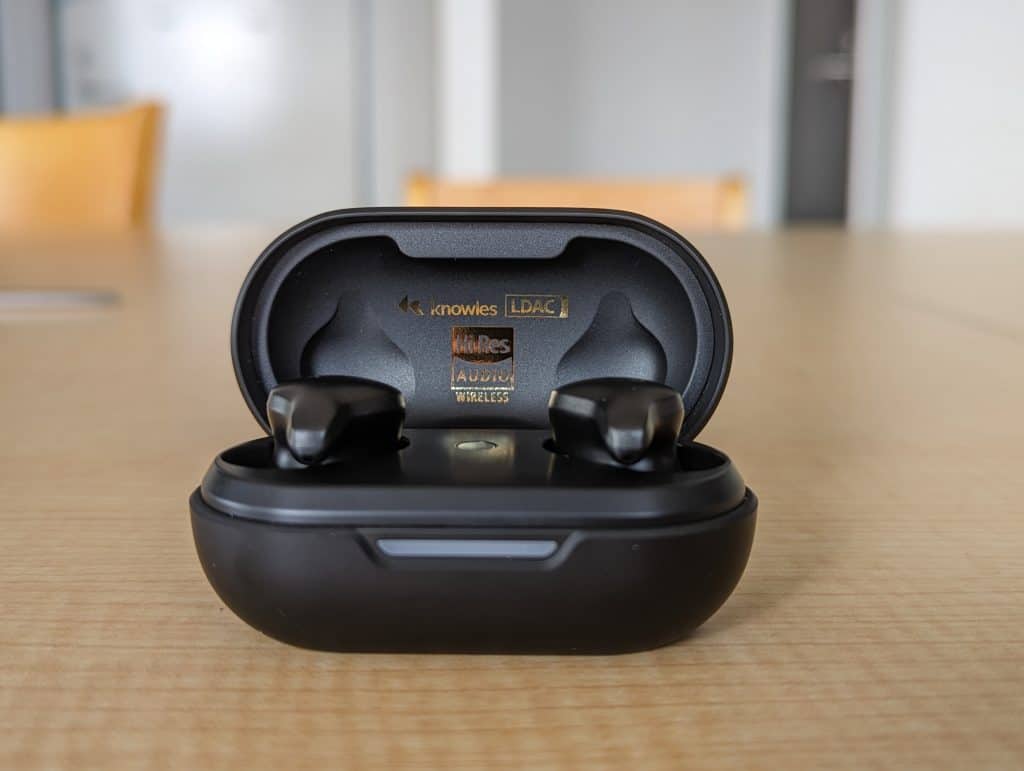 Is LDAC Worth It?
One question potential buyers might have is whether supporting Sony's proprietary high-resolution LDAC audio codec in the Tozo Golden X1 earbuds makes a significant difference in the listening experience. For audiophiles with a library of high-quality audio sources, the answer is yes – LDAC provides nearly lossless audio quality and can make a noticeable difference.
However, most casual listeners might not have access to such high-quality audio files. For instance, even with Spotify Premium's "Very High" setting, playback is limited to 320kbps. As a result, users may need to rely on local files or wait for Spotify to launch their anticipated HiFi offering to take full advantage of LDAC.
It's also important to note that iPhone users won't benefit from LDAC support, as Apple devices do not support the codec. There is currently no indication that Apple plans to introduce LDAC compatibility in the future.
That being said, it's worth mentioning that these earbuds still sound very good with AAC or SBC codecs. But it is a slight shame if you can't take advantage of one of the Golden X1s' biggest selling points over earbuds like the Gen 2 AirPods Pro, Pixel Buds Pro, or Galaxy Buds 2 Pro, which all lack LDAC support.
ANC and Transparency modes
The Tozo Golden X1 earbuds utilize hybrid ANC technology, providing impressive noise cancellation that can significantly enhance the listening experience in urban environments or during busy commutes.
The transparency mode is also very good, but it doesn't amplify the outside noises as much as Apple's Airpod Pros, which are supposed to be the best in the business. As a result, you won't be as sensitive to your surroundings, but I personally find the Airpod Pros transparency mode to amplify outside noise to a point where it's difficult to actually enjoy the music. The tamer transparency mode on the Golden X1s is actually a transparency mode I find myself using quite often.
Mic Quality
One aspect where all earbuds fall short is their built-in microphones. Given their compact size, it's understandable, but it would be a game-changer if a company could develop a microphone that truly impresses users since phone calls or Zoom meetings are basically ubiquitous among earbud users.
Tozo hasn't achieved that feat, with decidedly average microphone performance that makes it obvious you're using an earbud mic to the person on the other end. The mic does actually do a pretty good job of filtering out outside noise, but it comes at the cost of also making your own voice a little quiet, even cutting out at times when you speak at quieter volumes.
While this probably won't be a deal-breaker for most, those who will spend more time on calls than listening to music can do better, and ideally should instead use over-ear headphones (as opposed to earbuds) which have the room to house dramatically superior mics.
Tozo Sound App
The companion app for the Golden X1 earbuds is a fairly standard app that lets you switch between modes (ANC, transparency, normal, etc.) and apply predefined sound adjustments or manually fine-tune the equalization levels. It doesn't have the polish of apps from, say, Beats or Bose, but it does a perfectly good job nonetheless.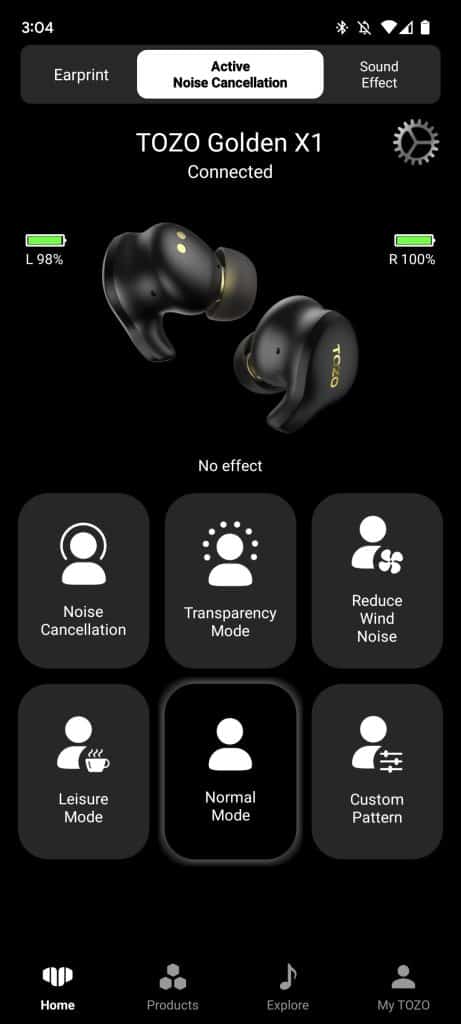 One cool thing it does feature is the EarPrint function which basically presents you with an auditory test and then uses AI to tweak sound levels for your specific hearing. It's optional, but it does make some difference.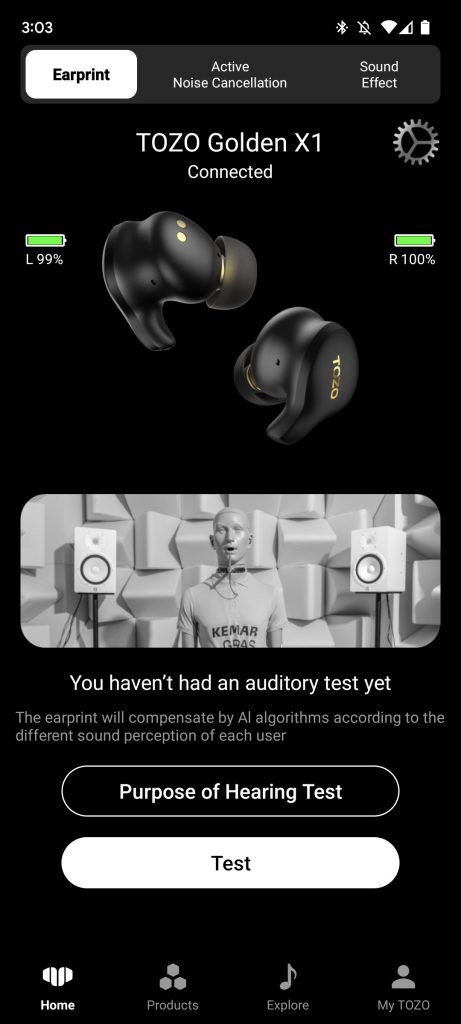 Verdict
Overall, the Golden X1s are a well-executed first attempt at producing premium earbuds by Tozo. Their standout feature is undoubtedly the sound quality, but they also impress with effective ANC, multipoint connectivity, IPX6 water resistance, and respectable battery life – all at a competitive price.
However, Tozo faces stiff competition in this price range, where consumers have a wider array of choices compared to the budget segment they dominate. While the Golden X1s deliver outstanding sound quality, the plethora of alternatives in the premium market makes the decision less clear-cut.
For Android users seeking to maximize value, the Golden X1s are an excellent choice, particularly due to their LDAC audio support. For iPhone users, they remain a decent choice even without being able to take advantage of LDAC. But, given the seamless integration between Apple AirPods and the iPhone, it's hard to look past the second-generation AirPods Pro as the top recommendation for iPhone users.
Pros:
Excellent sound quality with a wide soundstage
LDAC support for high-resolution audio streaming
Multipoint connectivity and the latest Bluetooth 5.3
IPX6 water resistance rating.
Comfortable fit with six eartip sizes included.
Effective ANC and transparency modes
Cons:
Nothing that really sets it apart in a crowded market segment
Mediocre microphone
Companion app is OK but lacks polish