Whether you're new to vinyl or dusting off old records and coming back, a turntable is what you'll need to transform those vinyl grooves into music.
Truth be told, a budget of $300 for a turntable isn't much for what is traditionally an expensive hobby. That said, there are affordable record players that not only sound great but leave plenty of room for future upgrades.
Let's take a look at the best turntables you can get for under $300 today.
Audio Technica AT-LP120X
Great sounding direct drive turntable packed with features. New for 2019.
Automatic: No | Motor: Direct drive | Phono preamp: Yes | USB: Yes | Speeds: 33 ⅓, 45 rpm, 78 rpm | Stylus: AT-VM95E | Dimensions: 22 x 18 x 10 inches

$349.00 Check Price on Amazon
For many years, the Audio Technica AT-LP120 was the best-selling under $300 turntable on the market. And for good reason. The AT-LP120 sounded great with its AT95E cartridge and being one of the few direct-drive turntables within the budget, had the flexibility of being a decent turntable for doing some DJing at home.
The new AT-LP120X is the long awaited update to the AT-LP120 and it doesn't disappoint. Improved in several areas, the AT-LP120X features the newer AT-VM95E cartridge, a better built-in phono stage and detachable (as opposed to hard-wired) RCA cables.
The AT-LP120X comes with a bunch of features that make it a versatile record player. It has a strobe light on the plinth and dots on the platter to indicate the record is being played at the correct speed, a speed adjust fader, anti-skate and the ability to rip records to MP3 via USB. While these might not be essential for listening to records, many people come to appreciate them over time.
The AT-LP120 was an awesome budget turntable, and the AT-LP120X addresses its biggest issue–the poor built-in phono preamp. Overall the AT-LP120X is a fantastc buy for under $300.
Denon DP-300F
Fully automatic turntable at a heavily discounted price
Automatic: Yes | Motor: Belt drive | Phono preamp: Yes | USB: No | Speeds: 33 ⅓, 45 rpm | Stylus: DSN-85 | Dimensions: 15″ x 17.1″ x 4.8″

$329.00 Check Price on Amazon
The Denon DP-300F is an attractive, fully automatic turntable that will cue records for you. To operate, all you have to do is press the start and stop buttons while the record placed on the platter. It will even automatically raise its arm at the end of the record, preventing any needle wear.
Out of the box, the Denon DP-300F sounds good. The included cartridge and DSN-85 stylus aren't the best in this list, but then again this is one of the less expensive turntables within our $300 budget.
If at some point you want to upgrade the cartridge for more detailed and accurate sound, the DP-300 will pair well with higher end cartridges like the AT440 or Denon DL-160 MC.
There isn't much wrong with this turntable from Denon. The omission of a USB port that allows you to rip music to a digital format won't be an issue for most. Meanwhile, the plastic base and buttons lack the build quality found in some of the other options, but again, this is a minor issue.
Audio Technica AT-LPW40WN
Manual turntable featuring a high quality carbon tonearm. New for 2019.
Automatic: No | Motor: Belt drive | Phono preamp: Yes | USB: No | Speeds: 33 ⅓, 45 rpm | Stylus: AT-VM95E | Dimensions: 19 x 16 x 8 inches

$299.00 Check Price on Amazon
Unveiled at CES 2019, the AT-LPW40WN wowed the audience with its stunning walnut finish and minimalistic design. Audio Technica clearly wanted a piece of the budget audiophile market that U-Turn and Pro-Ject have dominated in recent years and the AT-LPW40WN is a worthy alternative that is priced just under the $300 mark.
With the excellent AT-VM95E cartridge sitting at the end of its carbon tonearm, the turntable will not disappoint those seeking detail and accuracy in their music. Audio Technica have also fitted the motor with a speed-sensor system that helps it maintain perfect platter rotation speed.
While turntables from budget audiophile brands like U-Turn and Pro-Ject typically don't have a built-in phono preamp, the AT-LPW40WN does. That means you can start playing records straight out of the box and don't have to worry about buying a separate phono preamp.
Overall the AT-LPW40WN is a turntable that looks and sounds good. It's price point places it as a solid alternative to the AT-LP120X. For casual listening this is the slightly better choice thanks to the higher quality carbon tonearm and belt-drive system which isolates the turntable from motor vibration. However, it doesn't pack in quite as many features which you may or may not want.
Fluance RT81
Gorgeous looking turntable with an auto-off feature
Automatic: No | Motor: Belt drive | Phono preamp: Yes | USB: No | Speeds: 33 ⅓, 45 rpm | Stylus: AT-95E | Dimensions: 13.8 x 16.5 x 5.5 inches

$249.99 Check Price on Amazon
Fluance have made some incredible turntables in the past and the RT81 is no exception. The next upgrade up from the Fluance RT80, the RT81 instead features a solid wood plinth, rubber slipmat and an elliptical, as opposed to spherical, stylus.
This is a manual turntable meaning you're responsible for cueing records. This is part of the fun of playing vinyl, but some listeners will appreciate automatic turntables like the Denon DP-300F which plays records at the press of a button.
Because it uses the same cartridge and stylus combination as found in the AT-LP120, the sound quality is just as good. But crafted from solid-wood with a gorgeous finish, Fluance have delivered a turntable that also looks a cut above its competition.
The built-in phono preamp sounds good and at the back of the turntable is a switch that lets you bypass it and use a separate preamp. Buying a separate preamp isn't a very cost-effective upgrade given the minor difference it makes, but it's nice to have the option nevertheless.
Although its build quality is superior, it still doesn't feel like it can match Audio Technica's new AT-LP120X in value for money. It doesn't feature a USB port and the AT-LP120X's AT-VM95E cartridge is slightly superior to the AT95E. However, if you are planning on upgrading the cartridge down the line, there's very little that separates the two besides aesthetics.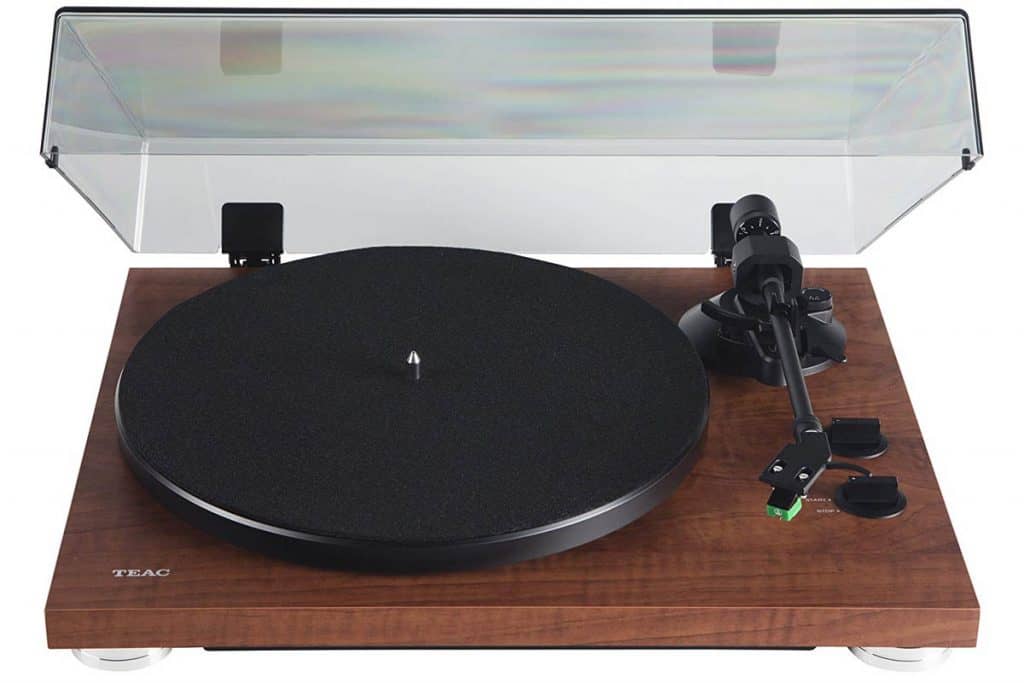 TEAC TN-300SE
Incredible value for money and available in a beautiful walnut finish.
Automatic: No | Motor: Belt drive | Phono preamp: Yes | USB: Yes | Speeds: 33 ⅓, 45 rpm | Stylus: AT-95E | Dimensions: 21.2 x 17 x 8.5 inches

Price not available Check Price on Amazon
Costing close to $300 at release, the TEAC TN-300SE is a fantastic 33⅓/45rpm manual belt-driven turntable that can currently be had for under $200.
Even at its original price, the TN-300SE offered good value for money thanks to its heavy MDF plinth, AT95E cartridge and static balanced Straight Tone Arm.
Comparable to the Denon DP-300F, this turntable from TEAC has a slightly superior sound and features a Texas Instruments Analog to Digital converter that allows you to easily rip music to MP3 via USB. However, unlike the Denon, it isn't automatic so you'll have to worry about raising and lowering the tonearm yourself. It also has a slightly higher wow and flutter rating of <0.2% compared with the DP-300F's <0.1%.
At its original price the TN-300SE wouldn't be my first choice as the similarly priced Fluance RT81 is almost the same turntable but has a nicer plinth and auto-off feature. However, for under $200, the TN-300SE is a bit of a steal like the Denon DP-300F and if your budget is really tight, a turntable seriously worth considering.
U-Turn Orbit Plus
A great sounding turntable from an independent startup
Automatic: No | Motor: Belt drive | Phono preamp: No | USB: No | Speeds: 33 ⅓, 45 rpm | Stylus: Ortofon OM5e | Dimensions: 19.3 x 16.1 x 10 inches

Price not available Check Price on Amazon
U-Turn is a huge name in the vinyl community and despite being slightly over budget it would be criminal not to include the U-Turn Orbit Plus within this list. Along with the Rega Planar 1 and Pro-Ject Carbon DC, it is regarded as one of the budget audiophile turntables that is capable of sounding as good as premium turntables.
At its base price the Orbit Plus does not include a built-in phono preamp meaning you'll have to factor that into the total cost unless you have one already. You can also buy the variant which features a built-in phono preamp that works out cheaper.
The package also doesn't include a cue lever which can be bought separately for $40. It isn't strictly necessary to have one and some people prefer to cue with their steady hand. However, many people prefer using one so bear that in mind.
The included Ortofon OM5e cartridge is comparable to the AT95E that is featured on many of the other turntables in this list. Ortofon make some incredible cartridges, but the OM5e is their entry level one so upgrading to the OM10 or 20 will make an audible difference.
Overall the U-Turn Orbit Plus is one of the best sounding turntables on this list but its costs add up. Unless you have a phono preamp already it doesn't represent the value for money that the Audio Technica AT-LP120X or Denon DP-300F offer.
Rega Planar 1
An audiophile turntable at a budget price… if you're in the UK
Automatic: No | Motor: Belt drive | Phono preamp: No | USB: No | Speeds: 33 ⅓, 45 rpm | Stylus: Rega Carbon | Dimensions: 14.7 x 17.6 x 4.6 inches

Price not available Check Price on Amazon
UK customers can purchase here (Click to see price)
Widely considered by much of the vinyl community to be the best entry-level hi-fi turntable around, the Rega Planar 1 is an incredible turntable that just sounds so good.
Despite being designed for those who are well acquainted with turntables and calibration, the Planar 1 is surprisingly easy to setup. The RB110 tonearm with precision bearings and automatic bias adjustment has the tracking weight's ideal position premarked makes the setup process a breeze.
Although the included Rega Carbon cartridge is fairly unremarkable, the table was designed to be upgraded. It's a tinkerer's dream that is capable of sounding as good as any turntable if you're willing to put some work into it. Note that at the bare minimum you will need to purchase a separate phono preamp as it does not feature a built-in one.
Unfortunately the Rega Planar 1 is rather expensive outside the UK and is well over the $300 budget for those of us in other parts of the world. However, those in the UK would do well to take advantage of their location and get it for the absolute steal that it is.
Reloop RP-2000M DJ Turntable
A beginner deck for the future DJ
Automatic: No | Motor: Direct drive | Phono preamp: Yes | USB: Yes | Speeds: 33 ⅓, 45 rpm | Stylus: AT-3600L | Dimensions: 21 x 16.9 x 8.8 inches

Price not available Check Price on Amazon
Those who wish to buy a turntable for the purposes of DJing have some different requirements when it comes to purchasing a turntable. Belt-driven turntables, while good for listening to music, aren't suited to any kind of DJ trickery. You also want the motor to be able to generate a decent amount of torque so that the platter can get up to speed quickly.
The Reloop RP-2000M is an entry level budget turntable that covers most features a DJ would look for. It's far from perfect: the AT3600L cartridge is very basic and the torque isn't high enough for scratching. Nevertheless, buying a pair of these will make mixing on a budget possible.
Note: If you're looking for a DJ setup that costs less than $300, going for a used Super OEM is by far the best route. Buying a solid DJ deck new just isn't possible at this budget, unfortunately.
Conclusion
Increasing your budget from $200 to $300 yields a significant improvement in sound quality. Turntables that cost under $200 typically use the spherical Audio Technica AT3600L cartridge which lacks detail at the higher and lower ends, resulting in a fairly flat and dull sound.
In this list, most of the turntables are using the Audio Technica AT95E or some comparable cartridge. They are diamond elliptical cartridges which sound superior to the likes of the AT3600L.
If someone has never touched a turntable before, I'd first and foremost recommend the Audio Technica AT-LP120X if the budget allows and otherwise go for the Denon DP-300F, which offers incredible value for money under $200. The AT-LP120X sounds better, but the DP-300F can be upgraded if needed and, being fully automatic, makes things easier for the novice operator.
The U-Turn Orbit Plus and Rega Planar 1 are the audiophile choices. They sound good out of the box but the audiophile would purchase them with the intent of upgrading the needle at some point. They require a phono stage which will cost $50-$100 at the very least so keep that in mind.
If you have any feedback or suggestions for this list please leave a comment below!