Edifier is a Chiniese audio manufacturer who dominate the Chinese market and are rapidly gaining recognition worldwide. The name might not possess the prestige associated with popular consumer brands like Bowers and Wilkins or Bose, but its products offer good value for money. Think Xiaomi, but in the HiFi space.
In this review I'll be looking at the R1850DB active bookshelf speakers. With a suggested retail price of $200, they're more expensive than PC multimedia speakers, but still cheaper than a budget receiver and passive speaker setup. It's clear Edifier are targeting those who want truly decent sounding speakers without making the jump to entry-level audiophile equipment.
Edifier R1850DB Active Bookshelf Speakers with Bluetooth and Optical Input - 2.0 Studio Monitor Speaker - Built-in Amplifier with Subwoofer Line Out
DIGITAL / ANALOG INPUTS – RCA/Aux for PC turntables etc Optical/Coaxial for lossless connection Bluetooth for convenience
BLUETOOTH V4 0 - Latest wireless technology for playing from phones tablets or laptops
TREBLE/BASS CONTROL SUB-LINE OUT Adjust bass treble volume and toggle inputs on rear panel Need a little more oomph. Add a subwoofer to your 2 0 setup by simply connecting to the sub-out jack
WIRELESS REMOTE – Handy compact remote control for input selection volume adjustment and track control (Bluetooth)
2 YEAR - high quality and reliability with hassle-free parts and labor for two years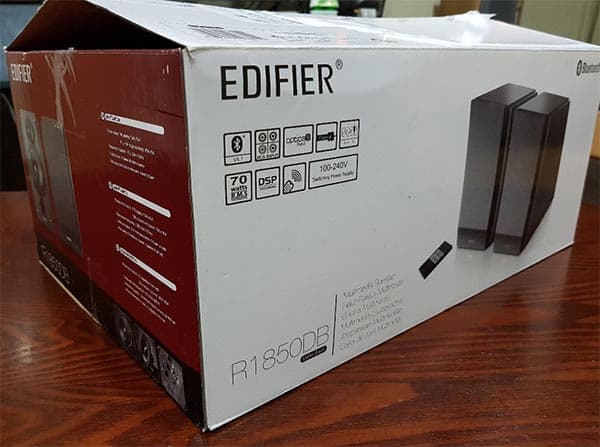 Features
Edifier tick all the boxes when it comes to features and bundled accessories.
A coaxial input, two stereo RCA inputs and a digital optical input can be used to hook these speakers up directly to your audio source. There's also Bluetooth 4.0 which makes it possible to stream audio wirelessly from your Bluetooth compatible player (e.g. smartphone).
Cables for each of the analog input are included within the box. Edifier have also bundled a remote makes it easy to switch between inputs and control various playback options.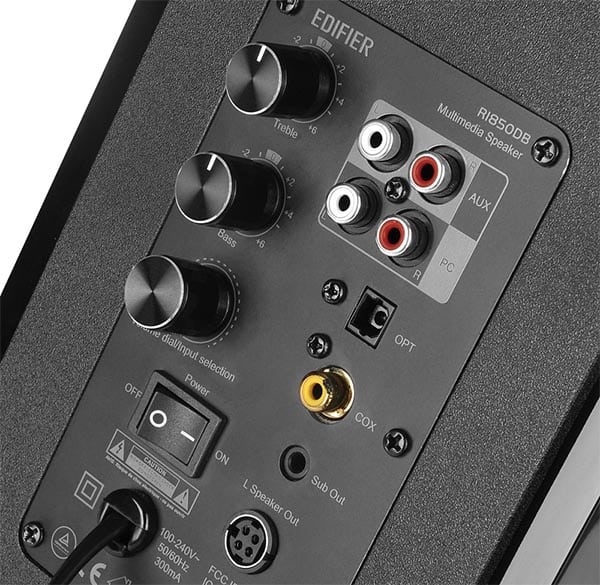 The low-profile all black MDF cabinets are quite aesthetically pleasing and taking off the front fabric cover reveals the speaker is front-ported. This makes it more flexible with regard to placement—you can place it quite close to the wall without resulting in an accentuated bass. Edifier have also given the front of the speakers a 10-degree angle to better direct sound, which works well if you're placing them on a desk but not so well if they're placed on a high bookshelf.
The 4-inch bass driver and 0.75-inch tweeter mean the whole enclosure is quite compact. A pair of passive speakers in this price range would generally come with a bigger 5.25-inch woofer and 1-inch tweeter. However, a total power output of 35W RMS per speaker means the R1850DB will be loud enough for most applications (though not enough to fill out a room for a house party).
Sound
Now for the important part, how do they actually sound? Listening to a mixture of tracks ranging from the Beatles to Kanye West revealed slightly boosted midbass and highs, which is not necessarily a bad thing. Rather, it's a common symptom of mass market speakers which like to 'wow' first-time listeners with punchy bass and sparkly highs.
That being said, playing around with the bass and treble dials at the back makes it possible to for the R1850DB's to sound quite balanced. The 60Hz-20kHz frequency response means the lows don't go very deep and the highs are rolled off. All this makes for easy listening but it lacks the detail and accuracy that comes with higher end setups. Edifier do however include a subwoofer out port which means there is significant potential to boost the bottom end.
Overall the R1850DB speakers sound considerably better than cheaper PC speakers and perform well during near-field listening. This makes them excellent speakers for your PC, where popular bookshelf speakers are slightly too big and often end up wasting their potential given the fact you'd be sitting right in front of them.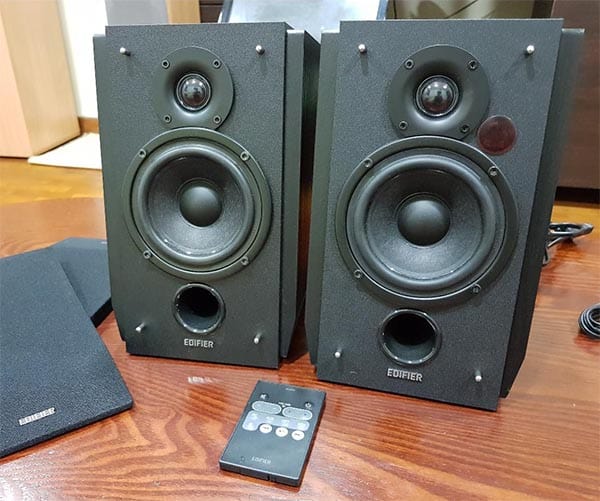 Verdict
So would I recommend the R1850DB speakers? Yes, I would definitely consider them as a good pair of PC speakers. They offer a very compelling package given their input versatility, perfect sizing and decent sound quality. A budget passive speaker and amplifier combo would easily cost twice as much and take up way too much desk space.
However, I'd look elsewhere if I wanted speakers solely for listening to music or any far-field listening. They aren't powerful enough to reach the back of the room and the sound lacks the detail I'd want to separate the mixed layers of recordings.
If we're sticking with active speakers, something like the Fluance Ai60 or Audioengine A5+ would be better options for these applications (though obviously costing more). Meanwhile, if you're interested in an amp+speaker combo go ahead and check out my list of the top speakers under $200.