Vinyl has made a big comeback. When the average consumer moved away from CDs to digital downloads and audio streaming services, many others regained interest in the good old record.
Some people miss having physical copies of music which they can see and feel. Others want to experience the unique sound that only a truly analog recording can bring.
However, many people just getting started with vinyl are under the impression that vinyl is an incredibly expensive hobby or one that only exists for nostalgia's sake.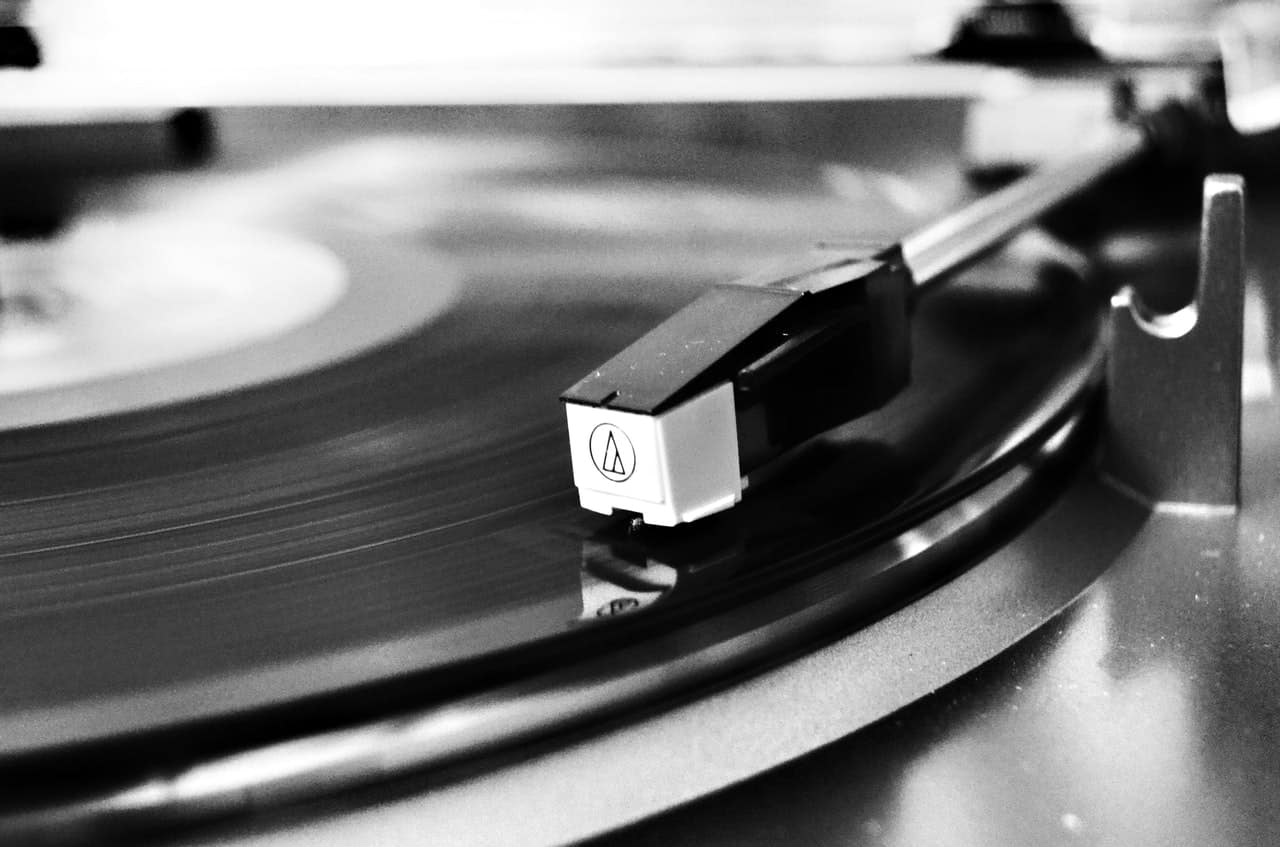 Both these assumptions are wrong. As vinyl sales hit new record numbers, more and more manufacturers are releasing affordable turntables to lure in those with lesser budgets. Meanwhile, new turntables keep up with the times, offering the likes of bluetooth connectivity to stream to your bluetooth speakers or USB connections to let you digitize records.
Interested? Having a turntable is the first thing you'll need to get started with playing records the old fashioned way. The cheapest turntables will set you back anywhere between $100-$200, and in this buyer's guide we'll be taking a look at the top 8 record players you can get in this range.
Included In this Guide
---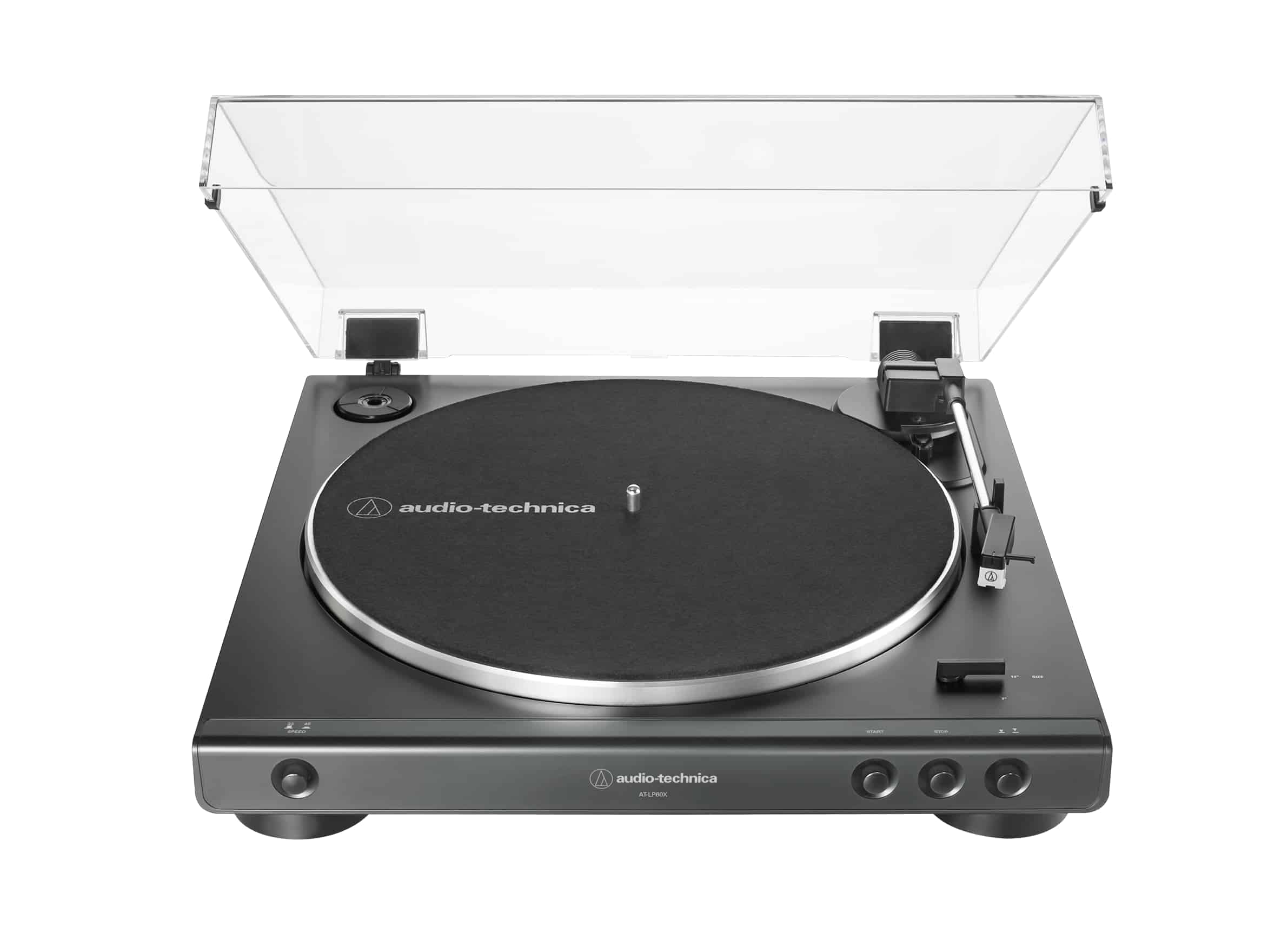 Best Overall
A great entry point for those just getting started.
Specifications
Type:
Automatic Belt-drive
Speeds:
33 1/3 and 45 RPM
Built-in phono preamp:
Yes
Cartridge:
Audio Technica ATN3600L
Pros
Easy to operate
Hassle-free set-up
Attractive color options
Cons
Budget looks
Only RCA output, no headphone jack or Bluetooth
In 2019, Audio Technica updated the best-selling AT-LP60 (read the full review) to create the all-new AT-LP60X. The AT-LP60X keeps the original formula but has a few tweaks and features a completely new chassis.
The AT-LP60's success was rooted in its ease of use and price. Being a fully automatic belt-driven turntable, users simply needed to place the record and press play. No worrying about raising and lowering the tonearm. Unlike a lot of turntables which require a separate phono preamp, the AT-LP60 features a built-in phono preamp which means you can hook it up directly to your speakers and begin listening to music.
The AT-LP60X improves upon the AT-LP60 in three ways. First, the tonearm has been improved with a new base and headshell design. Audio-Technica claim these changes result in better tracking and reduced resonance (that can distort audio signal). Secondly, the audio output cable is now removable, letting you swap out the cable if it gets worn out or upgrade to a better quality one. Finally, there is now an external power adapter as opposed to having the power conversion done within the chassis (which could affect the audio signal).
The anti-resonance aluminum platter, dual-magnet Audio-Technica cartridge and replaceable diamond stylus make for high quality sound and an enjoyable overall audio experience. It won't quite meet the demands of vinyl enthusiasts, but with a good pair of speakers, audio is clean and detailed.
Note: Audio Technica also offer the slightly more expensive Audio-Technica AT-LP60XBT. This model is the same as the AT-LP60 but features Bluetooth connectivity so you can wirelessly pair it with your speakers/headphones.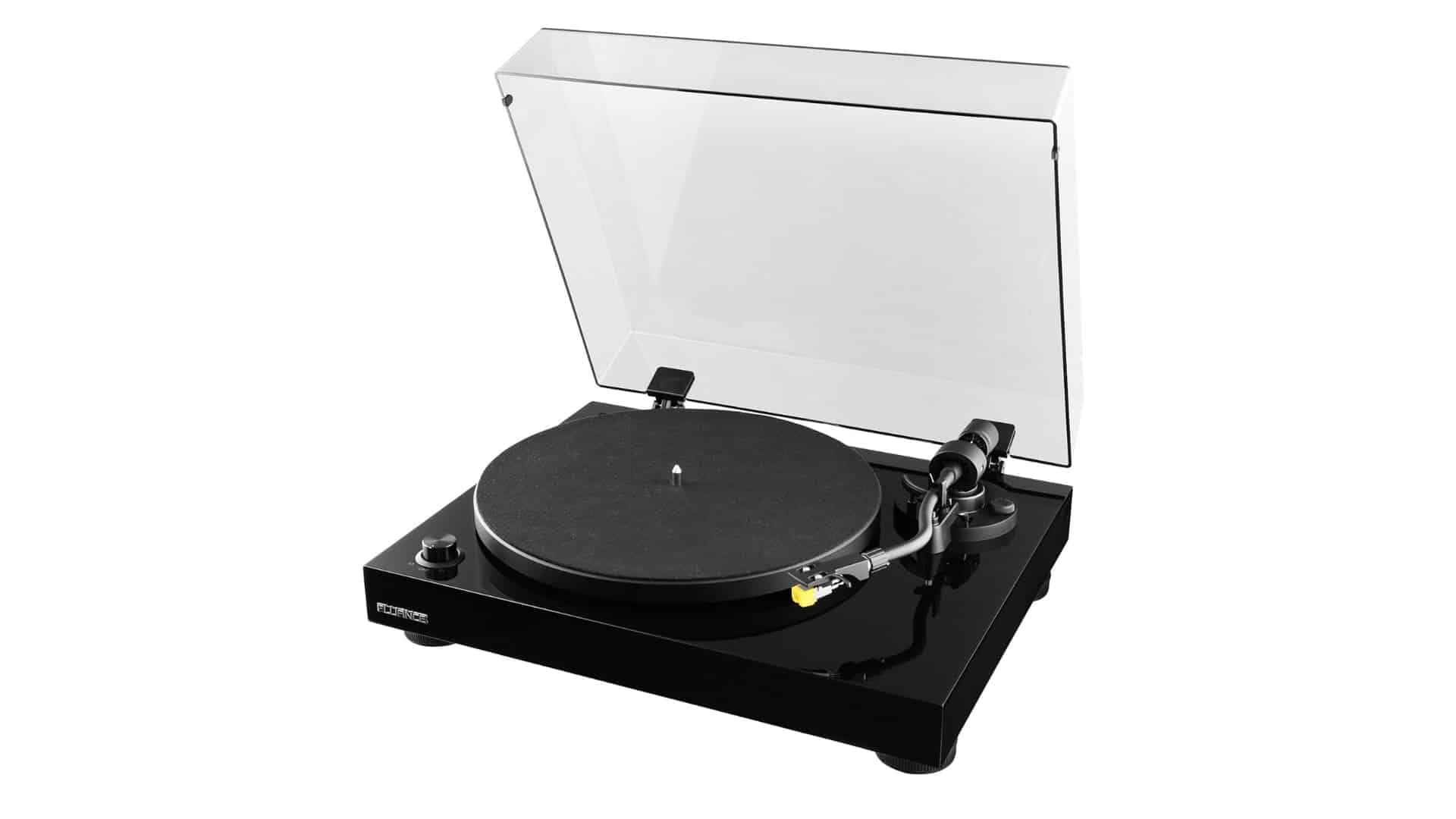 Best For Audiophiles
Premium build with an upgradeable stylus and cartridge
Specifications
Type:
Automatic belt-drive
Speeds:
33 1/3 and 45 RPM
Built-in phono preamp:
Yes
Cartridge:
Audio Technica AT91
Pros
Great sound quality
Ability to upgrade the cartridge and phono preamp
Solid build quality with thick wood plinth base
Stunning Design
Cons
Included platter mat is felt, not the more ideal rubber or cork
Fluance are synonymous with quality and the RT80 is their entry-level turntable. The signature black and yellow Fluance styling will go perfectly if you have a pair of their speakers and the curved tonearm makes cueing a joy. The only thing I can fault about the chassis design is that the glossy surface attracts a lot of dust.
The RT80 features an AT91 spherical stylus which tracks better than all the other styluses on this list (although not by much) and produces superior sound quality. You'll need to do some calibration yourself by adjusting the anti-skate and counterweight, but the calibration process is very simple.
The RT80 sounds great out of the box but there's still plenty of room for upgrading. The stylus and cartridge can be upgraded, and it has a switchable phono preamp that makes it possible to bypass the built in phono preamp and use your own.
Although not a huge deal, Fluance did let themselves down by only including a felt platter mat as opposed to a rubber or cork one. The rest of the RT record players all come with rubber mats so it's hard to see why only the RT80 came with a felt one.
Overall the RT80 is our top under-$200 turntable for audiophiles because it presents a lot of upgrade potential.
Note: It's worth considering paying an additional $50 for the Fluance RT81. For $50 more, the RT81 features a rubber mat and the far superior AT95E elliptical stylus which is able to track with greater precision–meaning it won't miss out on some of the highs that the RT80's spherical AT91 stylus misses.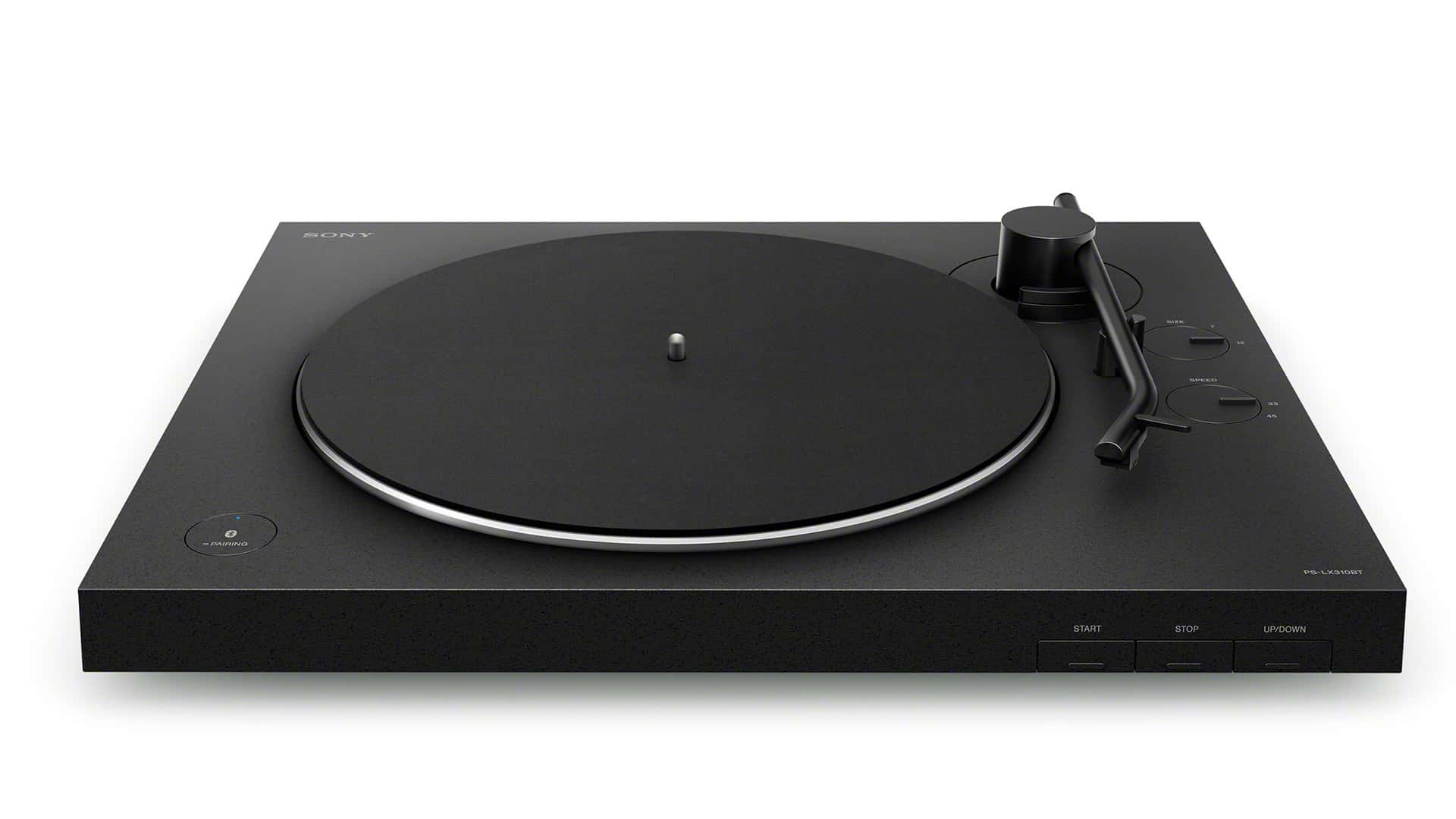 Best Bluetooth Turntable
Cable-free pairing with your Bluetooth speakers or headphones
Specifications
Type:
Automatic belt-drive
Speeds:
33 1/3 and 45 RPM
Built-in phono preamp:
Yes
Cartridge:
Audio Technica 3600L
Pros
Easy to operate and setup
Attractive modern chassis
Stream audio over Bluetooth to your wireless speakers, headphones or soundbar
Cons
Sound quality similar to the AT-LP60X, so you effectively pay a premium for Bluetooth + USB
Sony might not be the first brand that comes to mind when you think of turntables, but its history in audio products stretches a long way back. New for 2019, the Sony PS-LX310BT is a fully automatic, two-speed (33⅓ and 45 RPM), belt-driven turntable that carries on from where the decent but unremarkable PS-LX300 left off.
Sony has given the outdated design of the PS-LX300 a much-needed makeover. The new chassis design fits perfectly in the current generation of Sony products and is definitely one of the slickest looking record players you can buy for under $200.
Like the Audio Technica AT-LP60X, this turntable from Sony is a breeze to setup and start listening to records thanks to fully automatic cueing. The heavy aluminium platter and rubber (as opposed to felt) mat further reduces vibrations coming from the belt driven motor, giving the turntable good tracking for the price.
Its audio quality is comparable to the Audio Technica, partly owing to the fact that it in fact shares many of the same parts as the AT-LP60X. However, the PS-LX310BT distinguishes itself by having bluetooth connectivity as well as a USB connection which allows you to rip vinyl records to MP3 and other digital files.
Again, the cartridge is not replaceable so there is no significant scope for upgrades. However, Sony does allow you to bypass the built-in preamp and use your own by flipping the switch to 'phono out' instead of 'line out'. Using your own preamp can potentially boost audio quality.
Read the full review: Sony PS-LX310BT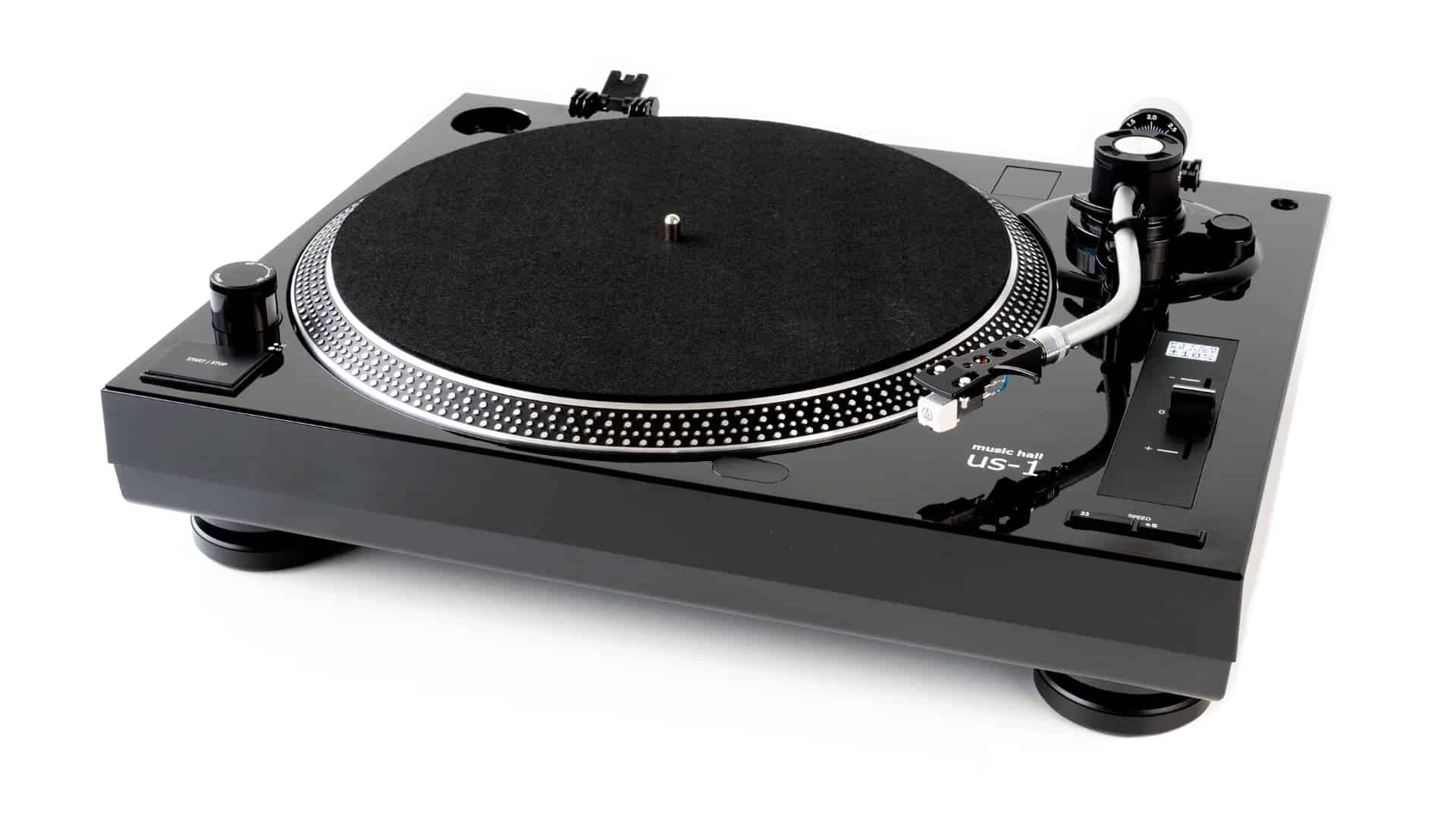 Best Manual Turntable
Master the art of manually cueing records
Specifications
Speeds:
33 1/3 and 45 RPM
Built-in phono preamp:
Yes
Cartridge:
Audio Technica AT3600L
Pros
Spinning your own vinyl can be a lot of fun
Anti-skating control for increased stereo balance
Cons
Relatively heavy tracking weight and potential human error may damage records if you are unfamiliar with the process
No USB or Bluetooth
Looking similar in design to the legendary Technics SL-1200 turntable that DJs loved, the Music Hall US-1 makes it clear that spinning vinyl is a hands-on activity.
You won't find anything automated here, you're responsible for maneuvering the S-shaped tonearm over the groove and calibrating the counterweight and anti-skate. One bonus of being a manual turntable is that there are fewer moving parts that could break down.
With the ability to alter the pitch by +/-10% and a strobe indicator, the US-1 is overall a great starting point if you're learning how to operate a turntable like a pro.
However, despite being very hands-on, the US-1 is belt-driven meaning you won't be able to do any DJing or scratching effects. This is strictly used to play music from your music collection.
The US-1 turntable is a lot of fun but doesn't present fantastic value for money.
Out of the box it uses the Audio Technica AT3600L moving-magnet phono cartridge which is the same as the one found on the significantly cheaper AT-LP60X. Its plastic chassis doesn't feel quite as premium as the similarly priced Fluance RT80 or House of Marley Stir It Up either. And the lack of USB means it won't let you digitize your record collection, unlike the USB turntables that made this list.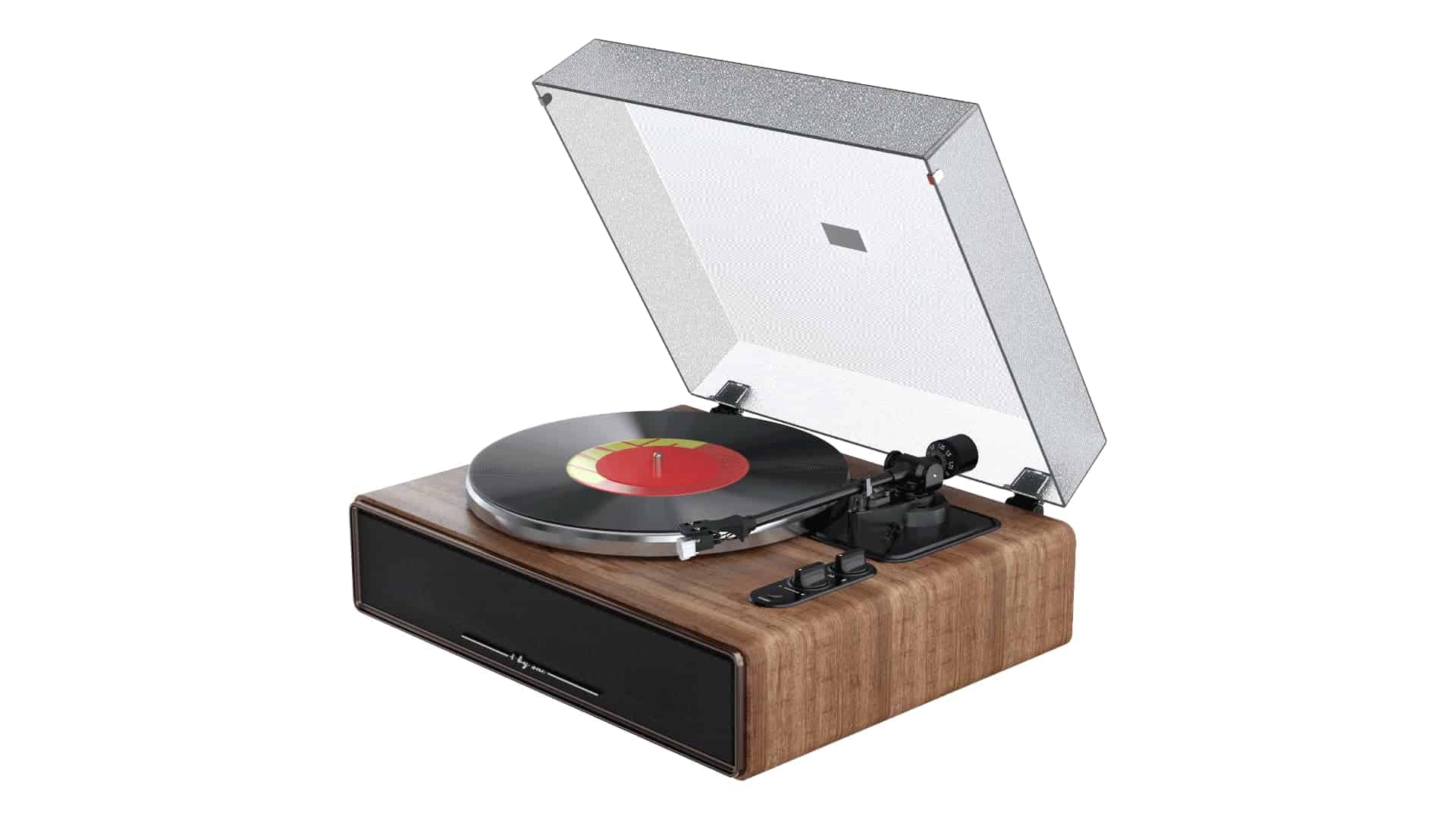 With built-in speaker
Built-in speakers might be a turn-off for audiophiles, but they do help save space
Specifications
Type:
Automatic belt-drive
Speeds:
33 1/3 and 45 RPM
Built-in phono preamp:
Yes
Cartridge:
Audio Technica AT3600L
Pros
Unique design
USB, Bluetooth and built-in speaker
Minimum hassle
Cons
Can achieve better sound with dedicated speakers
1byone is a consumer electronics brand that produces everything from bathroom scales to fog machines. It might therefore be tempting them to dismiss them completely in favor of dedicated audio manufacturers, but the H009 is actually a fairly decent all-in-one turntable, even if it can feel like an amalgamation of different off-the-shelf parts put together.
Compared to other budget turntables that try to imitate a retro appearance, the H009 actually looks quite attractive and doesn't look as gimmicky as the cheap suitcase turntables that are more useful as props for a set than actually listening to music. Unfortunately, the turntable does feature some blue and red lighting during operation that diminishes the classic aesthetic it goes for.
It features the popular Audio-Technica MM AT3600L cartridge that delivers solid sound performance and a static straight tonearm with an adjustable counterweight that can help minimize sound distortion by keeping the stylus centered in the groove as the tonearm travels across the record​​.
The H009 includes two built-in 2" tweeters and two 2.5" woofers, which are capable of producing impressive volume for a relatively lightweight unit that measures 17" x 14". As expected, however, the built-in speakers are somewhat lacking in audio fidelity, and sound tinny compared to dedicated bookshelf speakers.
Overall, going for a cheaper turntable like the Audio Technica AT-LP60X and using the leftover money to buy separate speakers will yield far better results sound-wise, but the H009 is a compelling alternative if you're short on space and want something with a more retro-inspired look.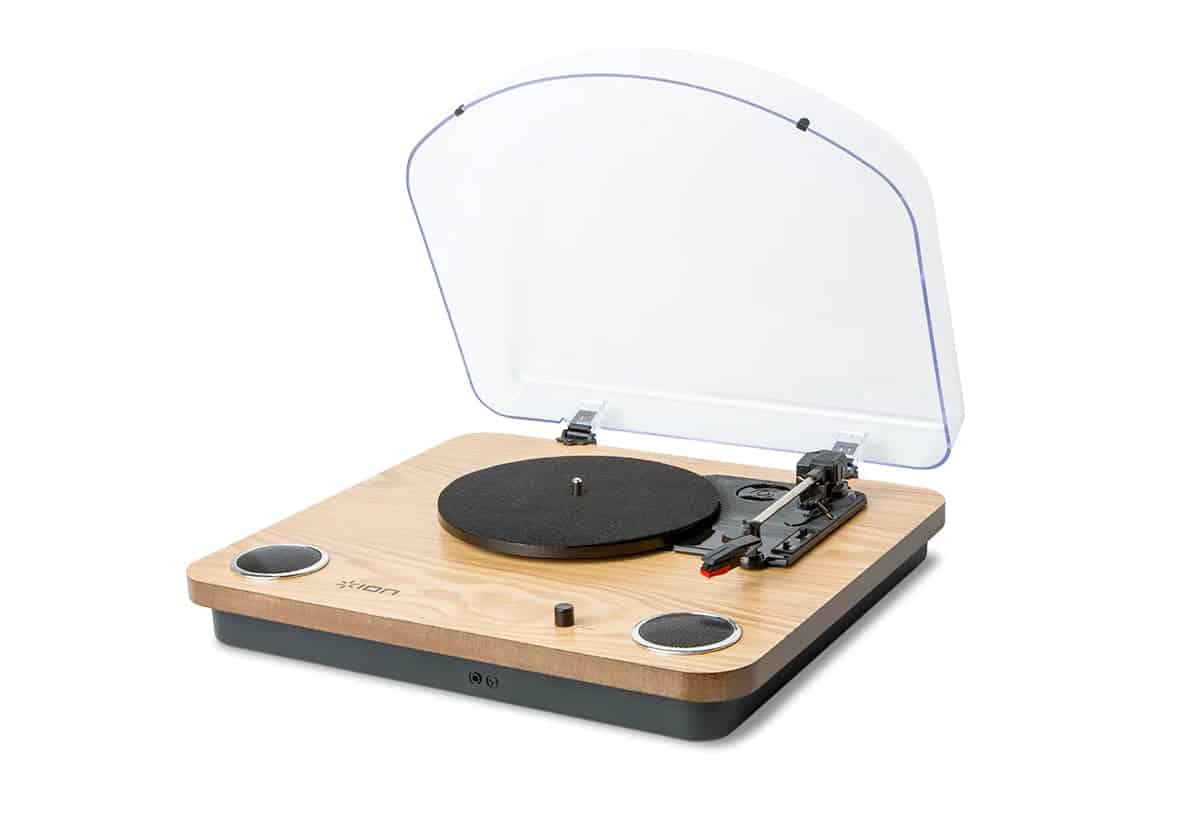 Plays 78s
A record player to play those vintage 78s
Specifications
Type:
Automatic belt-drive
Speeds:
33 1/3, 45 and 78 RPM
Built-in phono preamp:
Yes
Pros
78 RPM speed
Standard RCA outputs and USB port
Cons
Built-in stereo speakers are poor
78 RPM stylus must be purchased separately
Typically made using shellac instead of vinyl, 78 RPM records are vanishingly rare and their production ceased in the 1960s. The majority of turntables, including higher end ones, can't play 78 RPM records. The ION Audio Max LP is an affordable 3 speed turntable that can play 78 RPM records.
It's important to note you will need to purchase a 78 RPM stylus as the included one is designed for use with 33⅓ and 45 RPM records. This is because the grooves on older 78s can only be read with the right stylus.
The Audio Max LP is marketed as being a great turntable to digitize your records. If you have a bunch of old 78s lying around and want to bring them back to life, the USB cable along with their exclusive EZ Vinyl/Tape Converter software will make the whole process very simple.
Unfortunately the Audio Max LP does miss a pitch slider meaning it is not possible to adjust the speed from the 33/45/78 RPM speeds. This can be a problem for some 78 RPM records as the so called '78s' are actually correctly played at anywhere between 73-83 RPM depending on the record.
A fairly unique feature of the ION Audio Max LP are its built-in stereo speakers. This makes the entire setup very straightforward and you can potentially be listening to your favorite records with nothing but the record player and a record to boot. However, the built in speakers aren't great so hooking the Max LP to separate speakers is advised.
Overall the ION Audio Max LP is one of the rare under $200 turntables that can play 78 RPM records. However, we would not suggest the record player for those looking to only play 33/45 RPM records as there are much better sounding options for the money.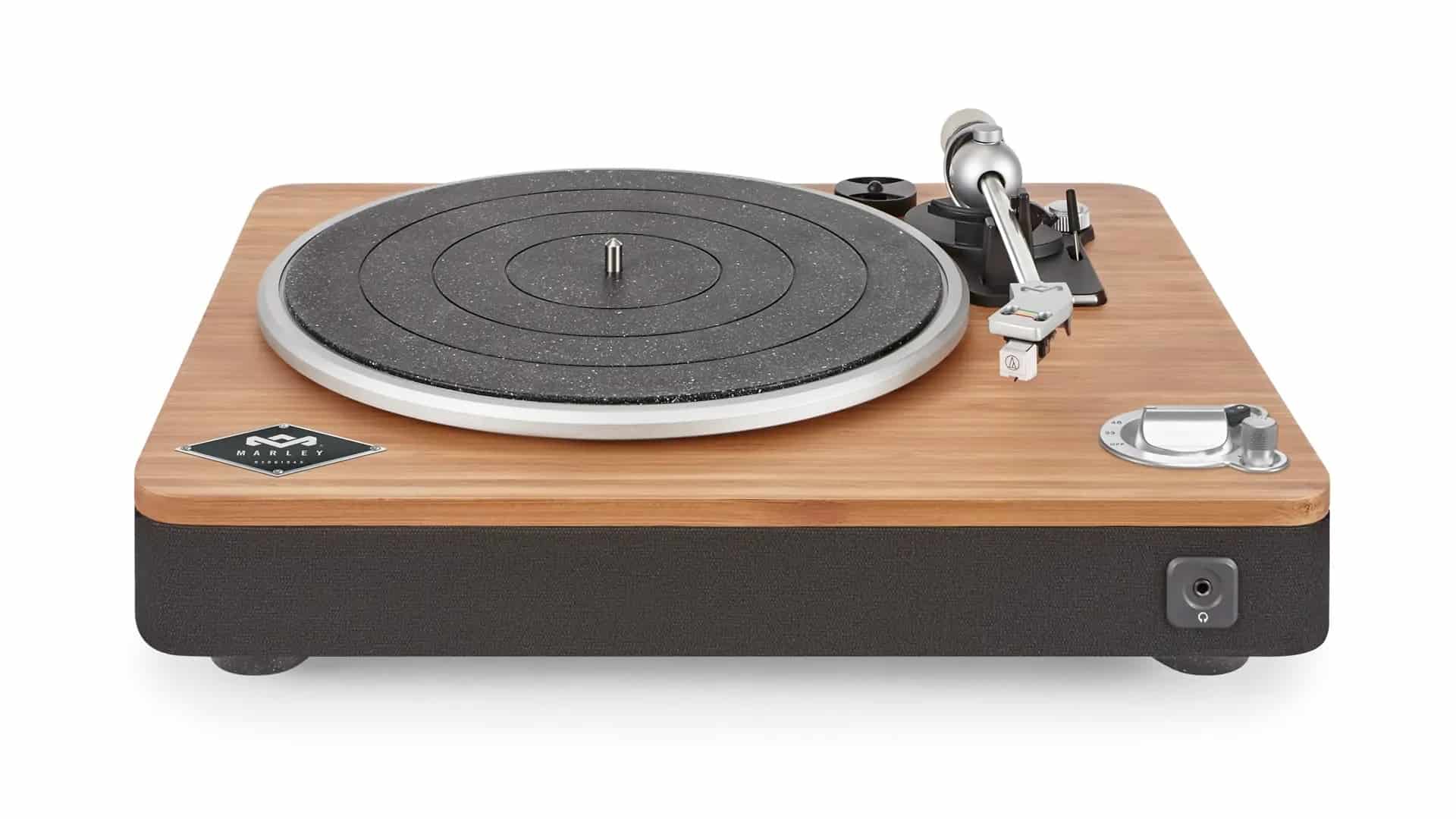 Nicest Looking
A record player for the eco-conscious
Specifications
Type:
Manual belt-drive with auto start/stop
Speeds:
33 1/3 and 45 RPM
Built-in phono preamp:
Yes
Cartridge:
Audio Technica AT3600L
Pros
Stunning solid bamboo crafted plinth
Eco-friendly construction with recycled and sustainable materials
USB to PC recording and 3.5mm headphone jack
Cons
Have to manually lower and raise the tonearm
Can find better sounding turntables for the price
Most budget turntables are quite similar and you can't expect a large amount of variation in these models which are ultimately mass-produced. However, the House Of Marley Stir It Up turntable manages to differentiate itself from the competition thanks to its stunning solid-bamboo chassis and mindfully sourced materials that minimize the impact on the environment.
The first thing you notice about the Stir It Up is that its design is a cut above the rest within the budget. The bamboo plinth is covered by hemp and organic cotton on the sides while the platter and tonearm are created from recycled aluminium. They even get the little details right with the etched in brand logo and the three rasta stripes on the headshell which pay tribute to Bob Marley's legacy.
Unlike most other budget turntables, this turntable is manual which means you're responsible for raising and lowering the tonearm to get the record playing. This is part of the fun, but be warned if you're a complete beginner you do risk damaging the stylus or scratching your records–so make sure you learn the process beforehand.
Because the turntable features a removable variant of the Audio Technica cartridge found in the AT-LP60, audio quality is good but definitely not $100 better than the AT-LP60. However, it is replaceable, so there is room for significant improvements to audio.
The House Of Marley Stir It Up isn't automatic, doesn't feature bluetooth and doesn't sound much different to the other record players that made this list. However, the beautiful design and eco-friendly materials and may justify the extra cost for the more environmentally conscious consumer.
Read the full review: House of Marley Stir It Up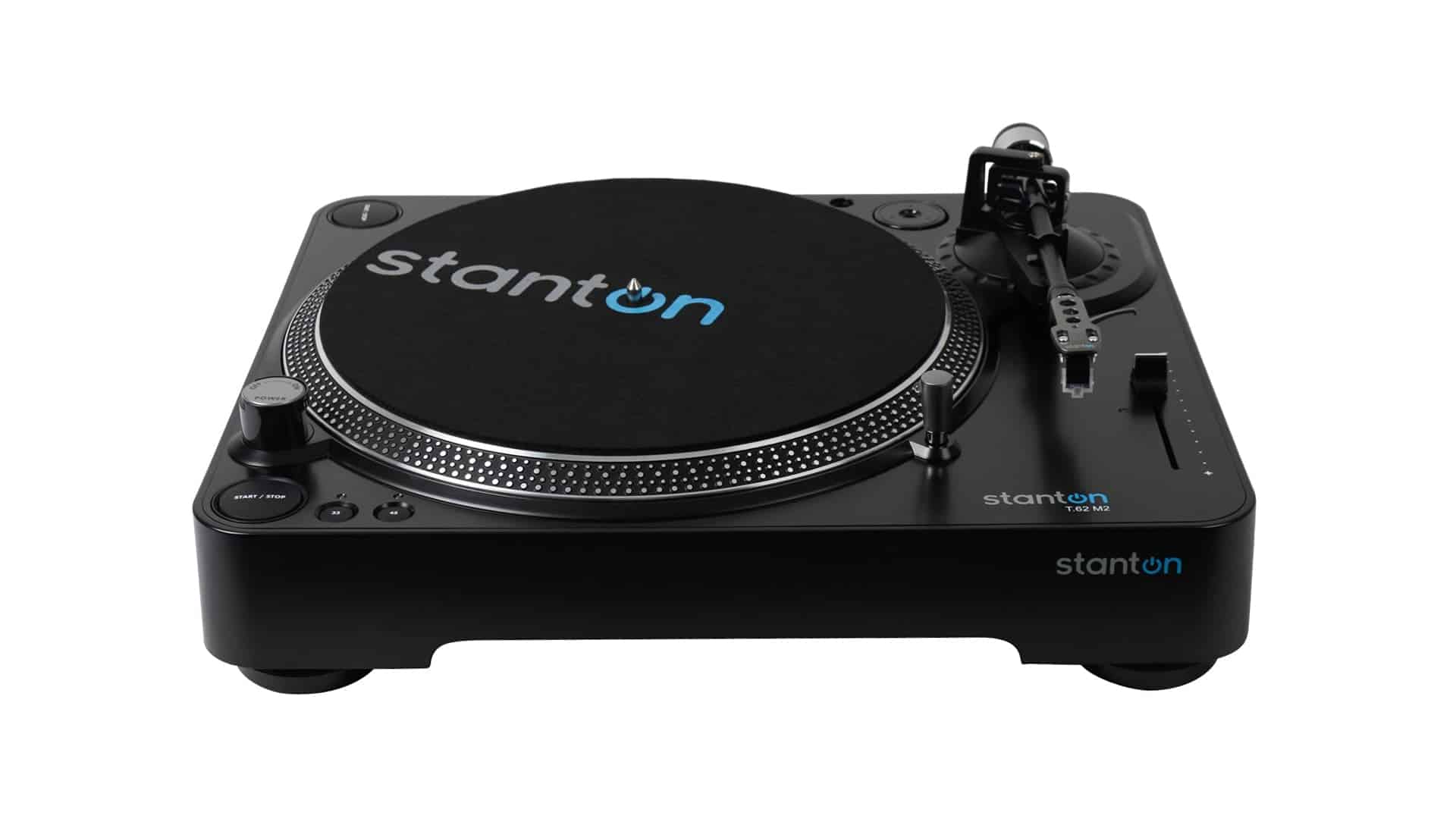 Best For DJs
Aspiring turntablists need look no further
Specifications
Speeds:
33 1/3 and 45 RPM
Built-in phono preamp:
Yes
Pros
Direct drive and straight anti-skip tonearm suitable for turntablists
Various DJ specific features like pitch control fader
Strobe illuminator and target light
Cons
Mediocre sound quality
Low torque compared to more expensive DJ turntables
With its brash and modern design, it's immediately obvious the Stanton T62 MKII is a DJ turntable. 
DJs need to operate direct-drive turntables as opposed to belt-driven ones to perform scratching and other DJ trickery. The Stanton T62 MKII is one of the few under $200 direct drive turntables.
Granted, there are other direct drive turntables that cost under $200 (like the Crosley C200) but that doesn't automatically qualify them for DJing purposes. In the case of the Crosley C200, the S-shaped tonearm doesn't cut it for scratching and other DJ trickery. The Stanton T62 MKII, on the other hand, has the DJ in mind and as a result features a short and straight tone arm.
For purely listening to music, the Stanton T62 MKII is good but could do better. The included Stanton 300 cartridge is inferior to the Audio Technica AT3600L/AT91 cartridges found on the majority of budget turntables. However, it is somewhat expected that DJ turntables will sound inferior to similarly priced listening-only turntables.
Every DJ has to start somewhere, and in our opinion, the Stanton T62 MKII is the best place to start for those on a tight budget.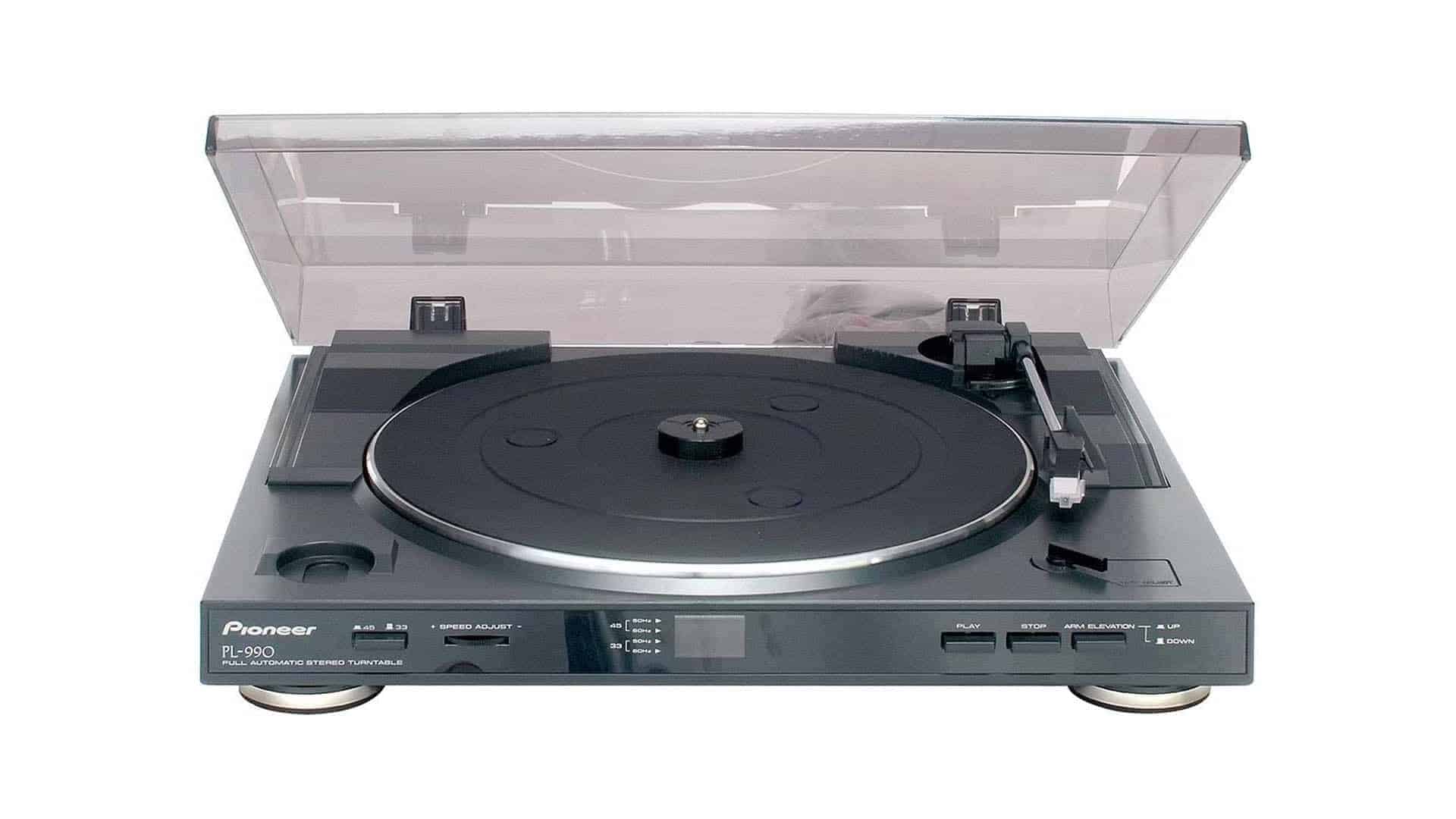 For the 80s Look
A turntable with a retro aesthetic that was still in production until recently
Specifications
Type:
Automatic belt-drive
Speeds:
33 1/3 and 45 RPM
Built-in phono preamp:
Yes
Cartridge:
Pioneer PZP1001
Pros
Decent sound for the price
Cons
High tracking force
Better off looking for a preowned model from the 80s
Pioneer are better known for the direct-drive turntables they make for DJs, but the PL-990 is a very good belt-driven, fully automatic turntable for those who just want to listen to music. Although the PL-990 has been around since 1996, the fact it is still in production is a testament to its quality.
With a built in phono equalizer, you simply have to hook it up directly to your speakers or receiver and hit the play button. The fixed weight, lightweight tonearm is sensitive and highly capable of picking up finer details on records. The rubber platter mat and padded feet ensure the impact of vibrations from the motor are minimized.
This turntable is missing newer features like Bluetooth or USB ripping and looks outdated compared to the newer models that make this list of best budget turntables.
However, the PL-990 does feature pitch control which allows you to adjust the speed of the platter. While most users will not gain a lot from making micro adjustments to the pitch, those who want perfect pitch will appreciate this feature.
Read the full review: Pioneer PL-990
Budget Turntable Buying FAQs
What are the most important considerations when purchasing a turntable in the $200 price range?
Many of the good turntables within this budget use variants of the same components since they are manufactured by the same OEMs. Therefore sound quality does not vary significantly unless you are willing to upgrade.
You therefore want to focus on the following:
Design – How will it fit with my decor?
Upgradeability – Do I want to be able to upgrade in the future or would I end up purchasing a new turntable down the line?
USB ripping and Bluetooth – Do I need these features?
Operating the turntable – Do I want to manually cue records or let the turntable do that for me? Do I want to do any DJing?
What else do I need to start listening to vinyl?
Almost all budget turntables feature a built-in phono preamp meaning you won't have to purchase a dedicated one before you can play records. A good pair of speakers and some records to play are all you'll need.
When it comes to speakers, you will generally want a nice pair of powered speakers (a.k.a. active speakers) or a sound system that comprises of a pair of passive speakers and an amp/receiver.
Should I purchase an automatic or manual turntable?
Most budget turntables are automatic. They are much more convenient to use and better for beginners who aren't comfortable cueing themselves. You can, however, cue automatic turntables manually if you wish.
High-end audiophile turntables are often manual because an automatic cueing mechanism can add noise.