For a long time, the Audio Technica AT-LP120 has been one of the most highly praised entry-level turntables. While there are plenty of budget turntables that cost under $200, the AT-LP120 offered a big step up for just a few extra dollars. Notably, an elliptical (vs spherical) stylus and the very nice AT95E cartridge, a giant killer known for beating out much more expensive cartridges.
New for 2019, the LP-120XUSB is the updated version of the AT-LP120. Obvious design changes aside, the new model is both $50 cheaper and superior in some ways. Let's take a look in some more detail.
Audio-Technica AT-LP120XUSB-BK Direct-Drive Turntable (Analog & USB), Fully Manual, Hi-Fi, 3 Speed, Convert Vinyl to Digital, Anti-Skate and Variable Pitch Control Black
Experience the high-fidelity audio of vinyl
Direct-drive, DC servo motor with selectable 33/45/78 RPM speeds. Damped base construction for reduced low-frequency feedback coloration
Fully manual operation featuring adjustable dynamic anti-skate control, variable pitch control with quartz speed lock, and balanced S-shaped tonearm with hydraulically damped lift control and lockable rest
Convert your vinyl records to digital audio files by downloading and using the free Mac- and PC-compatible Audacity recording software (or software of your choice)
Includes: USB cable, detachable RCA output cable (dual RCA male to dual RCA male), AC adapter, 45 RPM adapter, counterweight, felt mat, and removable hinged dust cover
Design
There is no denying the AT-LP120X looks a lot like the Technics SL1200. It's an attractive design, but there simply too many turntables that share this design to the point where it's difficult to praise Audio Technica for their effort.
Compared with the older AT-LP120, the chassis is lighter and doesn't feel as quite as well-built. It's disappointing, but it would definitely explain the lower price tag.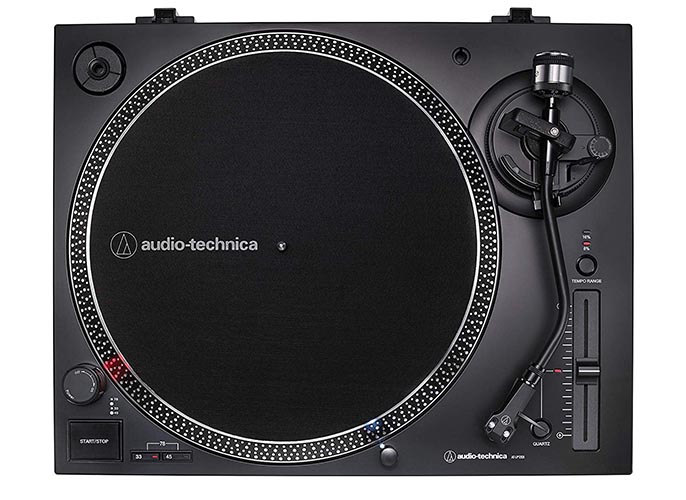 AT-LP120X vs AT-LP120
Here's a quick summary of the changes that come with the newer model.
Upgrades
The cartridge has been upgraded from the AT-95E to the superior AT-VM95E
Improved built-in phono preamp with better frequency response
Improved tonearm base and headshell design for improved tracking
Detatchable RCA cables (as opposed to hardwired ones on the AT-LP120)
Downgrades
Build quality
Lower motor torque
No more reverse play
Audio Technica have stated that the AT-LP120X was not designed with DJs in mind, unlike the AT-LP120. As a result, the motor has lower torque and reverse directional play is no longer possible.
For home listening though, almost every aspect of the AT-LP120 has been upgraded. The built-in phono preamp of the AT-LP120 was always one of its biggest problems. It simply wasn't a great preamp and using the bypass switch to use a separate amp introduced its own problems. Audio Technica have taken on the feedback and worked on this area.
Audiophiles will especially welcome the new AT-VM95E cartridge. Being a cartridge new for 2019, many people are figuring out how much better it is than the older AT-95E. According to the AVForums review of the new VM95 cartridge lineup, the AT-VM95E sounds noticeably clearer and more detailed. The new cartridge has a higher output (4.0 vs. 3.5), thread mounting holes and an improved body design that reduces resonance.
Performance
Setting up the LP120X is straightforward, although you'll have to do some calibration. The cartridge is already mounted, but make sure you check how it's mounted yourself as they are often not perfectly aligned out of the box.
The built-in phono preamp and new cartridge work to produce much improved sound over the AT-LP120. It's difficult to tell which is having the most significant effect on the sound, so we tested the two turntables using a separate preamp to better isolate the cartridges. The AT-LP120X sounded superior, but only slightly, so we can assume the upgraded built-in phono preamp plays a big part in the upgraded sound quality from the new model.
Verdict
Audio Technica have released a great turntable in the AT-LP120XUSB. For home listening, you'll be hard pressed to find a better turntable at its retail price of $250. Improvements all around have made it a record player that sounds better than it's older model which already sounded good for the price.
DJs will however definitely be disappointed as this new turntable, despite being direct-drive, doesn't really cut it for scratching or other DJ trickery. The original LP120 was far from the best DJ turntable, but the option was there.
Because of the high expectations people had, many will be slightly disappointed by the more plasticky build and lower torque motor.
Although the LP120XUSB is fantastic, Audio Technica have found themselves in a strange spot as they also released the AT-LPW40WN this year. Costing $50 more than the LP120X, this turntable features the same AT-VM95E cartridge but has a much better-looking finish. Furthermore, being a belt-driven turntable, it is naturally more geared towards home listening. Therefore, if you can do without the USB ripping and don't have any intention of playing 78 RPM records, the AT-LPW40WN seems like a more logical choice.
Rating: 8/10
The Audio Technica AT-LP120XUSB is currently in my list of the top turntables for under $300.