The bestselling type of speaker for home listening, bookshelf speakers are compact yet capable of delivering rich and room-filling audio.
While most commonly used in HiFi setups, they make great desktop speakers and are also a perfect candidate for L/R speakers in a home theater system.
Loudspeaker technology has come a long way over the last decade, and it's possible to get a really great pair of bookshelf speakers within a $500 budget.
Unfortunately, buying speakers online has one huge problem. You cannot test the speakers before purchasing them.
That's why we've created this comprehensive buyer's guide with individual reviews for each speaker. We'll consider things like size, features, looks and, most importantly, sound quality.
Best Bookshelf Speakers Under $500 – Product Reviews
1. ELAC Debut 2.0 B6.2 – Best Passive (TIE)
We showered ELAC's newer Debut line with praise in our review. German audio company ELAC made the right call partnering with legendary loudspeaker engineer Andrew Jones to create a product that is head and shoulders above most offerings in this price range. The fact it comes in over a $100 under budget is just the icing on the cake.
The flat sound profile means there's no artificial gain or bass boost. Everything sounds true to source without bordering on harsh as some professional studio monitors do. Most big brands like Klipsch and Polk Audio have a bright sound signature which all sounds very impressive the first time you hear the overused high-hats in pop music. But over time and across different genres, you'll appreciate the B6.2's slightly darker tone.
Elac recommend hooking up the B6.2 to any amplifier that provides up to 120 watts per channel. Its 87dB sensitivity and 44Hz-35000Hz frequency response mean it won't have trouble filling entire rooms. The speakers also scale well with other equipment, so this is one of those rare cases (for a speaker at this price point) in which it actually becomes worthwhile to upgrade your receiver.
Positives
Natural sound
Under budget
Forgiving about placement
Solid build quality
Negatives
Final Verdict
These are our default recommendation for under $500 passives to listen to music with. They sound amazing and leave no boxes unchecked. The PSB Alpha 5 and Triangle BR03 are worthwhile alternatives so read on.
2. PSB Alpha P5 – Best Passive (TIE)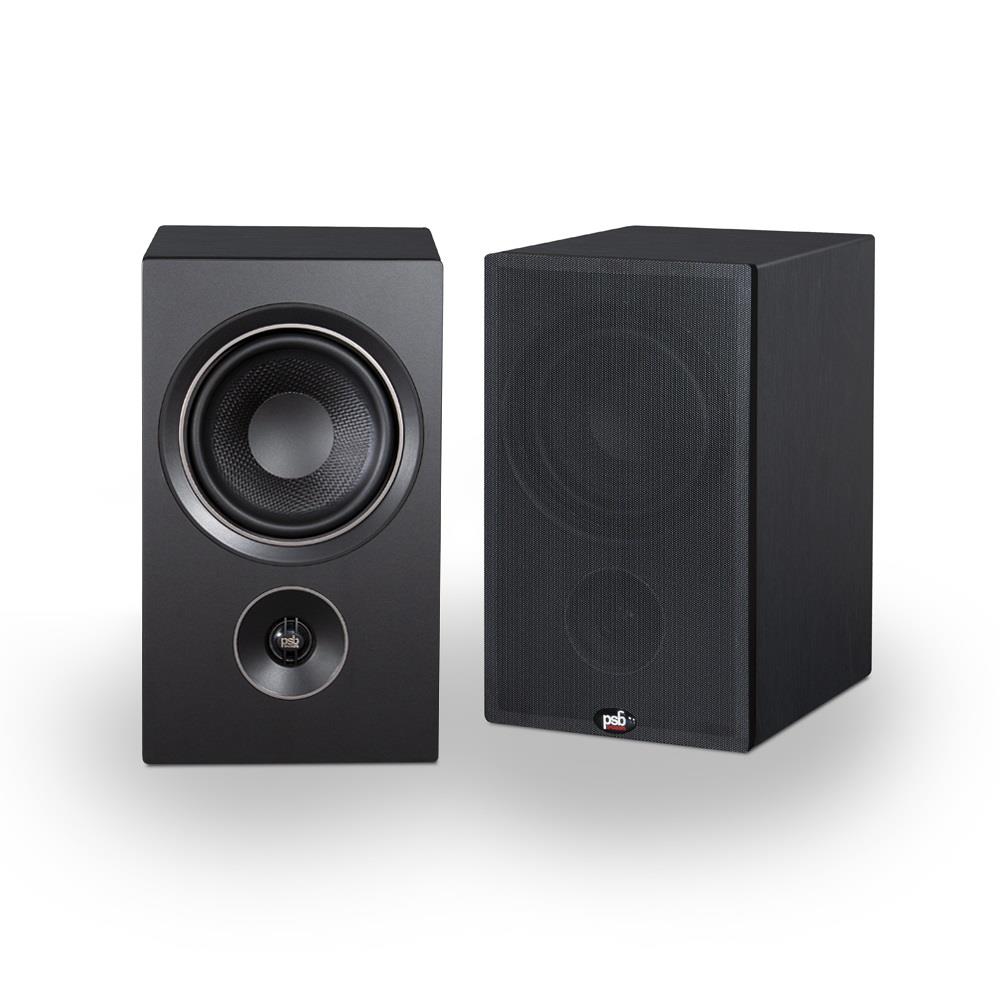 The Alpha P5 bookshelf speakers from Canadian audio manufacturer PSB have a stellar reputation in the speaker industry and offer excellent value for money. They deliver an incredible level of detail, along with more punch to the bass than other speakers in this budget.
These speakers have a 5.25″ textured polypropylene woofer, big enough that most listeners will forgo an external subwoofer. The newly designed ¾" black anodized aluminum dome tweeter has ferrofluid cooling which reduces dynamic compression. The result is a spectacularly clean sound at the higher end of the frequency spectrum.
The treble sounds clear without sounding shrill, which is something you should expect at this price point. Thanks to the dual layer voice coils and bass reflex design that uses the rear-port to control the bass response, the low frequency extension is deep and capable of reaching room-shaking levels.
The design of the Alpha P5 is far from bad, but unremarkable. It comes in a black ash or walnut finish. Unfortunately, both choices have that black box look to them. We'd recommend the walnut finish if you hate the black box look with a passion.
Positives
Clear and uncolored sound
Doesn't distort at high volumes
Negatives
Final Verdict
These speakers are a good alternative to the ELAC Debut 2.0s. They're not as widely discussed but they sound just as good and the choice between the two should ultimately boil down to personal preference.
3. Klipsch RP-600M – Best For Home Theater Audio
If you want bookshelf speakers that are going to deliver you the theater experience at home, look no further than the RP-600M from Klipsch.
The signature Klipsch sound might divide audiophiles, but there is no doubt that its bright sound, wide soundstage and powerful dynamics make it perfect for action-packed movies. The mid and high frequency ranges are well-emphasized, meaning dialogue also comes out crystal clear.
Another reason these are popular bookshelf speakers for home theater is how loud they go. The large cabinets have 1" titanium tweeters and 6.5" copper cerametallic woofers. Even if you don't have the volume cranked up to the max, the RP-600M have great dynamic range and will definitely have you jumping out of your chair in jump-scare scenes.
The RP-600M are highly sensitive and efficient, meaning despite their size you won't need a monster amp. The front porting also offers more placement flexibility.
Another noteworthy feature is that you can run a bi-wire and a bi-amp these speakers because of the dual binding posts. While it's not going to make a big difference, we always appreciate a manufacturer giving consumers more options.
Positives
Excellent mids and highs with smooth bass.
Dual binding posts make it easy to run a bi-wire and a bi-amp.
Great dynamic range for watching movies
Negatives
Klipsch's signature sound might be too bright for some people's taste
Final Verdict
These are the high sensitivity bookshelf speakers which go very loud. They're great for movies and the fun and exciting sound will immediately impress untrained ears. For music, they can be a little fatiguing over extended periods, so think about what you'll be using your speakers for.
4. Triangle Borea BR03 – Noteworthy Mention
The Triangle Borea comes in ever so slightly over budget, but it would be unfair to exclude them on that basis. If you don't mind spending extra for the incredibly detailed and sophisticated sound it delivers, these new-for-2020 speakers are absolutely worth considering.
There's a good amount of weight behind the bass coming from the 6.5″ midrange/bass driver. The 1″ silk dome tweeter delivers powerful yet considerate highs. Each cabinet features two front-firing ports, which doesn't have any sonic advantages over a single one, but adds a nice touch to the overall aesthetic.
You might ask what separates them from the likes of the cheaper ELAC Debut 2.0's. While the accuracy and tonal balance is similar, the Borea BR03 delivers a greater sense of scale sense of scale, with a bigger sound stage and superior separation.
For many that might not be enough to justify the extra cost over the Debut 2.0s or PSB Alpha 5s. However, Triangle have also given the speakers a stunning design. The 20mm MDF panels and Triangle's unique cabinet reinforcement system dubbed DVAS offer top-notch build quality. When you put everything together it's easy to be swayed into buying them.
Positives
Sparkly highs, clear midrange and punch bass
Attractive design (in our opinion)
Front-firing ports offer placement flexibility
Negatives
Final Verdict
If you're willing to spend extra to get some truly premium speakers, the precision, scale and timing of the BR03 won't leave you disappointed.
5. Audioengine A5 Plus – Best Powered Speakers
Texas-based Audioengine has a reputation for making great computer speakers. The A5 series made its debut in 2007, and was universally acclaimed as the perfect pair of powered speakers.
The well-balanced sound delivered by its 5" aramid fiber (kevlar) woofers, ¾" silk dome tweeter and built-in DAC blew reviewers away. It wasn't just the sound, though. The fact they were powered and featured a 1/8″ input jack made them the perfect plug-and-play high fidelity speakers for computers and MP3 players.
The newer A5 'Plus' model continues the tradition of giving consumers a fuss-free audiophile experience. The speakers work with all computers, cellphones, AirPlay, and anything with an RCA or mini-jack output. You also get a remote control, which makes it very convenient to use. The only thing it lacks is an optical input.
You're also given the option of paying extra to get aptX Bluetooth. We would have really liked to see this on the base model, but if this ultimately saves some consumers from spending on a feature they don't need, we can't complain.
The fact they're rear ported means you'll have to leave some room behind them. That aside, these bookshelf speakers are extremely versatile and can be placed virtually anywhere. While they've earned a big reputation in the PC community, they can still be placed on stands and function as home theater speakers.
We also have to mention the optional bamboo cabinets. The build quality is top-notch and much better than the fake wood-grain you see on so many speakers.
Audioengine also give you a generous 3-year warranty on these speakers. They have good customer service, too. I wouldn't worry too much about any manufacturing defects from these speakers.
Positives
A surprising amount of bass for such small speakers, even without a subwoofer
The bamboo option looks fantastic
Great compatibility with different input types (computers, phones, AirPlay, etc.).
Negatives
The notches on the volume adjustment are hard to see
Final Verdict
These are the best powered wireless bookshelf speakers under $500. They look great, sound great, and are compatible with all your digital devices.
6. Edifier R2000DB – Best Budget Bluetooth Wireless Speakers
With the prevalence of music streaming services like Spotify, consumers need an easy way to pair their iOS or Android device to speakers wirelessly. Thankfully, Bluetooth technology has come a long way, and you just can't scoff fully wireless speaker setups anymore.
Chinese manufacturer Edifier have been dominating their domestic market, and for good reason. The Edifier R2000DB bookshelf speakers are phenomenal speakers for their price, and like the Audioengine A5 Plus, incredibly easy to setup.
While the sound quality can't match the other speakers in this list, they're honestly not far off. The deviation across the frequency is +/-3 dB, which is considered very even. Treble and mids all sound fine. The bass can be just a little overwhelming, but adjusting the EQ from 'dynamic' to 'classical' makes things sound quite natural.
The built-in digital signal processing and range control ensure distortion is kept to a minimum, even when you're pushing the 60W per channel speakers to their limits.
Being powered, they don't require a stereo amp. Just pair your device over Bluetooth or hook them up using the 1/8″ headphone jack or RCA inputs. These speakers also come with a remote control that allows you to adjust the volume, control the input sources (no need to unplug!), and change the EQ.
Note that there isn't a subwoofer line on these powered speakers. In truth, a subwoofer isn't necessary with these speakers, and they're designed as a standalone audio setup.
Positives
3.5mm, RCA, and Bluetooth 4.0 connectivity.
Well-balanced sound after some EQ tweaking
Plug-and-Play
Excellent value for money
Easy to change the input source with the remote.
Negatives
No subwoofer out or upgrade paths
Final Verdict
If you want decent wireless Bluetooth bookshelf speakers, then these are great option. While they don't sound as good as the Audioengine A5s, they make a great pair of bedroom or office speakers where you might look to save some money.
7. NHT C Series C-3 3-Way – Best Single Speaker Under $500
NHT, which stands for "Now Hear This", have a special place in the hearts of audiophiles who hark back to the 90's. Just in case you were in the market for a single speaker (it happens), this is our top recommendation.
The C-3 replaces the NHT's popular Classic Three and sports a 3-way design (as opposed to the more usual 2-way). Each cabinet has a 6.5" aluminum cone woofer, 2" aluminum dome midrange and 1" aluminum dome tweeter.
NHT are known for using acoustic suspension (sealed) cabinets, which means that the speakers have no ports or holes. Not only does that have some distortion-reducing characteristics, but it also gives them a wide sweet spot that means they sound good wherever the listener may be.
These speakers are known for incredible measured performance. That means the sound is very accurate, and there's minimal deviation from the listed specs. The 55Hz-20kHz frequency response has a pleasant roll-off at the extremes. The larger box and nominal impedance of 6 ohms means you'll want to pair them with a powerful amp for the optimal listening experience.
It's always nice to pair luxury speakers like these with a subwoofer, but audiophiles who resist a subwoofer won't be disappointed by the amount of bass.
Positives
They have a very clear, distinct sound when properly setup.
Grand soundstage with plenty of presence
Great build quality
Negatives
Final Verdict
A pair of these isn't far from the $1000 mark, but they're terrific primary speakers. They might not have the looks of the luxury speakers that cost thousands of dollars, but their sound will blow you away.
Frequently Asked Questions (FAQ)
Do I need a subwoofer for my bookshelf speakers?
Generally, no. Most listeners find the woofers on bookshelf speakers provide ample bass for home listening. However, bassheads and those more into home theater audio will definitely appreciate the addition.
Do I need an amp for my speakers?
By definition, passive speakers require power from an external amp. That's most of the speakers on this list, with the exception of the 'powered' ones (Audioengine A5 Plus and Edifier R2000DB) which are designed to hook up to the mains directly.
How Do I Connect My Speakers?
To connect your passive speakers to your amp, look for the binding posts at the rear of the cabinets. They're normally red and black rotaries that go up and down depending on which way you rotate them. Sometimes, they're little squares that you can thread your speaker wires into.
Once you've found them, it's time to make the connections. It's common for speakers to include speaker wire, but you can buy your own. You typically want to go for 16-gauge wires which matches best with the standard bookshelf speaker impedance of 8 ohms.
Grab a box-cutter and strip the insulation at both ends of the wire, and then twist the remaining copper into a taut coil. You can now thread the coil through the rotaries of your speaker and receiver to establish the connection. You must ensure the amplifer is unplugged as you do this.
Note that there are also alternative ways of wiring, like using banana plugs, which can make the setup neater and easier to switch things around.
Do I need a stand for bookshelf speakers?
Stands are completely optional. For the best experience, you will want something to get the speakers around ear level. Stands are a simple way to achieve that, as is a bookshelf (hence the name!) or wall mounts.
How should I place my speakers?
In general, you want the speakers about six feet apart, pointed slightly inward and elevated to ear level (on a bookshelf). This will vary depending on your room acoustics, though. You will have to try different configurations to figure out what works best.
Can Passive Speakers Be Used Wirelessly?
Absolutely. Passive speakers simply play the audio signal coming from the receiver or amp. Of course, there are wires between the amplifier and speaker. However, you can stream music wirelessly to your receiver, provided it has wireless capabilities.
In other words, it depends on your receiver.
Final Thoughts
This concludes our buying guide for bookshelf speakers under $500. While it's still far from the top-end, $500 will really allow you to explore some options that will sound better than the vast majority of hi-fi systems out there. Just make sure you factor in the cost of an amp/receiver—without one you won't be impressing anybody.
We previously published our top bookshelf speakers under $300. We'd recommend you check those out as well, since those might meet your requirements.