When you think of headphones you most likely think of closed back headphones. These are the headphones with a hard plastic shell on the earcup.
While they don't give you the same sense of openness in the sound you get with open-back headphones, they don't leak sound and they block more outside noise. That makes them the go-to headphone design for use outside, but they're extremely popular for use at home, too.
There are hundreds of different closed back headphones available on the market. And they all claim to offer the best sound, quality, comfort, and price. That makes choosing the right pair of closed back headphones somewhat difficult.
This article will help you pick out your next pair of closed back headphones. Apart from our list of recommendations, we've also included a short buying guide and answers to common questions about closed back headphones. These can be found at the end of the article.
Closed-Back Headphone Recommendations (2022)
Here are 7 favorite closed-back headphones available on the market right now: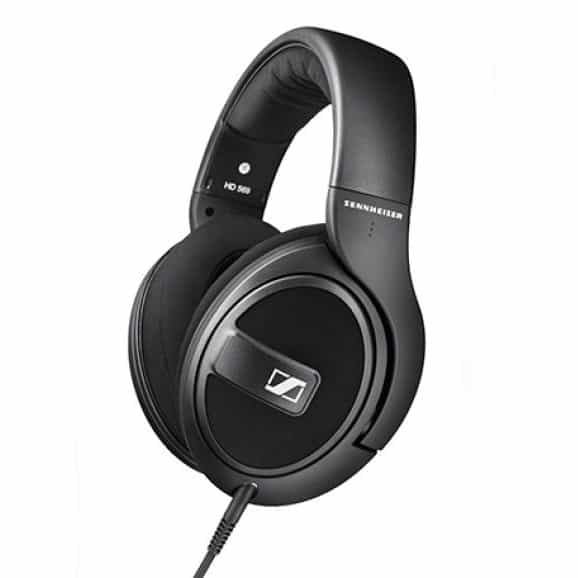 1. Sennheiser HD 569 – Best Overall For Everyday Use
The HD 569 headphones make the spot on the list as our favorite overall closed back headphones. They come from a German brand with a stellar reputation when it comes to making headphones – Sennheiser.
The Sennheiser HD569 has a very well-balanced sound stage and don't require a headphone amp. That makes them perfect for the casual user that wants a good listening experience regardless of what device they plug them into. Oftentimes, headphones at this price will have overemphasized or muddy bass. With the HD569, the frequency response curve is relatively flat meaning things sound clean and natural.
The natural tone is mostly a result of Sennheiser's proprietary 38mm dynamic drivers. And yes, a 38mm driver isn't the biggest driver around, but the driver size isn't nearly as important as the sound quality produced by the driver. The drivers only require 21 ohms of power, so you definitely don't need an amp to power these.
Also, the headphones are very comfortable because the entire headband is padded, the earpads are huge, and the headphones weigh 8.8 ounces. Most people will be able to use the headphones for hours at a time without any discomfort.
Unfortunately, Sennheiser did use some glue to hold the earpads together. For those that don't know, glue will wear down over time, but in practice it's unlikely to cause any problems for the foreseeable future.
Finally, the headphones come with a 3 meter (10 foot) removable cable with a 6.3mm jack (great for an amp) and a 1.2 meter (4 foot) removable cable with a 3.5mm jack (perfect for your phone or computer).
Positives
Open sound stage and natural sound signature.
Comfortable to wear for long periods of time.
2-year limited-warranty.
Detachable cables
Includes both a 10 foot cable and a 4 foot cable.
Negatives
Glue is used on the headband.
Final Verdict
Sennheiser are one of those brands whose headphones consistently perform well for their price. The HD569 are a quality pair of headphones with a balanced sound and clean aesthetic.
This is an excellent pair of headphones with a . It's a little expensive, but it comes from a brand you can trust (Sennheiser). I recommend these headphones if you want headphones with a little more quality at only slightly more cost.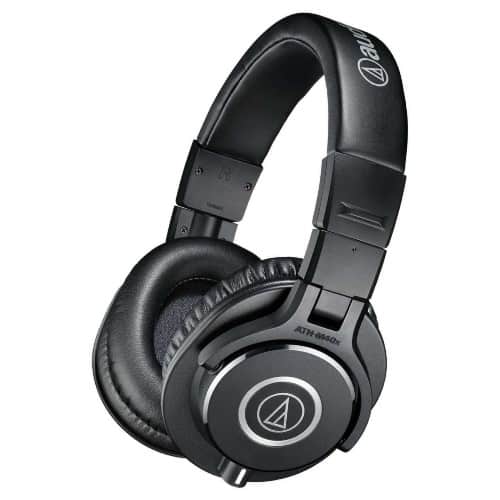 Audio-Technica ATH-M40x – Runner-Up For Everyday Use
The Audio-Technica ATH-M40x make the list as another great choice for everyday use. They basically have everything you want from a pair of headphones, but they come slightly cheaper than the aforementioned Sennheisers.
The 40mm magnet driver sounds great at all frequencies and the sound profile is well-balanced. This makes for easy listening since you won't hear the shrillness of the treble or the muddiness of the bass. They don't have quite as much kick in the low-end as compared to the Sennheiser HD569s, but for their price the bass is in a good spot.
There are some small design features that give the ATH-M40x an edge over the competition. The earpads rotate 90 degrees. These headphones are also collapsible, which makes them so much easier to transport. Finally, the headphones also come with a quality carrying pouch that means you won't have to buy them seperately.
Audio-Technica also did well to give these headphones detachable cables. It even comes with a 3.9'-9.8' coiled cable and a 9.8' straight cable.
Positives
Excellent value for money.
40mm drivers.
Earcups swivel 90 degrees.
The headphones can be collapsed.
Well balanced sound profile.
Negatives
Not quite as comfortable as some of the other headphones in this list.
Final Verdict
Overall, I really like these closed back headphones for their clean and balanced sound profile. The collapsible feature, combined with the 90 degrees of rotation, make them perfect if you want to use them on the go. Moreover, they offer fantastic value for money.
I definitely recommend these if you have a smaller headphone budget. The Sennheiser HD 569s have superior comfort and sound, but these are a compelling alternative if you're looking for something easier to carry around.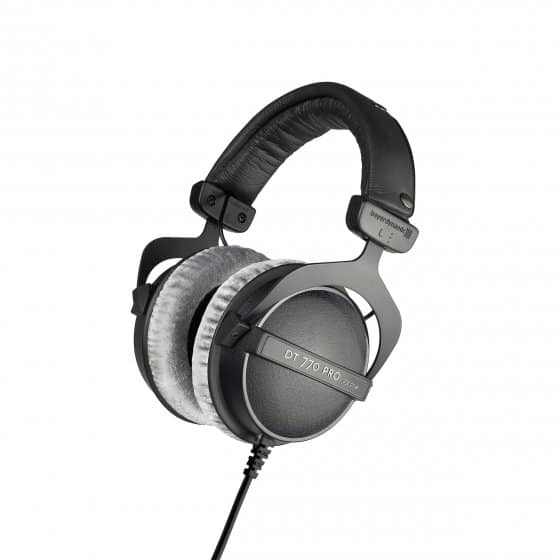 Beyerdynamic DT 770 Pro – 3rd Place
Beyerdynamic is another German audio equipment manufacturer who consistently produce excellent headphones.
Another German audio equipment manufacturer, Beyerdynamic has a very solid reputation in the audio industry. It does help that they produce all their headphones in their German factory, which definitely helps the quality.
The DT 770 Pro earns a spot on the list thanks to its impressively wide soundstage and high fidelity sound. Like most Beyerdynamic headphones, the sound signature is relatively bright. In some cases, taming the high-end through an equalizer can make listening more pleasant.
In typical Beyerdynamic fashion, Beyerdynamic allows you to choose between models with different impedance values. 32ohm, 80ohm, and 250ohm models are available. The low-impedance 32ohm version is recommended if you want to use them with small devices such as your phone or iPod. If you plan to run it through a headphone amp, the higher impedance 80/250 ohm models will distort less at higher volume levels.
One thing the DT 770 Pro really gets right is comfort and wearability. The cushioning on the soft-padded earcups is second to none. Weighing in at 9 ounces, they're also surprisingly light for their overall size.
Positives
Wide soundstage.
Available with 32ohm, 80ohm, or 250ohm drivers.
Very comfortable to wear for extended periods of time. Fairly light at only 9 ounces.
Negatives
Non-detachable cable
Characteristic bright sound can be harsh at times
Final Verdict
The DT-770 is another pair of headphones that you can't go wrong with choosing. They are comfortable, have range, and have a very wide soundstage. In my opinion, they have the largest soundstage of any options in "general use" category, so if you like a wide soundstage, then these are the headphones for you.
You will pay a little extra for these headphones, though. However, you do receive a little extra quality for that extra cost.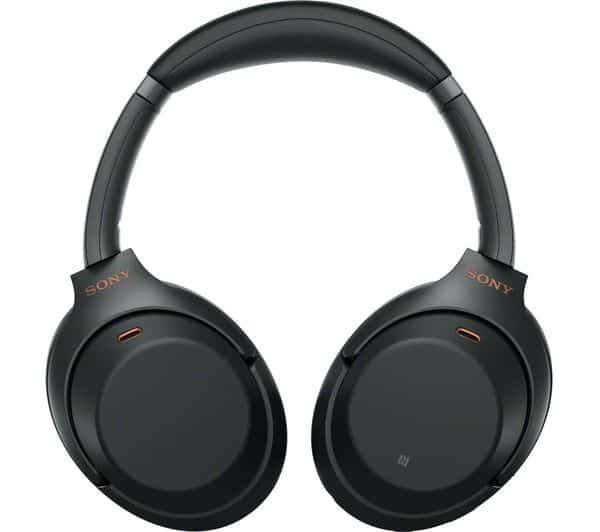 Sony WH1000XM4 – Best Wireless Headphones With Active Noise Cancelling
Ever since Apple AirPods took off, more and more consumers are looking to do away with wires. While current wireless technology still can't deliver the same bandwidth as wired, the difference isn't big.
Wireless headphones are often associated with portability, so it's unsurprising that the most popular ones also sport active noise cancelling technology. This makes it possible to cancel out the noise even in crowded or noisy environments like an aircraft cabin.
Sony is king when it comes to ANC. The previous XM1, XM2 and XM3 generation headphones have been continually hailed as the best on the market, and the XM4 yet again reigns supreme in this category. Though the headphone design is practically unchanged from the XM3 (aside from larger earpads that provide superior comfort), the XM4 features Sony's latest DSEE Extreme audio processor which creates a larger soundstage and uncovers more layers of detail.
While the likes of the Bose 700 and the new Apple AirPods Max are compelling alternatives, we still recommend buyers on the lookout for a new pair of premium wireless headphones go with the Sony XM4s which strike the perfect balance between build quality, sound quality and price.
Positives
Unmatched Active Noise Cancelling
Great sound
Excellent design and very comfortable
Packs down nicely
30-hour battery life
Built-in microphone
Negatives
Expensive
Soundstage not as vast as wired options
Final Verdict
If you can fork up enough money for them, the WH1000XM4 are simply the best wireless headphones on the market right now.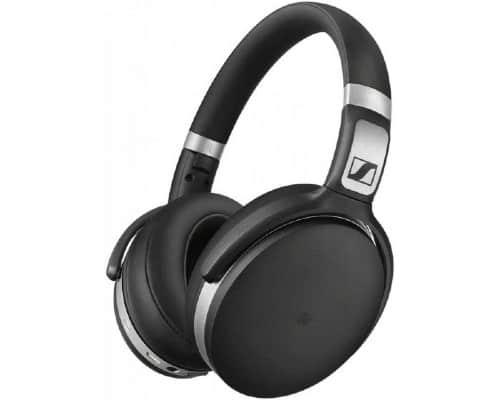 Sennheiser HD 4.50 – Wireless Headphones With Active Noise Cancelling (Budget Pick)
If you're in the market for a cheaper pair of wireless closed back headphones, then the Sennheiser HD 4.50 come highly recommended.
For a pair of high quality wireless headphones with active noise cancelling, they're actually pretty affordable. That's especially the case when compared to the more often talked about Sony WH-1000XM4 or Bose 700 headphones.
Although they don't drown out ambient noise as well as the Sony WH-1000XM4, the sound quality is almost as good. The sound quality is comparable to the excellent Sennheiser HD 600, although it can't quite capture the same amount of richness or detail.
The battery life of 25 hours is also impressive, although once again, it comes slightly behind that of the WH-1000XM4.
The only negative is that they are on the small side and the headband has a tight fit, which can become quite uncomfortable after prolonged use.
Positives
Good sound quality.
Long battery life of 19-25 hours.
Affordable
Built-in microphone
Negatives
Mediocre ANC which can't cancel out louder noises
Tight fit can be uncomfortable
Final Verdict
If you're looking for some wireless headphones with ANC but not quite ready to make a bigger investment, the Sennheiser HD 4.5 are a good choice. They have decent sound quality, decent noise cancellation and good battery life. You can't expect much more than that at this price point.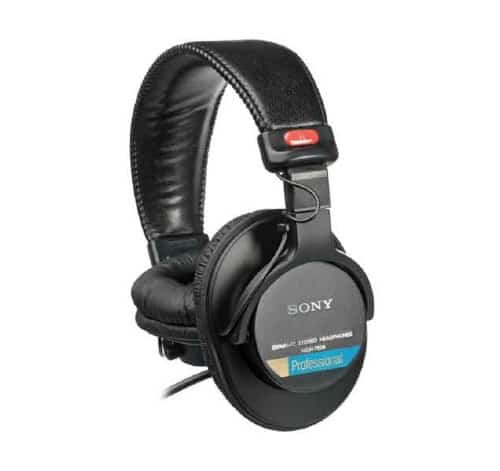 Sony MDR7506 – For Audio Production
Sony's history in the professional audio industry stretches way back, and the MDR7506 have become the industry standard headphones for music production today. They were first released back in 1991, but their accurate and unforgiving sound reproduction means they are still in high demand right now.
The Sony MDR7506s have a natural sound profile, with an emphasis on the mid and high range that makes them well-suited for producing and mixing music. They are clearly designed for critical-listening, letting us hear every noise, click and pop. Those looking to kick back and enter a state of euphoria should stay away.
Another thing that makes the MDR-7506 so popular is the fact they're so cheap to replace. The all-plastic construction and cheap faux-leather padding doesn't scream 'premium', but these are battle-tested headphones that just get the job done.
It's worth noting they have a relatively high impedance of 63 ohms, so you'll want to make sure you have an amp or are using them with a desktop computer. This shouldn't pose a problem, since these aren't exactly the headphones you'll be using to listen to your Spotify playlist on your iPhone.
Positives
Clear and accurate highs and mids.
40mm, high impedance driver which doesn't distort.
Comfortable while wearing glasses.
Folding design.
Price.
Negatives
Non-removable cable.
Underwhelming bass.
Requires an amp.
Final Verdict
These headphones make an excellent pair of headphones for someone involved in audio production or mixing at home or at work. For such purposes, it's also worth considering the likes of the AKG K371 or Audio Technica ATH-M50x, but they will cost you more.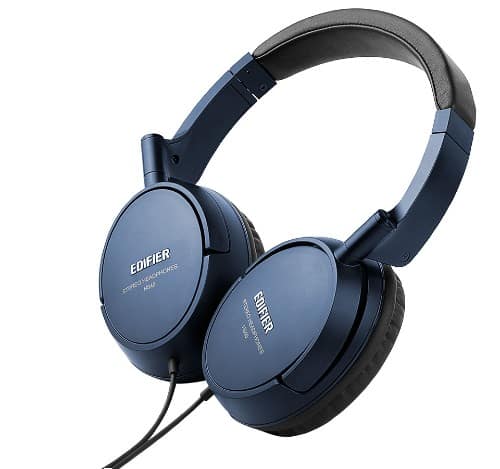 Edifier H840 – Top Budget Pick
Edifier are the most successful Chinese audio manufacturer and if you're on a tighter budget, the Edifier H840 are a great pair of headphones for what they cost.
The H840 have an understated design that looks good over anyone's head. The inclusion of 40mm drivers is impressive considering the price, and the listening experience is pleasant.
The headphones do have a rather bass-heavy and colored sound. That might be preferable for some, but if you're hoping for natural sound you might find yourself disappointed.
As for comfort, there is plenty of room for your ears, the headphones only weigh 7 ounces, and the padding is thick.
Edifier also equipped them with rotatable earcups and collapsibility. Both those features make them easy to carry around.
The biggest complaint would be that both earcups have a cable leading out. It's not ideal and honestly a shame as these could have been the perfect pair of budget closed-back headphones.
Positives
Very affordable while still having good range and sound.
Only weigh 7 ounces.
Very comfortable to wear for long periods of time.
The earcups can rotate 90 degrees and the frame is collapsible.
Negatives
Slightly artificial sound
Each earcup has a cable, which is a little annoying.
Final Verdict
It's easy to see why Edifier are dominating their domestic Chinese market. Their pricing is fiercely competitive and their products are good quality. However, while the H840 offers great value for money, it is fairly unremarkable and those with bigger pockets would do better going with one of the recommendations in this list.
Closed Back Headphones – Buying Guide
Sound Quality
Sound quality is obviously the most important factor when deciding on a pair of headphones to purchase. The perceived sound quality will vary depending on what type of music you listen to, but you generally want headphones that have a flat or balanced sound profile. Treble, mids, and bass should have equal power.
Drivers
The driver is a very important part of the headphone component since it turns the electrical audio signal into actual sound. Closed back headphones only come with one type of driver, but the size of the driver will greatly impact the performance.
Dynamic Drivers
While they sound impressive, dynamic drivers are usually found in consumer-grade headphones. They're affordable, compact, light, and provide decent sound at lower volumes. Unfortunately, some of them will distort sound when used at a higher volume.
Driver Size
Headphones have a driver size that ranges from 15mm to about 50mm. A bigger driver is much less likely to distort sound at a higher volume, so you definitely want to choose headphones with a big driver size.
Frequency Response
Frequency response (the range of frequencies that the headphone emits) is possibly the most common spec used to describe headphones.
While it's easy to assume the greater the frequency response the better, the answer isn't quite as simple. Some headphones and speakers have a narrower frequency response which roll-off in the low and high ends. These kind of characteristics give them a unique sound, which some find more pleasing to the ear.
Weight
Weight is also an important factor when making your headphone purchase. Lighter headphones are much more comfortable to wear.
I recommend purchasing headphones that no more than 11 ounces. However, heavier headphones are not a dealbreaker. In fact, most of the higher end headphones will weigh close to one pound because larger drivers generally weigh more.
Comfort
Everyone hates wearing uncomfortable headphones. You may not even want to use your headphones if they hurt your ears. But what exactly makes a pair of headphones comfortable?
Comfortable headphones are usually light, have plenty of padding, fit your head, and don't push on your ears.
Of course, headphones comfort varies on your head and ear shape, which is why most headphones manufacturers have a generous return policy.
Cable Length
Many people overlook the cable length when they make their headphone purchase. And that's a mistake. Some headphones have ridiculously short cables or long, heavy cables that actually weigh the headphones down.
Headphones with a ~3 foot cable are ideal for most purposes. Even more ideal are headphones with detachable cables which let you use different length cables interchangeably.
Wireless
If you don't want to worry about cables at all, then you should purchase wireless headphones. Just remember that they do need to be charged. The audio quality is usually a little worse than wired headphones, too, and of course the luxury comes at an increased cost.
Frequently Asked Questions
Do closed back headphones cancel out outside noise?
No. Most closed back headphones do not cancel out outside noise. The earcup will block out a decent amount of sound, though. In fact, if you use closed back headphones at a high volume, then you will probably not hear anything from outside.
Do closed back headphones distort sound?
Yes. All closed back headphones will influence the sound slightly because they trap sound waves in the earcup. This means they are reflected multiple times and the resulting sound will be different from speakers or open-back headphones which sound more natural.
Do I need an amp to use closed back headphones?
You do not necessarily need an amp to use closed back headphones. However, headphones with a high impedance will benefit greatly from a headphone amplifier.
Can I use closed back headphones in public?
Yes, closed-back headphones are ideal for use in public. Not much sound leaks out of the earpads, so you won't disturb people around you.
Final Thoughts
That just about covers it for our rundown of the best closed back headphones available on the market. Remember that the right pair of headphones will vary on a number of factors, from the type of music you listen to, your head shape, and your budget.