Soundbars are the modern day solution for great television audio. Their space-saving design and ease of setup make them attractive alternatives to traditional home theater systems. People just don't want to rearrange their entire living room around big speakers and deal with complicated wiring issues.
In this buyer's guide we'll be looking at our favorite soundbars that cost less than $200. We have previously recommended under $100 soundbars, but this slightly more forgiving budget yields big improvements in sound quality and build quality. It goes without saying that they'll sound dramatically better than any built-in TV speakers.
Moving into this higher price bracket, we'll see options from big electronics brands like Samsung and Sony, as well as big audio equipment brands like Bose and Polk Audio. There are also many more 2.1-channel setups which bundle a wireless subwoofer along with the soundbar for improved bass.
Choosing Your Soundbar
Before we reveal our recommendations, let's walk through the most important considerations when purchasing a new soundbar.
Number of speakers inside
Some people get bogged down in the number of speakers contained within a soundbar. In practice, the number itself is not that important.
Sure enough, housing a whooping 46 speakers like the Yamaha YSP-5600 can help better simulate 3D surround sound. But generally speaking, choosing one soundbar over another simply because it has more tweeters and woofers inside would be a mistake.

Size and placement considerations
Soundbars are the best-selling type of television speaker because they are the perfect match for today's flatscreen TVs. They're thin, low profile and sit right under the TV.
It's unusual to find yourself in a situation where there isn't enough room for the soundbar, but you do want things to be consistent. For example, if the soundbar is going to be paired with a small 32-inch TV, you might want a compact soundbar like the Bose Solo 5 which is 21.6-inches wide. You probably don't want a 40" inch soundbar that is wider than the TV!
You'll also want to consider whether you'll place it on the TV cabinet or have it wall-mounted. Almost all soundbars can be wall-mounted, but make sure it won't be too wide or tall.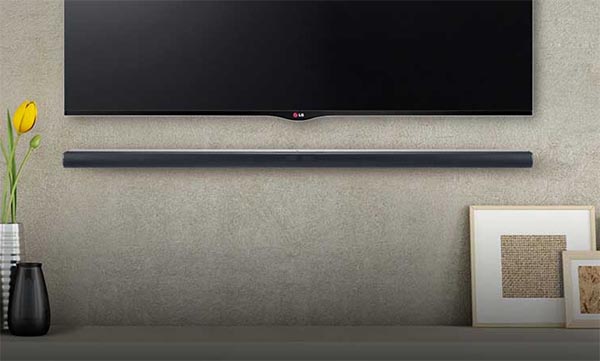 Soundbar vs Soundbase
Soundbases are similar to soundbars, but your TV sits atop them. The fact that they also act as a surface for your TV means they're bigger and potentially able to produce more powerful bass.
However, their narrower nature means comparably inferior stereo separation (harder to distinguish between left and right audio). Soundbars are still more popular, and adding a subwoofer will make the bass just as good, if not better.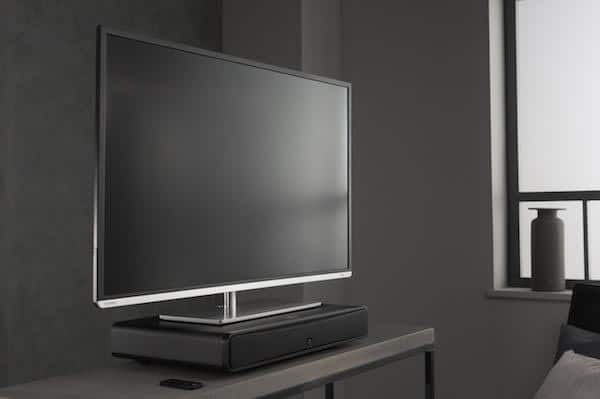 Input Connections
Soundbars are typically connected to a TV using an optical or HDMI ARC connection. Both connections are capable of carrying high definition audio. However, HDMI ARC offers some convenience advantages and having a soundbar with an HDMI connection is a plus.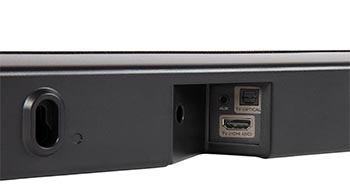 Subwoofer
Soundbars are designed to be elegant all-in-one solutions, but there is simply no way something so thin can produce deep bass.
For a true cinematic experience, you'll want a subwoofer. However, they take up space. They also won't do much for a bedroom TV you only watch news and sports on. So think hard about whether or not you want a subwoofer in the mix.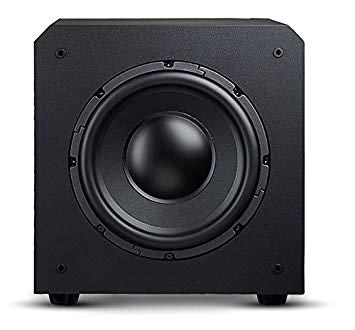 Bluetooth and Smart Assistants
Almost every sound bar comes with Bluetooth connectivity, allowing you to easily stream tunes from your phone.
Some soundbars like the terrific Sonos Beam are 'smart' soundbars that have Amazon Alexa and Google Assistant built-in. However, these soundbars are uncommon and all cost over $200. You'll have to be willing to stretch your budget if smart features are your thing.
Best Under $200 Soundbars
Now that we've covered some soundbar basics, let's take a look at our current favorite soundbars that cost less than $200:
Belonging to Vizio's brand new range of V soundbars, the Vizio V21-H8 comfortably dethrones the Samsung HW-550 to become our recommended soundbar under $200.
Besides its all-new sleek appearance, the main improvements over previous generations of Vizio soundbars can be found in the sound. Unlike many budget soundbars which have an overly-bright sound profile, the V21-H8 gets the tonal balance right and confidently produces full-bodied audio.
Of course, room-shaking bass is a big part of getting the theater experience at home, and the inclusion of a surprisingly powerful 5″ wireless subwoofer ensures the lower frequencies aren't lacking oomph. It won't blow your socks off, but it is a substantial improvement over any standalone soundbar.
Vizio have been in the soundbar business for longer than most, and their experience is reflected in getting the small details right. Installation is quick and simple, with HDMI (ARC) connectivity and Bluetooth to easily stream music to it from your phone. The EQ preset for improved dialogue ensures voices are made extra clear – especially helpful on movies where dialogue is quiet or muffled (cough, Tenet, cough). On top of the various sound mode presets, you can enable DTS Virtual:X which provides virutalized 3D sound to give the audio some spatial depth.
Another new perk you get with the V21-H8 is the ability to connect it to your Amazon Alexa/Google Assistant/Siri smart speaker through the Aux VA input or USB port, which effectively makes it function as voice controllable smart soundbar.
Now keep in mind this isn't some premium Dolby Atmos soundbar, but at this price point this soundbar's audio fidelity can't be beat. It's also worth noting that Vizio also offers the Vizio V51-H6 which is a 5.1 soundbar that adds in two satellite rear speakers. The extra speakers won't do much if used in small rooms, but they'll add to the audio experience if they're given enough room to reach their potential.
Samsung is the world's largest TV manufacturer by market share, so it's unsurprising that they've also developed quality soundbars to go with them. The HW-R550 is a powerful 320-watt soundbar that sounds as good as it looks, and just just before you ask, you don't need a Samsung TV to use it.
This 2.1-channel soundbar comes with a wireless subwoofer that really gives it a big edge over soundbars that don't come with one. A subwoofer will always be capable of delivering deeper lows that make for far superior cinematic and gaming experiences. The fact it's wireless also makes the whole setup quite elegant, which is kind of what a soundbar should be all about.
The Samsung HW-R550 produces highly detailed sound with bass that is rarely rivalled in this budget. As is quite common in consumer electronics, bass is slightly boomy overemphasized out of the box. Fortunately, you can tweak the full 7-band equalizer to match your ear's preferences. The lack of DTS Virtual:X virtual surround sound means it falls short of the more recent Vizio V21-H8 or V51-H6, but it isn't far off.
The soundbar also features an intelligent sound recognition system that lets it recognize the type of content that is being played and fine-tune the equalization according to it. Another noteworthy feature is its gaming mode which creates immersive audio for video games. It sounds like a bit of a gimmick, but it actually makes a big audible difference when enabled.
Note that Samsung also offers the slightly cheaper and less powerful HW-R450 soundbar/subwoofer combo. We'd recommend going with the HW-R550 since sound comes from 4 drivers as opposed to just 2, giving it slightly improved stereo separation.
We're huge fans of Polk Audio here at Sound Manual. We've consistently found their home theater speakers to offer some of the best sound for the price. The Signa series is Polk's soundbar line, with the range-topping S2 being a universal 2.1 soundbar.
Featuring an ultra-slim low-profile (2-inches tall) design, placement is easy and you don't have to worry about it obstructing your television. Sound-wise, it's comparable to the Samsung HW-R550 albeit slightly less powerful. The subwoofer feels underpowered but the sound is otherwise rich in detail.
It also features Polk's patented voice adjust technology which makes dialogue more intelligible in news, sports and other TV programs.
The Signa S2 has all the bells and whistles you'd expect from a soundbar at its price, including HDMI ARC and Bluetooth compatibility.
Overall we'd recommend the Vizio V21-H8 over this in most cases. However, this could be a great alternative if the slim design is something you value.
Very similar to the Samsung HW-R550 in specification and price, the Sony HT-S350 is another soundbar/subwoofer combo that can fill larger rooms.
This soundbar is also capable of outputting 320W of power which makes it reach high volume levels without distorting. For inputs you get HDMI ARC as well as optical, on top of Bluetooth connectivity for pairing with your phone or other compatible devices.
Despite being a good soundbar in itself, the Sony HT-S350 is inferior to the Samsung HW-R550 overall. Samsung's R550 has more accurate audio reproduction, a better sound profile and better bass extension. The Sony can get slightly louder, but it compresses more than the R550 and has a rather dark sound profile. It also doesn't support DTS, where Samsung does.
Overall we prefer the Samsung R550 over this soundbar from Sony. However, it's still a very decent soundbar in its own right. Owners of a Sony TV might want to stick to the Sony ecosystem for better integration and aesthetic consistency.
Yamaha seems to produce everything from pianos to motorbikes, but they've also found critical success in the soundbar space.
Some audiophiles might scoff at soundbars, but Yamaha have produced truly great-sounding ones that deserve all the praise they've received. After extensive testing, RTings rated the YAS-207 the best sounding budget soundbar and Digital Trends rated the YAS-209 as the best soundbar of 2021.
The YAS-108 is a younger brother which does not include a subwoofer unlike those two models, but it has an equally well-balanced and clean sound signature.
It also leaves you the option to add a subwoofer in the future. This can be achieved thanks to its nonproprietary subwoofer out port.
In fact, many users suggest getting the YAS-108 and pairing it with a good budget sub like this 8-inch one from Monoprice offers the best sound for the money. (That's because the subwoofers that comes with the YAS-207 and YAS-209 aren't all that great).
Besides our top-pick Vizio V21-H8, the YAS-108 is the only other soundbar on our list to feature DTS's latest codec: DTS Virtual: X. This codec aims to simulate the sound of a 11.1-channel surround-sound setup and expand the soundstage on both horizontal and vertical planes. It doesn't quite match the immersiveness of $2000 Dolby Atmos soundbars or true surround-sound setups. However, it is notably superior to the virtual surround technologies employed in the soundbars it competes with.
6. TaoTronics 32-Inch Soundbar
Best soundbar for those on a shoestring budget
TaoTronics are a Chinese tech company who captured their domestic market and are now beginning to take over the US market with their attractively priced soundbars and noise cancelling headphones.
This 32-inch soundbar is ideal to improve the sound of 32"-48" TVs at minimal expense. It comes in well under the $200 budget but will dramatically improve your television's audio quality. The 40W power output is not enough to fill large rooms, but it's perfect as a soundbar in bedrooms or smaller living rooms.
The soundbar is surprisingly easy on the eye, with a wood-grain style finish that is a cut above the other soundbars in its price range. It comes with all the expected inputs as well as Bluetooth connectivity. The remote control doesn't offer many functions but gets the job done.
Overall this soundbar is a good choice for those who simply wish to improve their TV's lackluster built-in speakers without paying as much as the TV itself. It's a good piece of equipment, just don't expect to be completely blown away.
Few companies are as influential as Bose in the home audio space. The best-selling Bose Solo 5 is their most compact soundbar which combines great sound with the simplicity of plug-and-play devices. At just 21.6-inches wide, we recommend this if you're looking for something to accompany a small 32″ television.
Its sound profile is slightly bright and it isn't quite capable of producing heart-thumping lows for the bassheads out there, but for its size you won't find better. The sound engineers at Bose are experts in tweaking equalization to make the most out of the hardware. They've also added a special dialogue mode that enhances speech for maximum comprehensibility.
The soundbar has optical, coaxial, and aux inputs as well as Bluetooth connectivity. We recommend a wired connection to the TV, but you can easily connect your smartphone or tablet and stream music to the Solo 5.
The universal remote that is included with the soundbar is a standout feature of the Solo 5. It not only lets you play with the soundbar's settings, but can also be used to control your TV and video sources connected to the TV (Blu-ray Disc™ player, games console etc.)
Hearing declines with age. As you get older, it becomes increasingly difficult to hear clearly the voices on the TV. Poor quality built-in speakers certainly don't help, but even on better speakers the voices can get lost in all the other sounds.
The ZVOX AccuVoice AV200 uses patented technology to make voices clear and easy to understand. This works by means of an onboard DSP and integrated DAC which boost the common frequencies that human voices produce. As a result, human voices standing out from the music, sound effects and various background noises on the soundtrack.
You can toggle this AccuVoice technology with a push of a button on the remote. Turn it off and you're left with a fairly average speaker.
Other manufacturers advertise voice enhancement technologies on their soundbars like Yamaha's Clear Voice and Polk's Voice Adjust. However, AccuVoice is a cut above the rest and it is obvious that ZVOX designed the whole speaker with the problem in mind.
It is worth mentioning that it measures just 17-inches wide and has a small 24-watt amplifier, so it is clearly a less powerful soundbar than the others that made this list. If you don't need the hearing assistance feature, there is no reason to pick the AV200.
Willing To Spend More?
Most 'standard' soundbars (by standard, we mean 2.0 or 2.1-channel with just the bar and possibly a subwoofer) cost around the $200 mark or less. To notice a big difference, you'll have to drastically increase your budget to around $1000—that takes you to the 5.1 or 7.1-channel Dolby Atmos soundbar setups. These soundbars have side-firing speakers and incorporate separate satellite speakers to give you true surround sound.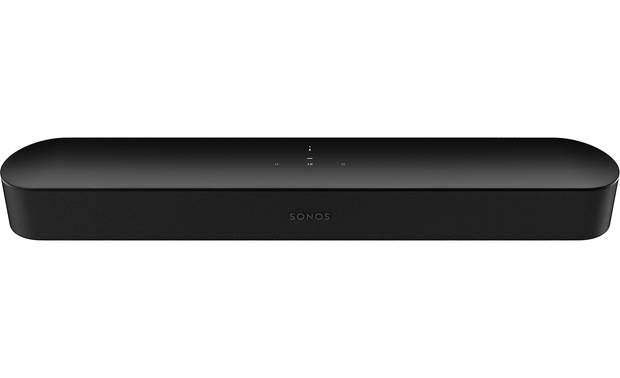 However, there are some premium standalone soundbars which might be worth stretching your budget for. The one that we'd definitely recommend considering is the Sonos Beam which is the younger sibling of the much talked about Sonos Arc. It is a smart soundbar that sounds incredible for its price and feels premium. You can also purchase a separate wireless subwoofer or satellite speakers to make it sound even better.
Summary
Hopefully this buyer's guide has given you a good idea about your soundbar options within a $200 budget.
For those who plan to game and watch a lot of movies, you'll want to get a soundbar with a subwoofer. The Samsung HW-R550 is our recommendation. It's a great-sounding soundbar and the subwoofer makes sure you'll feel as well as hear those loud explosions or revving engines.
If you want to keep clutter to a minimum and don't want a subwoofer taking up floor space, we recommend the Yamaha YAS-108. This is hands-down the best-sounding soundbar in the list.
Finally, the is our ultra-budget recommendation. If you've blown your budget on a new TV set and don't have much money left over, this soundbar will make sure things sound a lot better without having to wait for your next paycheck.