Soundbars are the modern-day solution for great television audio. Their space-saving design and ease of setup make them attractive alternatives to traditional home theater systems. People just don't want to rearrange their entire living room around big speakers and deal with complicated wiring issues.
In this buyer's guide, we'll be looking at our favorite soundbars that cost less than $200. We have previously recommended under $100 soundbars, but this slightly more forgiving budget yields big improvements in sound quality and build quality. It goes without saying that they'll sound dramatically better than any built-in TV speakers.
Moving into this higher price bracket, we'll see options from big electronics brands like Samsung and Sony, as well as big audio equipment brands like Bose and Polk Audio. There are also many more 2.1-channel setups that bundle a wireless subwoofer along with the soundbar for improved bass.
Included In This Guide
---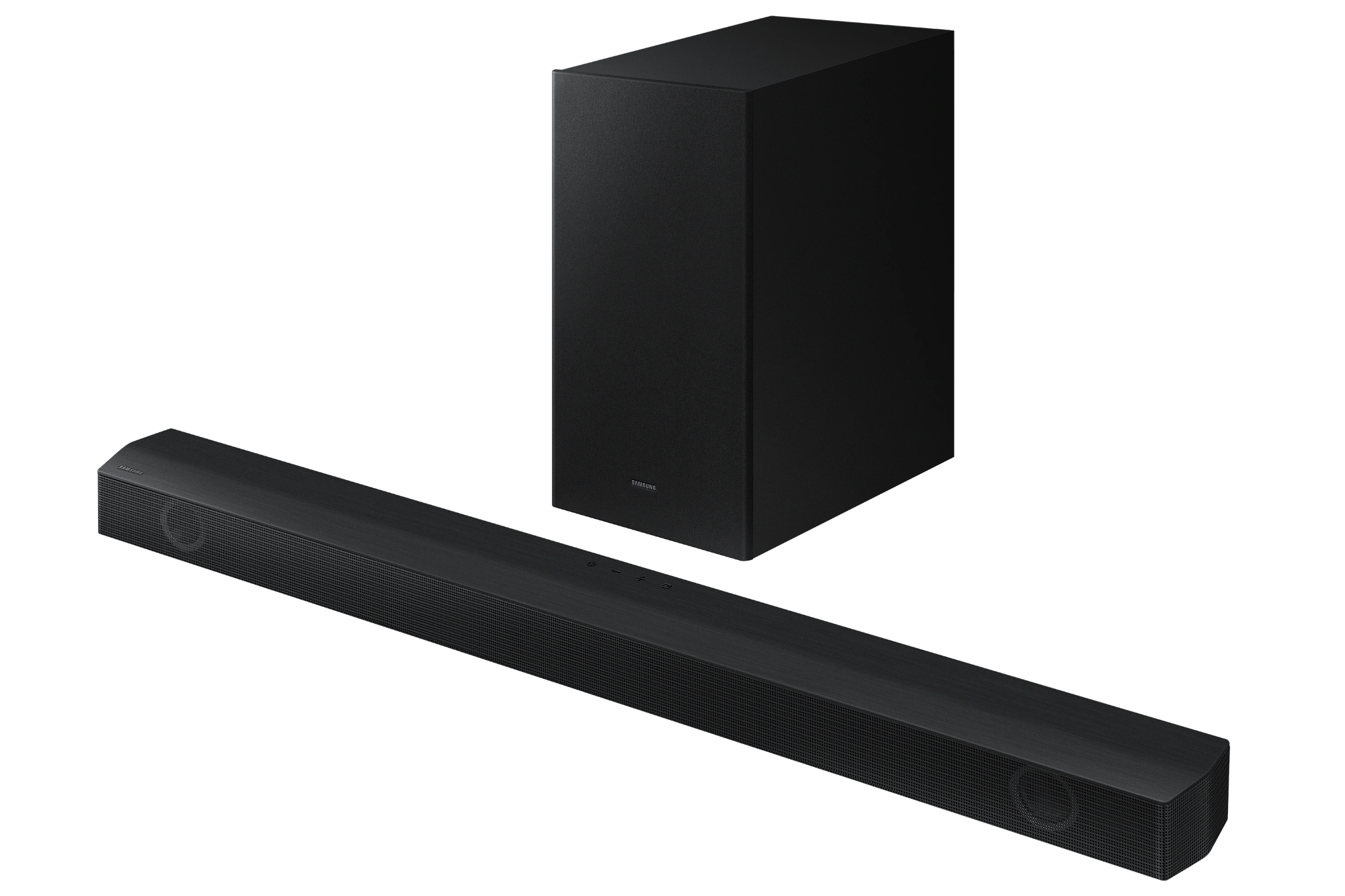 Best 2.1 soundbar
If you're looking for a stereo soundbar + subwoofer setup, the HW-550 offers the best performance within this budget.
Specifications
Surround Sound Technology:
DTS Virtual:X, Dolby Digital
Pros
Balanced sound signature
Graphic EQ and voice enhancement feature
Potential to add rear speakers
Good build quality
The Samsung HW-B550 is one of the newest soundbars on the list and succeeds its predecessor, the HW-A550. Its MSRP exceeds our $200 budget, but it's currently available for under $200. Overall, this is our topic pick right now because it offers the best combination of sound quality and features.
The HW-B550 delivers neutral, well-balanced audio with sufficient detail in the mids for clear dialogue. While the dedicated subwoofer doesn't reproduce the lowest bass frequencies, this is typical for soundbars in the $200 price range. The stereo system features DTS Virtual:X virtual surround sound, creating a fairly immersive audio experience without requiring additional speakers. However, Samsung does offer optional rear speakers for purchase if you desire a more authentic surround sound experience.
Positioned between the more affordable HW-B450 and the higher-priced HW-B650, the HW-B550 is worth the investment over the HW-B450. Though their sound quality is similar, the HW-B550 offers key additional features such as HDMI and HDMI ARC input, multipoint Bluetooth connectivity for simultaneous device connections, and higher power output (410W vs 300W) for increased volume capabilities.

Best All-in-One Standalone
The M213AD-K8 delivers the best sound for a sub-$200 standalone soundbar and is currently the only one to feature Dolby Atmos.
Specifications
Surround Sound Technology:
Dolby Atmos, DTS Virtual:X
Pros
Great sound for the price
Dolby Atmos support
Voice assistant input
Cons
Integrated subwoofers lack oomph
Can't be upgraded with an external subwoofer or extra speakers
Vizio's M-Series All-in-One soundbar (M213AD-K8) is the best standalone soundbar we tested under $200. With potent bass, impressive dialogue clarity, and a wide soundstage, it's a great one-box TV sound solution for those who don't want to deal with a subwoofer or satellite speakers. However, it's essential to double-check check you're picking this up instead of its older version, the M21D-H8, as the new version adds Dolby Atmos support, unique on-screen control integration with select Vizio TV models, and an updated remote control.
The M-Series AiO soundbar offers one HDMI input, one HDMI eARC port, and supports Bluetooth wireless connections. It does not support a Wi-Fi connection or built-in apps like Spotify Connect, nor does it directly support Siri, Google Assistant, or Amazon Alexa. However, smart speakers supporting those digital assistants can be connected via the "smart speaker" port.
Setting up the soundbar is easy, but users should ensure that HDMI CEC, HDMI ARC, or eARC are enabled in their TV's audio menus. If the TV supports Dolby Atmos output, it should be turned on.
Featuring six active speakers and two passive radiators, the M213AD-K8 offers great audio fidelity. The dynamics are also surprisingly good. Bass performance is impressive even without a subwoofer, though it can't reproduce deeper bass frequencies.
The Vizio M-Series AiO soundbar doesn't quite deliver on its Dolby Atmos expectations, because it has to downmix it to stereo. As long as you don't run in with the promised "dome of surround sound" expectations, you won't be disappointed.

Runner-Up Standalone
Although it lacks the power to fill larger rooms, the Yamaha SR-B20A's natural-sounding tonal balance and solid build quality make it a great option for the second room.
Specifications
Surround Sound Technology:
DTS Virtual:X, Dolby Digital
Pros
Nuanced midrange performance for clear dialogue
Surprisingly immersive surround sound with 3D mode
Stylish and solidly built
Cons
Can't reach very high volumes
Lacks features for the price
The Yamaha SR-B20A is an entry-level soundbar designed to enhance your movie and gaming experience without being complicated, expensive, or unhelpfully large. It is compatible with Dolby Audio, DTS Digital, and DTS Virtual:X, which aims to mimic object-based surround sound. The soundbar has six drivers and a total of 120 watts of Class D amplification. Connectivity options include Bluetooth 5.0, an HDMI ARC socket, and digital optical inputs.
In terms of sound quality, the Yamaha SR-B20A offers an expansive, assertive listening experience with good detail and dynamics. It has a deft and nuanced midrange performance, delivering clear dialogue and characterful audio. The treble range is substantial and free from the harshness found in some less capable soundbars. However, the bass performance is somewhat limited, lacking variation and expression.
The SR-B20A's soundstage is wide and immersive, especially with the '3D Surround' mode engaged. While it doesn't quite match up to the Dolby Atmos-enabled Vizio M213AD-K8, it is a significant improvement over most mainstream TVs' built-in audio.
Overall, while the Vizio M213AD-K8 feels like the better pick overall, the Yamaha has some wins of its own, with slightly clearer dialogue and better build quality. It's also worth mentioning the Yamaha SR-C20A compact sibling, but the SR-B20A is recommended since the compact version lacks a dedicated tweeter and 3D surround mode.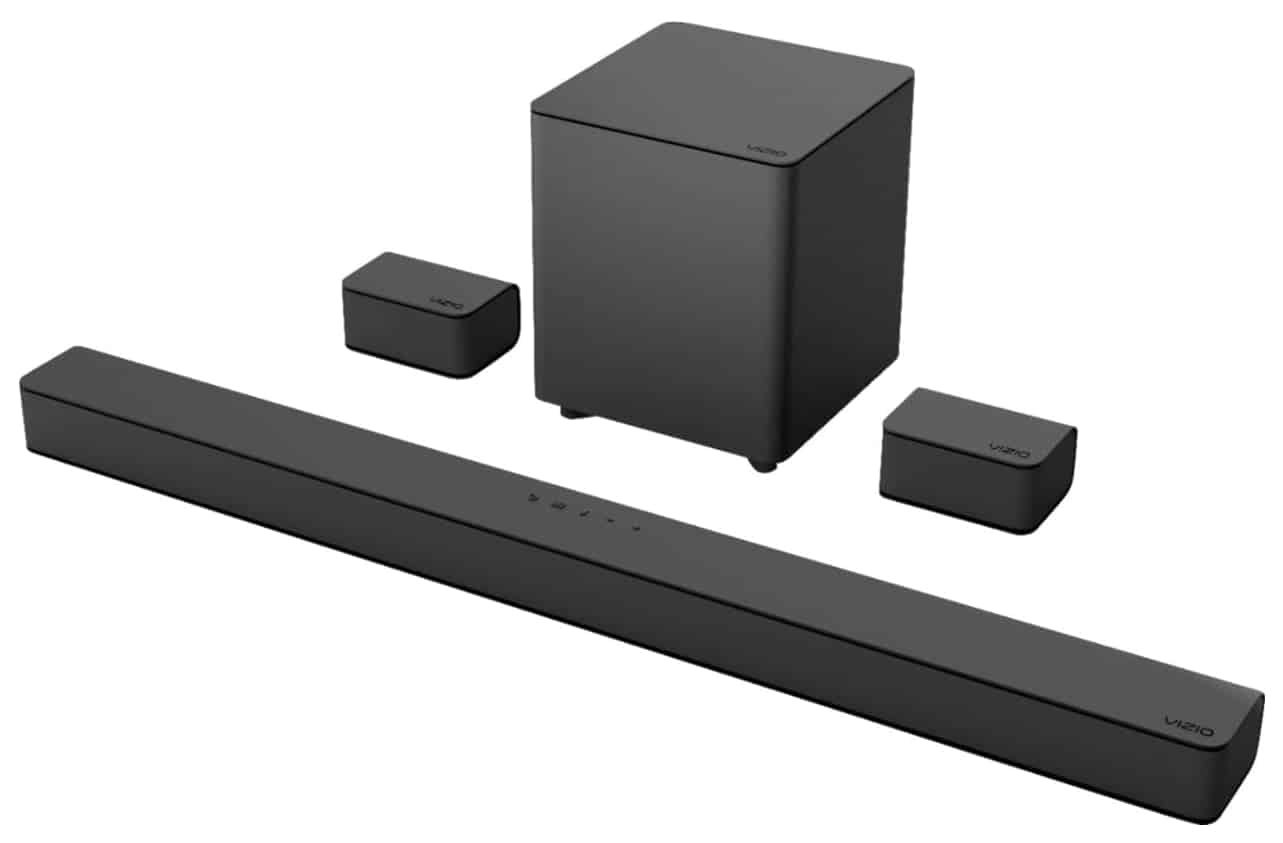 Best 5.1 Channel System
Part of the value-oriented Vizio V series, the V51x-J6 offers incredible value for money if you're in the market for a 5.1-channel system.
Specifications
Surround Sound Technology:
DTS Virtual:X, Dolby Digital
Pros
Includes sub and rear speakers
Good sound quality for the price
With most full 5.1 surround sound systems typically costing much more, the Vizio V-Series 5.1 Sound Bar (V51X-J6) is a rare budget-friendly option. It significantly upgrades from standard TV speakers, delivering clear dialogue and a thumping subwoofer. The soundbar also includes an audio jack designed for Amazon Echo Dot or Google Nest Hub Mini, which can turn it into a smart speaker.
With extra speakers involved, it does have a natural advantage over the other soundbars in this list. So if you can deal with speaker placement issues associated with a physical 5.1 surround sound system, the V51X-J6 will provide a more convincing and natural sense of envelopment. But since the V-Series is Vizio's value-oriented line, the satellite speakers and subwoofer are very basic.
The surround units lack power and can't replicate the immersiveness of a high-end setup. Unlike the slightly more expensive Vizio M-Series M51ax-J6, it doesn't support Dolby Atmos. It does support DTS Virtual:X for a simulated spatial audio experience, but the results aren't the same.
Overall, the V51x-J6 offers incredible value for money, but the target market might be a little small. People wanting a clean setup will opt for standalone or 2.1 soundbars, whereas those willing to accommodate a full 5.1 setup will probably want to pay extra for something more high-end.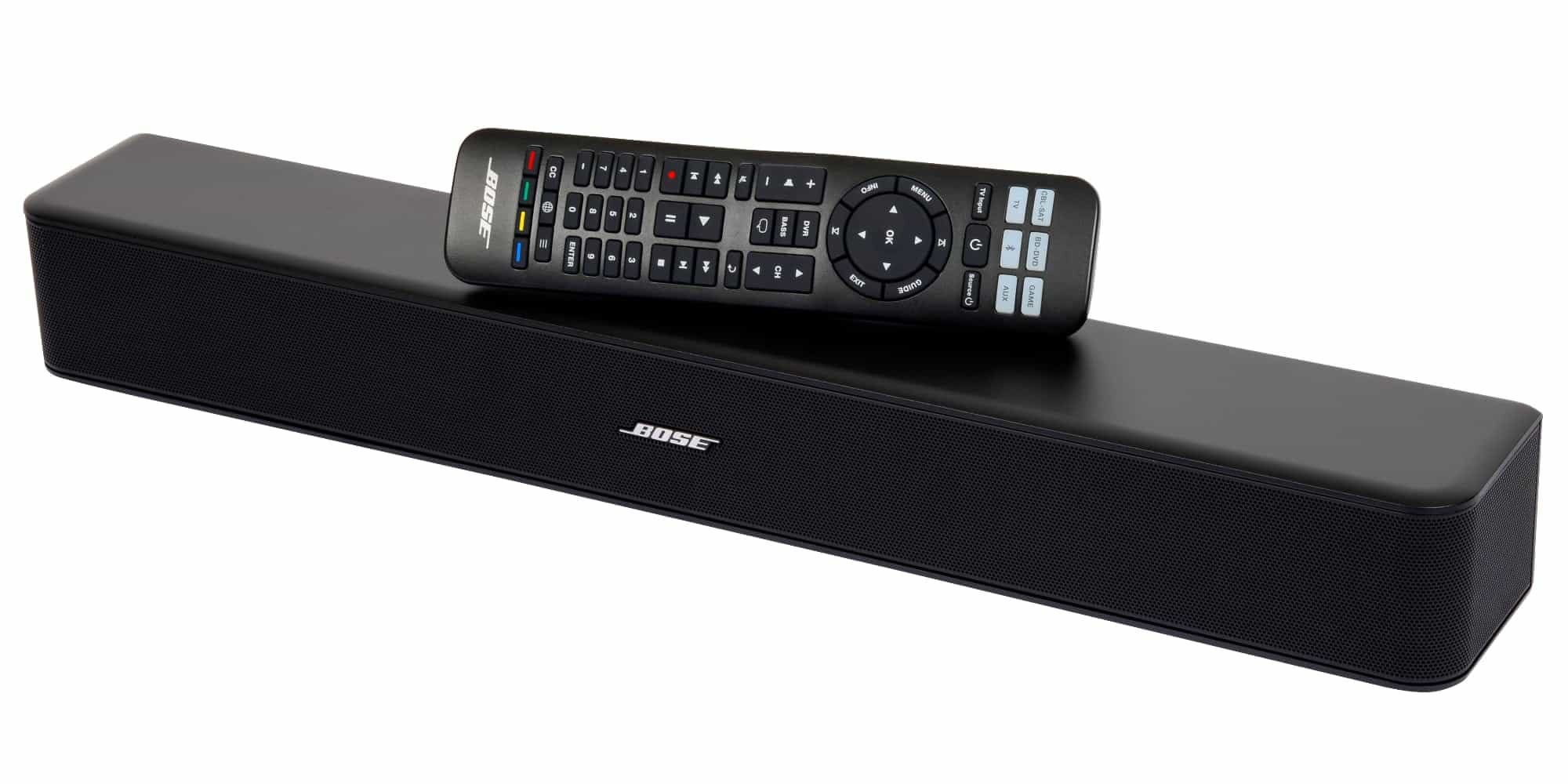 Best Compact
The Bose Solo 5 is a good pick if you're really tight on space, but there are definitely better sounding soundbars for the price.
Specifications
Surround Sound Technology:
Dolby Digital
Pros
Ultra-compact size
Universal remote included
Bluetooth-compatible
Cons
Struggles at higher volumes
Huge premium on compactness
Few companies are as influential as Bose in the home audio space. The best-selling Bose Solo 5 is their most compact soundbar which combines great sound with the simplicity of plug-and-play devices. At just 21.6 inches wide, we recommend this if you're looking for something to accompany a small 32″ television.
Its sound profile is slightly bright and it isn't quite capable of producing heart-thumping lows for the bassheads out there, but for its size, you won't find better. The sound engineers at Bose are experts in tweaking equalization to make the most out of the hardware. They've also added a special dialogue mode that enhances speech for maximum comprehensibility.
The soundbar has optical, coaxial, and aux inputs as well as Bluetooth connectivity. We recommend a wired connection to the TV, but you can easily connect your smartphone or tablet and stream music to the Solo 5.
The universal remote that is included with the soundbar is a standout feature of the Solo 5. It not only lets you play with the soundbar's settings but can also be used to control your TV and video sources connected to the TV (Blu-ray Disc™ player, games console, etc.)

Clearest Dialogue
Featuring patented AccuVoice technology that digitally boosts voices for the hearing impaired.
Pros
12 levels of voice boost
Lower-profile design compared to older models
Cons
Unremarkable soundbar when voice enhancement is disabled
Hearing declines with age. As you get older, it becomes increasingly difficult to hear clearly the voices on the TV. Poor quality built-in speakers certainly don't help, but even on better speakers, voices can still be drowned out by other sounds.
The ZVOX AccuVoice AV355 soundbar employs patented technology to enhance voice clarity and comprehension. Its onboard DSP and integrated DAC amplify the common frequencies of human speech, enabling voices to stand out against music, sound effects, and various background noises.
AccuVoice technology can be activated with a simple push of a button on the remote, offering 12 levels of voice boost to help you find the optimal balance between dialogue and other audio elements. When AccuVoice is turned off, the soundbar functions as a fairly average speaker.
The AV355 stands out as our preferred ZVOX soundbar due to its new low-profile design, which not only looks better but also allows for easier placement in front of the TV without obstructing the IR receiver.
Other brands, such as Yamaha and Polk, promote voice enhancement technologies like Clear Voice and Voice Adjust, respectively. However, AccuVoice outperforms its competitors, as ZVOX clearly designed the entire speaker with this specific issue in mind.
It's important to note that the AV355 is powered by a 45-watt amplifier, making it less powerful than other soundbars on this list. If you don't require the hearing assistance feature, there's no reason to choose the AV355.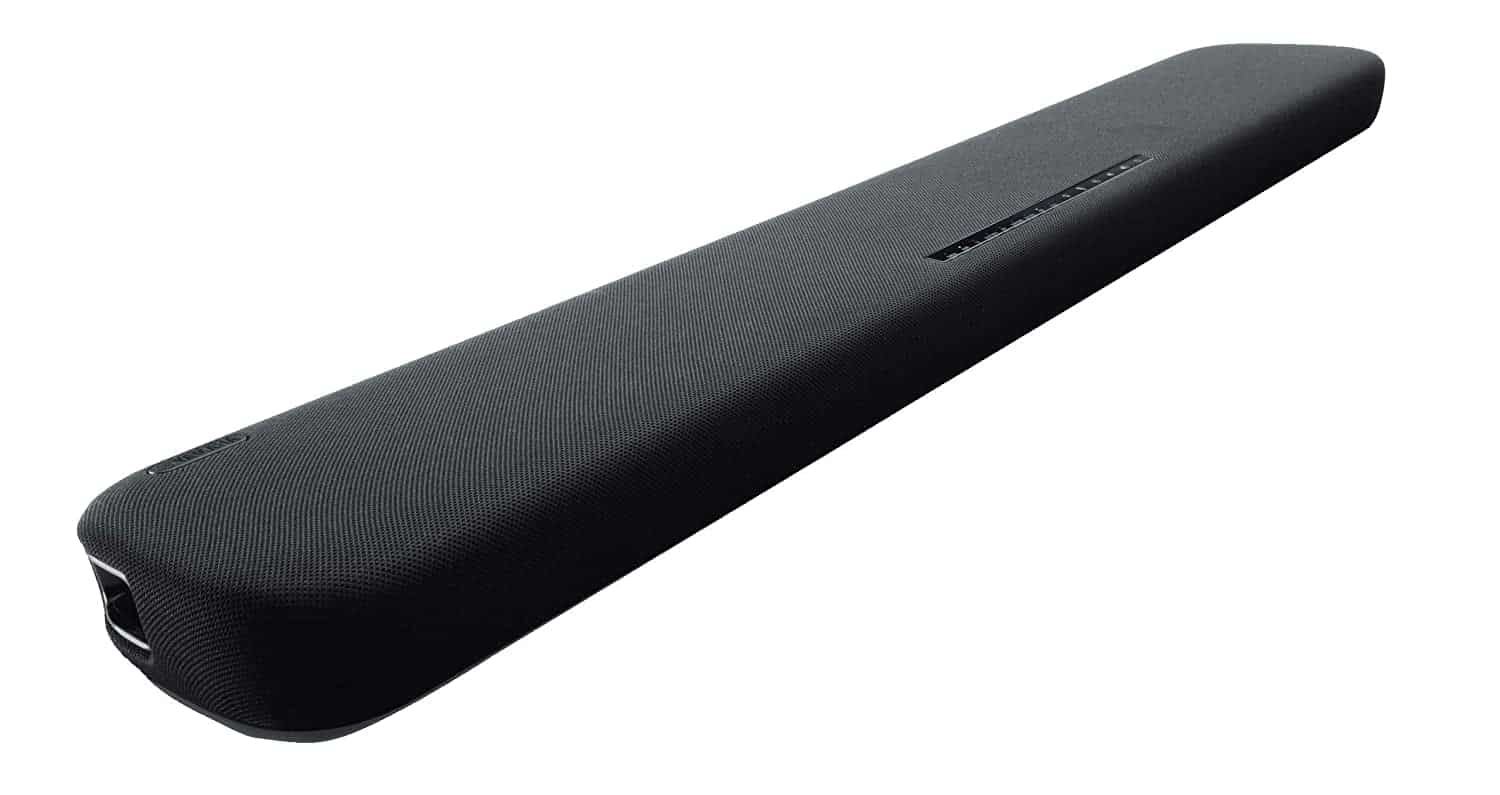 With built-in Alexa
The predecessor of the aforementioned SR-B20A actually packs more features but they might be redundant.
Specifications
Surround Sound Technology:
DTS Virtual:X, Dolby Digital
Pros
Clear and natural sound signature
Alexa and Spotify Connect built-in
Wi-Fi connection
Cons
No Bluetooth multipoint
Older model
Soundbars with built-in voice assistants tend to come at a hefty premium, with most soundbars instead just giving you the ability to connect your smart speaker with them and use them that way.
However, the Yamaha YAS-109 does feature built-in Alexa voice control and is the only smart soundbar in this budget category.
In fact, this soundbar is very good in its own right and is actually a discounted previous-generation Yamaha soundbar. Sound quality and characteristics are similar to the aforementioned Yamaha SR-B20A, which belongs to Yamaha's newest generation of soundbars.
For some users, the YAS-109 might be a more appealing option than the newer Yamaha SR-B20A due to its Alexa integration and Wi-Fi connectivity, which enables direct streaming from services like Spotify or Amazon Music. However, unless these features are crucial for your needs, the SR-B20A is recommended, as it boasts one additional optical input and Bluetooth Multipoint connectivity.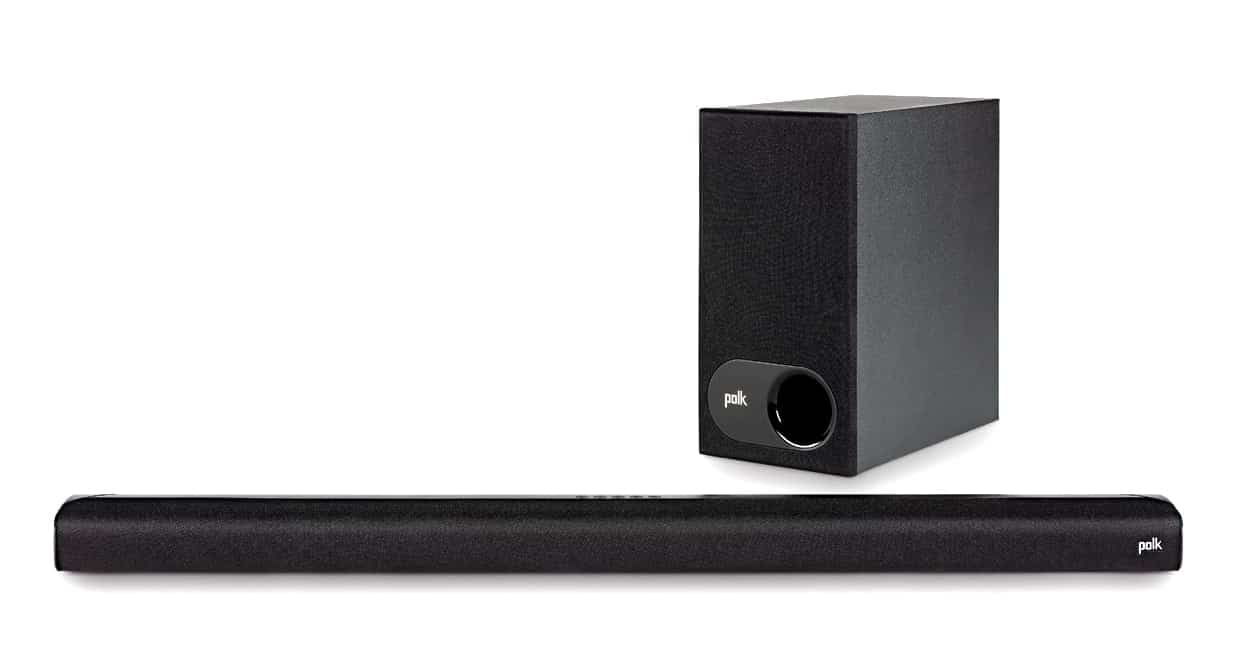 Notable Mention
The Polk Audio Signa S2 lacks the features and detail of newer models, but it remains a good pick especially when discounted.
Specifications
Surround Sound Technology:
Dolby Digital
Pros
Slim design
Decent sound quality
Cons
No DTS Virtual:X
Slightly outdated
We're huge fans of Polk Audio here at Sound Manual. We've consistently found their home theater speakers to offer some of the best sound for the price. The Signa series is Polk's soundbar line, with the S2 being their entry-level offering.
Featuring an ultra-slim low-profile (2-inches tall) design, placement is easy and you don't have to worry about it obstructing your television. Sound-wise, it's comparable to the Samsung HW-B550 albeit slightly less powerful. The subwoofer feels underpowered but the sound is otherwise rich in detail.
It also features Polk's patented voice adjust technology which makes dialogue more intelligible in news, sports, and other TV programs.
The Signa S2 has all the bells and whistles you'd expect from a soundbar at its price, including HDMI ARC and Bluetooth compatibility. However, being a late-2018 model, it feels a bit dated and lacks the likes of DTS Virtual:X, making it a less attractive purchase than it was a few years ago.
Choosing Your Soundbar
Before we reveal our recommendations, let's walk through the most important considerations when purchasing a new soundbar.
Number of speakers inside
Some people get bogged down in the number of speakers contained within a soundbar. In practice, the number itself is not that important.
Sure enough, housing a whooping 46 speakers like the Yamaha YSP-5600 can help better simulate 3D surround sound. But generally speaking, choosing one soundbar over another simply because it has more tweeters and woofers inside would be a mistake.

Size and placement considerations
Soundbars are the best-selling type of television speaker because they are the perfect match for today's flatscreen TVs. They're thin, typically low profile, and can sit right under the TV.
If your TV is fit snugly in an alcove in your room, you might want to make sure the soundbar is no wider than the TV. In such cases, compact soundbars like the Bose Solo 5 or Yamaha SR-C20A make sense, but do note that compact models typically sound worse while costing more.
You'll also want to consider whether you'll place it on the TV cabinet or have it wall-mounted. Almost all soundbars can be wall-mounted, but make sure it won't be too wide or tall.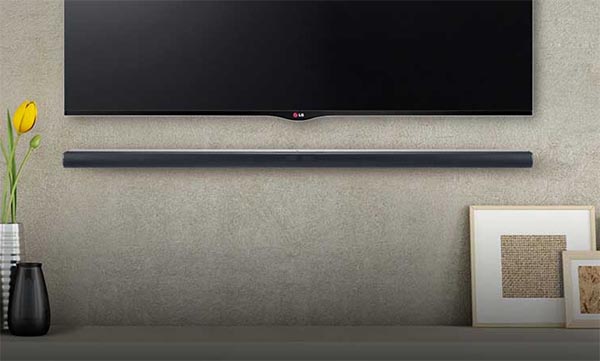 Sound Enhancement Technology
You'll often hear terms like Dolby Digital, DTS Virtual:X, and Dolby Atmos thrown around. These are surround sound formats, and you can enable them if your soundbar supports them. On a stereo soundbar, they'll all be downmixed into 2.1 channels, but they'll still provide a sense of envelopment.
DTS Virtual:X and Dolby Atmos are both high quality object-based surround sound technologies, but DTS Virtual:X might be less desirable because streaming services like Netflix and Amazon Prime only offer Dolby Atmos.
Soundbar vs Soundbase
Soundbases are similar to soundbars, but your TV sits atop them. The fact that they also act as a surface for your TV means they're bigger and potentially able to produce more powerful bass.
However, their narrower nature means comparably inferior stereo separation (harder to distinguish between left and right audio). Soundbars are still more popular, and adding a subwoofer will make the bass just as good, if not better.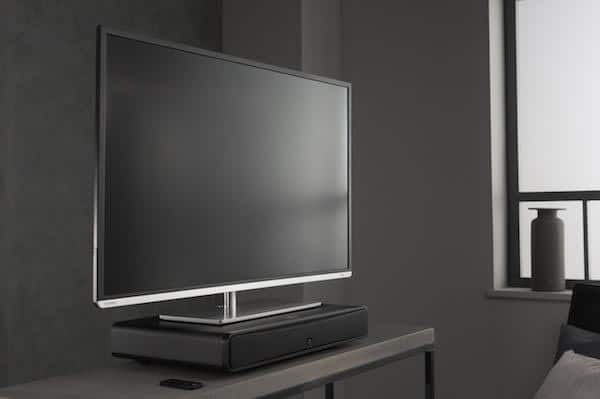 Input Connections
Soundbars are typically connected to a TV using an optical or HDMI ARC connection. Both connections are capable of carrying high definition audio. However, HDMI ARC offers some convenience advantages and having a soundbar with an HDMI connection is a plus.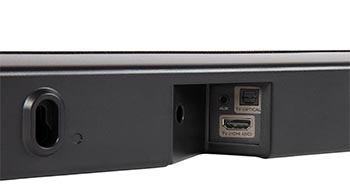 Subwoofer
Soundbars are designed to be elegant all-in-one solutions, but there is simply no way something so thin can produce deep bass.
For a true cinematic experience, you'll want a subwoofer. However, they take up space. They also won't do much for a bedroom TV you only watch news and sports on. So think hard about whether or not you want a subwoofer in the mix.