Few loudspeaker brands are as well known as Klipsch, and while some audiophiles snub their sound as being loud and unrefined, others praise their exciting dynamics. For a long time, the Klipsch R-14M R-15M were among the best-selling budget bookshelf speakers, and the 2018 R-41M and R-51M are their direct successors in The Reference series. Today we'll be looking at the smaller R-41M which comes in at just under $200.
Note that Klipsch also have the powered R-41PM and R-51PM which don't require a separate amp, but these speakers cost more.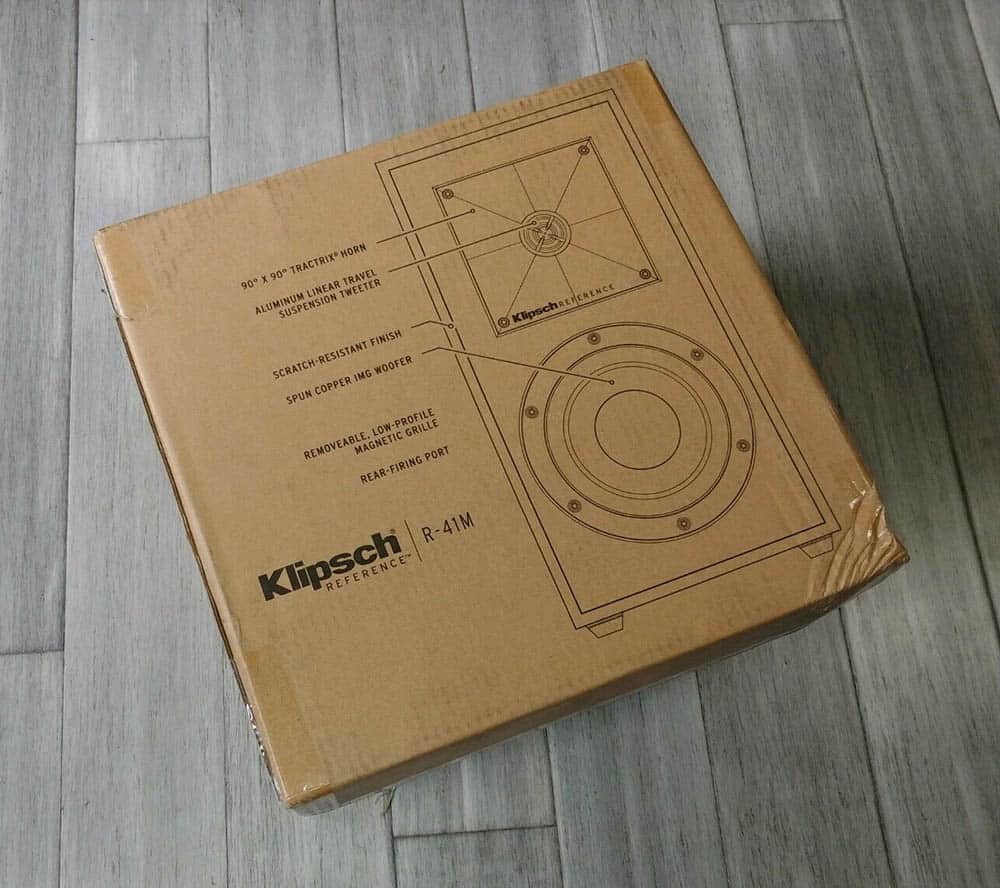 R-41M and R-51M
As the name might suggest, the difference between the R-41M and R-51M lies in size and power. Although we haven't had the chance to test the R-51M, those who fancy the R-41M but are looking for something more powerful and not limited by space might want to consider the R-51M instead.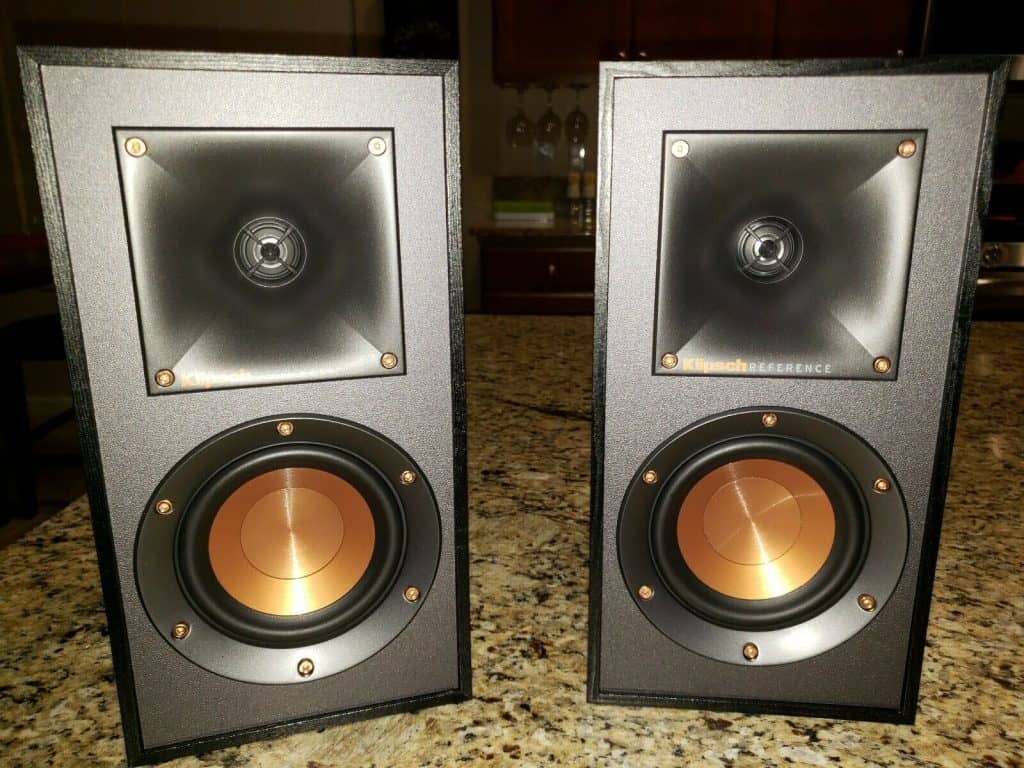 Design
Aesthetically, I have always been a big fan of the simple yet slick designs Klipsch put out, and the R-41M keeps things more or less the same. Their textured wood vinyl MDF finish looks clean, while the copper woofer is a perfect match for the rest of the speaker. They are relatively small for bookshelf speakers, measuring 11.3" tall, 5.75" wide and 7.9" deep.
Sale
Sound
Klipsch speakers are known for being able to produce a lot of sound for their size, and the R-41M are no exception. The 4 inch spun-copper IMG woofer and 1" Aluminum LTS tweeter (mated to a 90 x 90 square Tractrix® Horn) can deliver a whooping 50W of continuous power handling and 200W of peak power handling. The 90dB sensitivity @ 1 watt means the R-41Ms also don't require a lot of power to deliver a big sound.
The 1 inch tweeter square dome is horn loaded, a signature design choice from Klipsch. The exclusive Linear Travel Suspension (LTS) is designed to minimize distortion for enhanced, detailed performances. Material wise, the Kapton aluminium blend is an extremely light and rigid material used in the tweeter suspension to provide high efficiency and improve resolution and detail.
With a frequency range of 68Hz – 21kHz +/- 3dB, you might find the lows to be somewhat lacking, but there is always the option for hooking up a subwoofer. The highs sound bright but not overwhelming, while the mids are clear and well represented.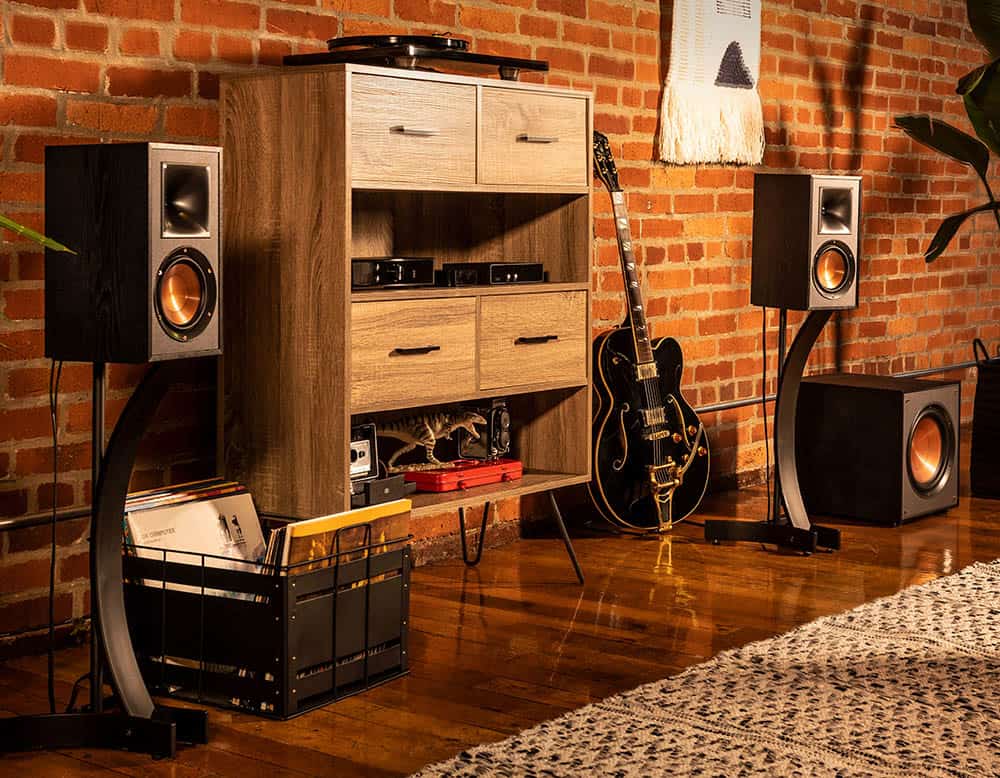 Klipsch speakers are a lot of fun and really come to life at higher volumes. Most people agree that their signature sound makes them very well-suited for home theater. They are decent for listening to music, but if high volume listening is not a requirement, there are better alternatives within the same budget.
Bookshelf speakers are sometimes not powerful enough for home theater setups, but Klipsch bookshelf speakers have a track record of making excellent front and right speakers. Despite being the smallest in the series, the R-41M does a good job, even beating out many of the more expensive options from other manufacturers.
One of the things you notice about the R-41M's soundstage is that they are designed for a central listening position, as opposed to the sound being evenly spread across the room. This makes them especially good as desktop speakers or home theater setups, but not as good for filling out a room.
Verdict
Klipsch have done well with the latest iteration of the Reference series. The R-41Ms only pack 4-inch woofers, but you could easily be fooled into thinking the sound was coming from something much bigger.
As the low end is somewhat lacking, pairing the speakers with a subwoofer can greatly improve the audio experience, especially if your preferred style of music contains a lot of bass.
The update to the reference series have more powerful amps and a dynamic bass EQ feature. That means the R-41M can get louder than the older R-14M, while also benefitting from improved bass. However, they still don't get quite as loud as the discontinued R-15Ms, which currently costs around the same. Consider the R-15Ms as an alternative to the R-41Ms.
Pros: Small but loud, Especially good for home theater setups
Cons: Bright sound, bass lacking bass without subwoofer
Verdict: 7/10
The Klipsch R-41M is currently in our list of our recommended loudspeakers for your bookshelf (under $200).