Polk have made a name for themselves for being able to produce some of the most affordable speakers around. Typically we have come to associate 'affordable' speakers with being poor quality and lacking in audio fidelity. However, with Polk's speakers that hasn't been the case.
The Polk RTi A1 bookshelf speakers are among their most affordable speakers and will definitely tempt more casual consumers. In this review we'll be looking at whether or not they can live up to the high standard that Polk typically delivers.
Polk Audio RTI A1 Bookshelf Speakers (Pair, Black)
Pair of real wood bookshelf speakers with all MDF construction and resonance-free enclosures
Equipped with one 5.25-inch dynamic balance mineral/polymer composite cone driver
Features Power Port technology to reduce "chuffing" or "port noise"
Equipped with one 1-inch silk/polymer composite dome tweeter
Features a neodynium magnet, low viscosity ferro-fluid cooling, and a heat sink on the back of the magnet
Features
The RTi A1s lie somewhere in between the cheaper LSi series and the more expensive TSx series. It features a 5.25-inch mid bass driver and a 1-inch tweeter. These drivers are 'Dynamic Balance' tweeters, referring to the technology that Polk developed alongside sound engineers at John Hopkins University.
Although the technology isn't something that can be explained within a short review, the idea behind the University study was to look at the effect vibrations could affect a speaker cone. The research found the ways in which these vibrations could distort the sound, and Polk then engineered their own speaker cones to reduce the effect of such vibrations. The end result? More accurate sound.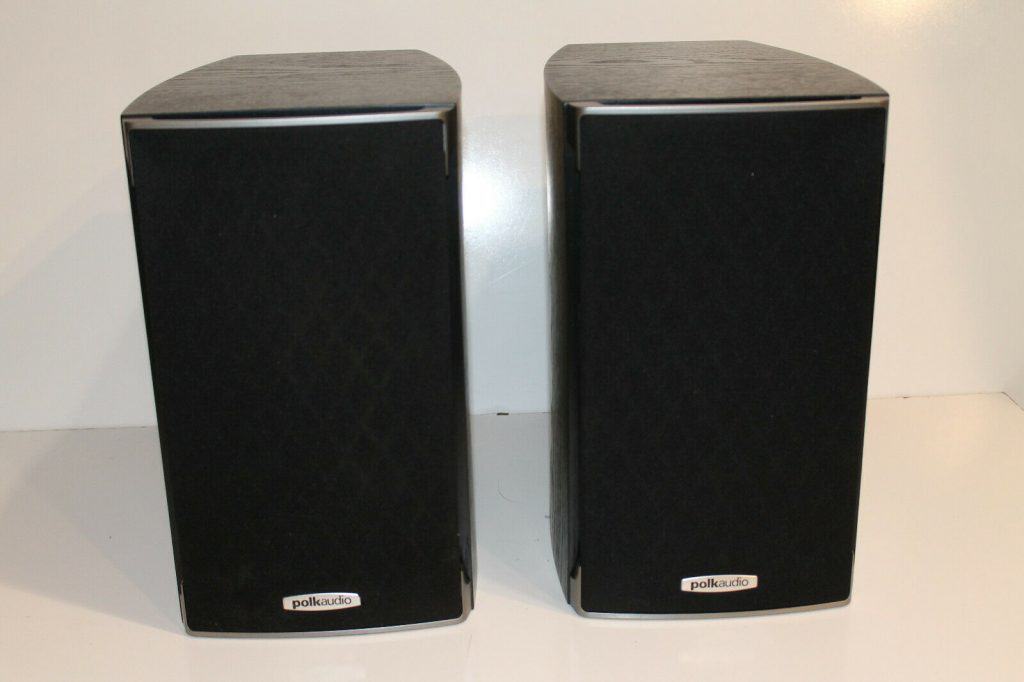 Polk RTi A1 Design
Out of the box, it was immediately obvious that the RTi A1s look different to the typical rectangular boxes we are used to seeing. The sides of the speakers are slightly curved, which not only makes them aesthetically pleasing, but also serve the purpose make them acoustically inert and reduce panel resonance. At the rear, the A1s have two sets of five-way binding posts that may be used for bi-wiring and bi-amping.
Although the speakers are small enough to fit on a bookshelf or be placed on a desk, the RTi A1s also feature keyhole mounting brackets at the back for them to easily be wall-mounted.
In 2019, the RTi A1 design looks a tad outdated, but they are still an attractive pair of speakers. Polk offers the A1s in either black or cherry veneer finishes.
Sound Quality
Many audiophiles will swear that you need to break-in new speakers over a period of weeks or even months to fully realize their sound at their best. While I believe speakers do need to be broken in, the RTi A1 sounded good from the minute they were hooked up to a receiver.
The sound stage is wide while vocals sound natural. The mid-range was clear while the higher frequencies were sharp but not unnecessarily bright. Perhaps more surprising was the excellent low-frequency sound reproduction. Of course the small A1s can't replace a subwoofer, but they produced a very satisfying amount of bass that had no problems handling bass heavy tracks.
At higher volumes, the Polk RTi A1s didn't distort. Maybe the Dynamic Balance drivers that Polk have been so proud to talk about really do make a significant difference to the overall sound quality after all.
Verdict
The Polk RTi A1 bookshelf speakers are truly excellent, especially given today's price. They were cheap for what they were years back at their release, and today they are even cheaper but produce exactly the same sound. Polk didn't disappoint with the RTi A1 speakers and have seriously set themselves up to compete with the bigger brands that have large marketing budgets based on sound quality alone.
The RTi A1 is one of my highly recommended sub-$200 bookshelf speakers.
Rating: 8/10