After reviewing speakers for years, I've become quite numb to the plain box-shaped designs that are all over the market. When I learned that the bestselling budget bookshelf speakers on Amazon were all coming from a Chinese brand known as Edifier, I was eager to try them for myself. The first thing that struck me about them was just how unique their designs were. The R1700BT sports a relatively more conventional design, but nonetheless it is very aesthetically pleasing.
Edifier R1700BT Bluetooth Bookshelf Speakers - Active Near-Field Studio Monitors - Powered Speakers 2.0 Setup Wooden Enclosure - 66w RMS
BLUETOOTH CONNECTION - Pair your phone, tablet or computer for a true hassle free wireless experience, perfect for any iOS, Android, MacOS or Windows device.
2 x AUX INPUT - Convenient connection to any device that has a 3.5mm headphone output or dual RCA output. Connect to two devices via AUX at the same time, no plugging and switching needed.
REMOTE CONTROL - switch input sources, control volume and mute/unmute at your figure tips.
CLASSIC WOOD FINISH - High quality MDF wood build finished with walnut wood effect vinyl serves as a great compliment to any home decor.
2 YEAR WARRANTY - Guaranteed high quality and reliability with hassle-free parts and labor warranty for two years in USA and Canada.
One of the nice things about the Edifier R1700BT is just how convenient it is for the modern day consumer. Being active speakers, you don't have to worry about the hassle of hooking it up to an amplifier, it's ready from the get go. Furthermore, the speakers have bluetooth connectivity meaning it's a fantastic choice for those of us who love to play through our phones or let friends come round and stream their music.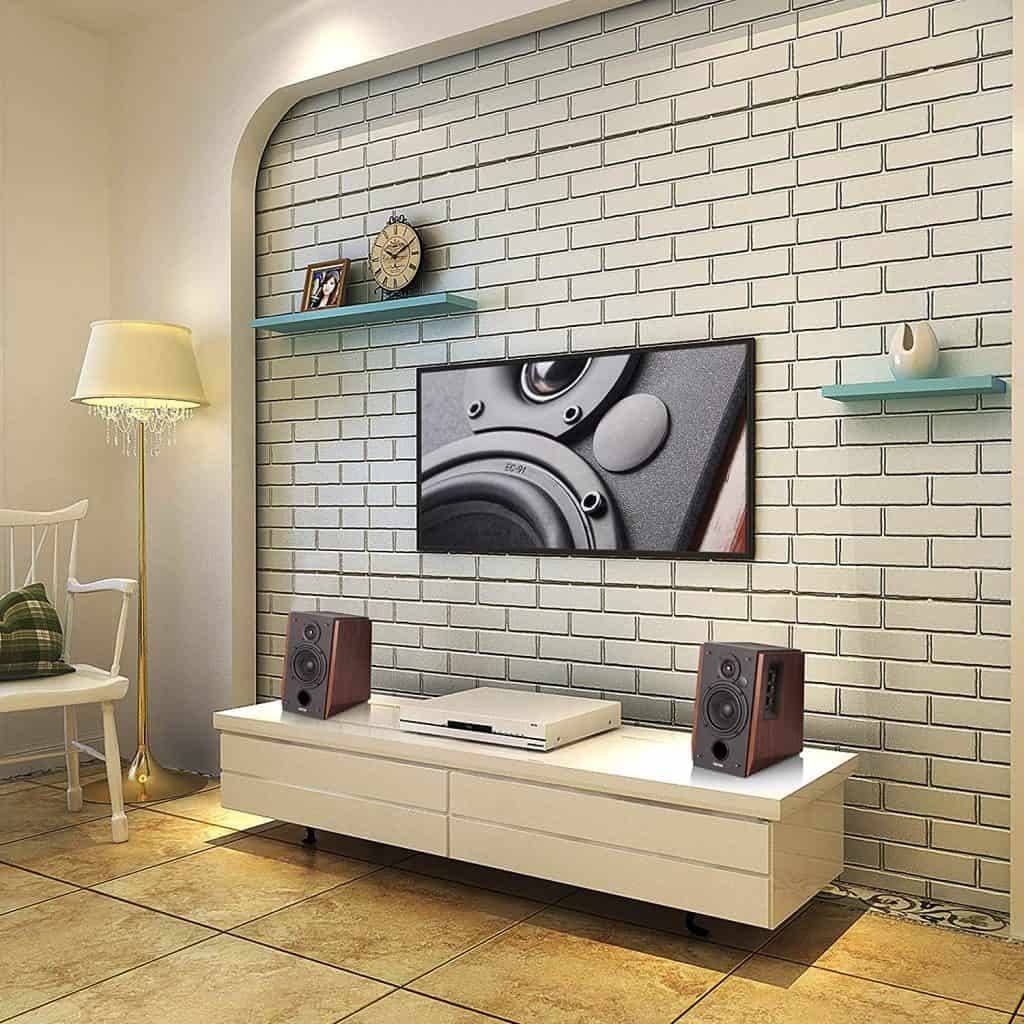 Design
The R1700BT speakers stand around 25cm tall, and the front is slightly slanted backwards, which is a nice little touch. The controls are conveniently placed on the side of the right speaker. The overall construction looks sleek, with its vinyl-wrapped MDF fascia and dark walnut exterior.
Besides bluetooth, there are two pairs of analogue RCA inputs. You can either connect directly to any device that has a dual RCA output or use a 3.5mm headphone output with the bundled adapter. The two speakers hook up to each other using the included cable. Although this will cover the vast majority of uses, more serious users might find the available connections to be lacking.
The package also generously includes a small but useful remote to adjust the volume, toggle mute and switch between inputs. The controls on the sides can adjust the bass and treble levels, as well as adjust the volume.

The R1700BT features a 19mm tweeter they call an 'eagle-eye' and a 4-inch woofer in each speaker. Although the drivers are physically small, the two speakers output 66W RMS which is more than most speakers of similar size.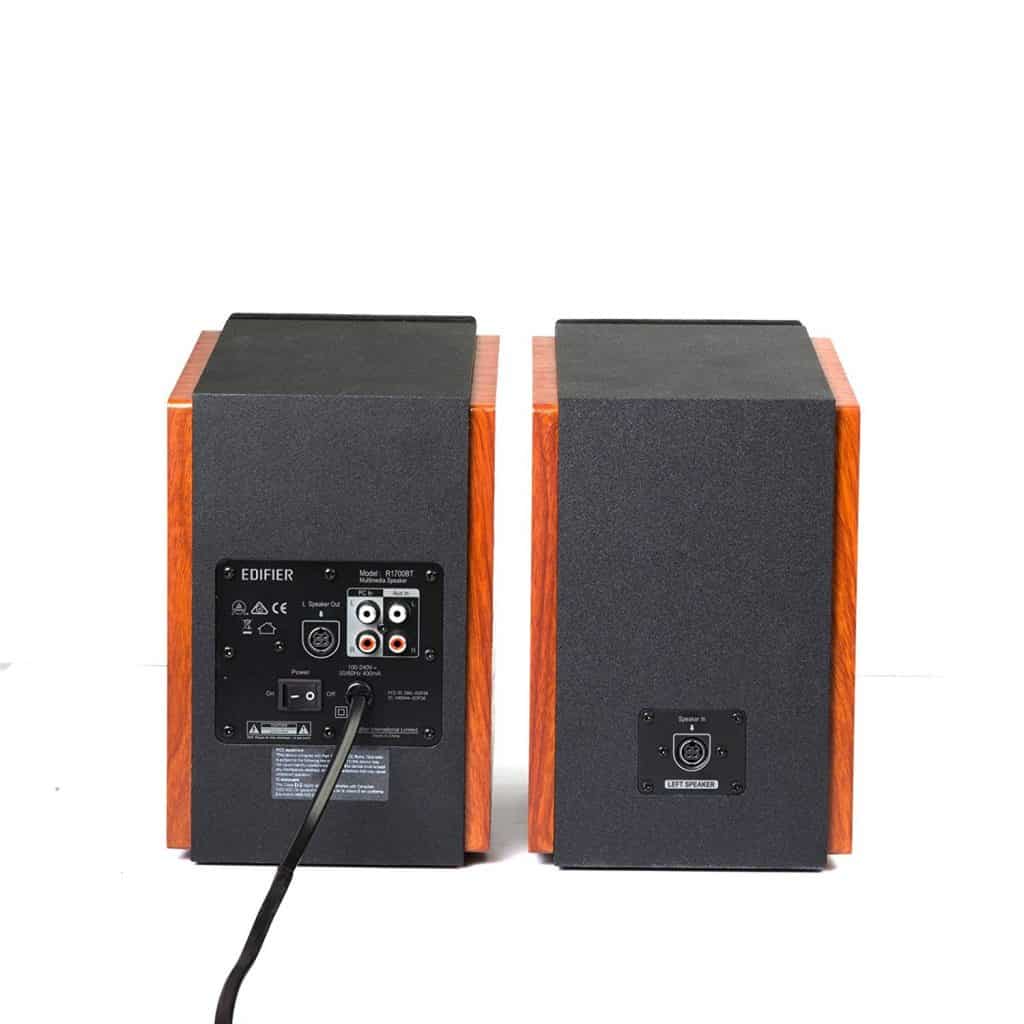 Sound
Sound quality wise, audiophiles accustomed to high-end equipment will find the R1700BT somewhat lacking, while the average consumer will be very content, especially if it's their first time buying speakers in the $100+ budget.
The treble can sometimes feel a little too dominant, while the bass is slightly weak–understandable for a pair of speakers of their size. Despite that, there is no doubting that for its price, these speakers from Edifier do very well. Audiophiles might scoff, but it's perfectly understandable why the thousands of reviewers on Amazon are very satisfied with their purchase decision.
Although the uneven highs and lows can lead to some reproduction issues, the R1700BT delivers sound quality that is magnitudes better than the overly processed sounds we hear from typical, cheap monitor speakers. The soundscape is much wider, meaning you get a much fuller and richer sound than those kind of speakers. Of course you can manually play with the bass and treble levels to compensate for the treble heavy sound, but I found keeping things somewhere in the middle to be best when considering a wide range of tracks.
Verdict
Overall the Edifier R1700BT are a very decent pair of bookshelf speakers for the price. Audio quality-wise, I wouldn't consider them to be the best in budget, but thanks to the bluetooth connectivity and attractive design, they still present excellent value for money. These are not only some of the best-selling speakers on Amazon, but they're incredibly popular in Edifier's local Chinese market, a testament to how effective mixing good sound and ease of setup can be.
Pros
Good sound for the money
Bluetooth
Eye-catching design
Cons
Slightly bright sound
Not Bluetooth aptX, just Bluetooth 4.0
Rating: 8/10
The Edifier 1700BT is one of our recommended low-cost powered compact loudspeakers.
Available at Amazon.