Most listeners plug their headphones straight into their laptop or smartphone headphone jack. Simple, right?
Which begs the question, why would anyone be interested in buying a headphone amp?
The short answer is the 3.5mm audio jack on computers or devices like the iPhone or iPad aren't very powerful. This means they often can't provide enough power to drive audiophile grade, higher impedance headphones.
Power-hungry headphones will still produce sound, but they won't be properly driven. Not only is volume held back, but they aren't capable of producing the extreme highs and lows which demand sudden spikes in power.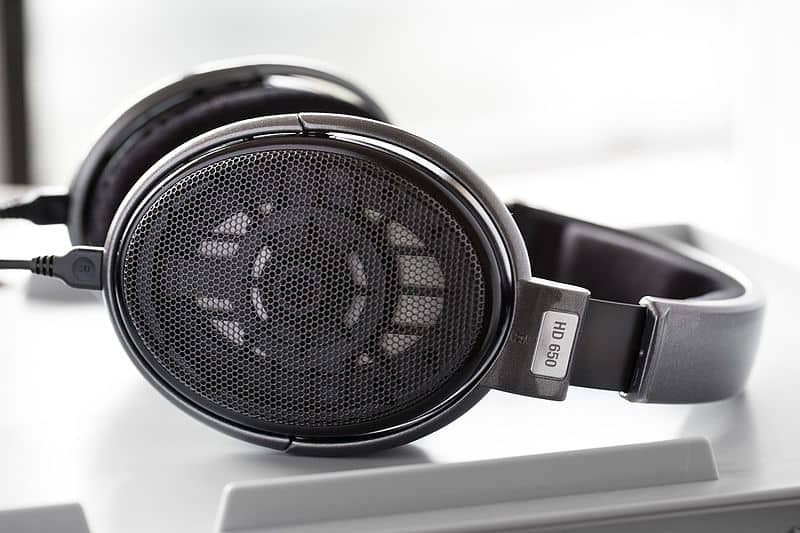 And then there's the issue of digital-to-analog converters (DACs), which convert digital audio (MP3, PCM, FLAC etc.) to an analog signal that your headphones can actually make use of.
The built-in DACs of your computer or smartphone leave a lot to be desired. So to improve sound quality, audiophiles often buy a dedicated DAC unit that runs between the headphone amp and audio source. Equally, if not more common, are headphone amp/DAC combos which combine an amp and DAC in a single unit. There are advantages and disadvantages to either approach.
In this list we'll be taking a look at a variety of headphone amps, including standalone ones and 2-in-1 headphone amp/DACs. To kick things off, let's start with a dedicated headphone amp which is all the rage and one of the best ones we've ever tested.
Schiit was founded in 2010 by two audio engineers in a garage with no external investment. They shook things up, making DACs and headphone amplifiers that stood toe-to-toe with ones that cost ten times as much. And today, they are by far and away the most talked about company when it comes to affordable audiophile headphone amps.
People have been raving about the Magni series of standalone headphone amps for years, and in 2020 Schiit Audio unveiled the successor(s) to the Magni 3, the Magni 3+ and Magni Heresy.
The two models fundamentally take different approaches to amplification. The Magni 3+ and its predecessors use discrete amplification with symmetrical feedback, whereas the Heresy is an op-amp based amplifier.
Both amps are terrific, and in Schiit's own words, "you really can't make a wrong choice". However, the Heresy is a clear winner when it comes to sound measurements: It has a lower noise floor, less distortion and less hum. For that reason, on top of its meaner black and red chassis, we think it's the one to pick right now. (That being said, others express personal preference for the sound characteristics of the Magni 3+).
Regardless of the model you pick, you'll get superb sound quality with powerful bass, potent dynamics and a high level of separation. These are very bare-bones headphones amp with little more than a volume knob, high/low gain switch and an RCA output that means it can also be used as a preamp for powered speakers.
Note that since this is a standalone headphone amp, digital-to-analog signal conversion will be handled by your computer or similar device's built-in DAC. However, most audiophiles like to go for the Schiit Magni + Schiit Modi "stack" to get the best sound quality possible. The most recent Schiit Modi 3+ costs the same as the Magni Heresy or Magni 3+, but it's absolutely worth it.
AudioQuest's original DragonFly was a resounding success and the DragonFly Red/Black that followed were also great portable headphone amps. The new flagship of the DragonFly family is the DragonFly Cobalt, and it's another miniature sized winner.
This is one of the few truly portable headphone amps. No bigger than a USB thumb drive, you can simply plug this into the side of your laptop or your smartphone (using a relevant adapter) and dramatically boost audio quality.
Inside the tiny housing lies the new ESS ES9038Q2M DAC chip and ESS Sabre 9601 headphone amp. The result is high fidelity, high dynamic contrast and excellent signal-to-noise ratio. The 2.1 volt output makes it compatible with a wide range of headphones, including those low-efficiency models.
AudioQuest have purposefully limited Hi-res support to 24bi/96kHz PCM, making it a USB Class 1 device with the widest possible range of host device compatibility. It is also one of the few native MQA renderers, making it an incredibly versatile, plug and play headphone amp/DAC.
It might be tempting to jump to the conclusion that the DragonFly have had to compromise the sound performance in order to make it so small, but that's simply not the case. However, the DragonFly Cobalt isn't cheap, so it makes most sense for those who won't always be using their audiophile headphones in the same place.
3. iFi Micro iDSD Black Label
The best sounding desktop headphone amp with built-in DAC for the money
Type: Desktop Solid State
Built-in DAC: Yes
Output Impedance: <1Ω
Inputs: USB OTG, SPDIF optical, SPDIF coaxial
Outputs: 6.3mm (1/4 in) jack, 3.5mm (1/8 in) jack, RCA phono
Dimensions:

5 x 3 x 2 inches
iFi are a British audio technology company who have created many award-winning headphone amplifiers. The iFi Micro iDSD Black Label is their top-rated DAC amp, capable of producing some of the best sound you can find while simultaneously being transportable.
They don't call it the world's most powerful, battery powered DAC and headphone amp for a reason. Capable of producing a maximum output power of 10V/4000mW @ 16 Ohm, this compact headphone amp has absolutely no problem driving high impedance headphones like the Sennheiser HD-650 or HifiMan HE-6. Measurements and listening tests by AudioScienceReview were incredibly positive, earning it the highest possible recommendation.
Not only is the DAC inside the Micro iDSD Black Label very good, it can also perform native playback in DSD and MQA, which is often a feature missed by competition. Further factoring in its optional XBass+® and 3D+® 'sonic enhancements' to bass and spatiality, it's clear that this is a very feature-rich headphone amp that will immediately boost anyone's audio setup.
Few companies are as iconic as Chord, and the Chord Mojo is revered by many. It's footprint is barely the size of a pack of playing cards, but it still manages to produce sound you'd expect from a four-figure headphone amp
Chord are known for doing things differently. Unlike almost every other manufacturer who simply throw in off-the-shelf DACs coming from the likes of ESS or AKM, Chord do all FPGA programming in house.
With the DAC, analog stage and headphone amp working in tandem, we're left with sound packed with detail and a wide and clear soundstage. Particularly notable is the excellent instrument separation and natural sounding vocals that is often absent in its competition.
This isn't just a high-end portable DAC/headphone amp, it's a Chord DAC/headphone amp. Besides the amazing sound reproduction, you get its trademark quirky design and open up yourself to an ecosystem of accessories – for example the Chord Poly which transforms it into a fully fledged wireless music player.
If you don't feel a sense of connection with Chord's charm, rich history and peculiar style, the other options in this list represent better bang-for-buck, but there's unquestionably something special about this DAC/headphone amp.
5. FiiO Q5s
The best portable bluetooth headphone amp
Type: Portable Solid State
Built-in DAC: Yes
Output Impedance: <1Ω
Inputs: USB, optical, coaxial
Outputs: 3.5mm jack, 2.5mm balanced, 4.4mm balanced
Dimensions: 124 × 64 × 16 mm
The Q5s is one of FiiO's more expensive offerings and not exactly priced like their 'budget' headphone amps that made them famous, but it still offers excellent value for money thanks to an impressive list of features.
Its main selling point is its aptX Bluetooth that makes it an excellent portable headphone amp for your phone. Unlike the Chord Mojo or AudioQuest DragonFly, you don't need a cable running between the headphone amp and smartphone. Instead, you simply pair the two devices over bluetooth.
Streaming audio over Bluetooth limits you to lossy codecs, but when you're back home you can go wired and enjoy PCM 32bit/768kHz as well as native DSD512 audio.
This isn't the best sounding portable Bluetooth headphone amp for the money. The iFi xDSD takes that spot. But the FiiO Q5s gets many other things right. It's smaller, features a nice grip at the back and has a longer battery life. Plus, it's considerably cheaper. Overall, it's a very solid amp for those on the go.
6. Rupert Neve Designs RNHP Headphone Amplifier
The cleanest, most accurate standalone headphone amplifier for the money
Type: Desktop Solid State
Built-in DAC: No
Output Impedance: 0.08 Ω
Inputs: 3.5mm (1/8 in) jack, RCA phono, XLR & TSR balanced
Outputs: 6.3mm (1/4 in) jack
Dimensions: 6.5 x 4.6 x 1.9 inches
An electronics engineer behind some of the best recording equipment in history, Rupert Neve is a legendary name in audio. Rupert personally designed the RNHP alongside his team, and it truly is an engineering marvel.
Resembling something you'd find in a high school physics lab, you can bet this performs well in objective testing. It has precision in the name, and the amp really is one of the cleanest and most precise sounding ones out there. It is astonishingly clear across the entire spectrum of frequencies, meaning you can distinguish the subtle details in the high-mids amidst the thick and full low end.
This is a standalone headphone amp meaning you'll need a separate DAC. With 3 separate selectable inputs (balanced XLR, unbalanced RCA, and unbalanced 3.5 mm), it will easily fit into any audio setup and bring out the best in your headphones and DAC.
Overall, this is a fantastic ~$500 choice for your desktop. We'd consider the iFi Micro iDSD Black Label over it given its higher power output and the fact it has a solid DAC already built-in. However, provided you don't have an especially difficult to drive pair of headphones and own a nice DAC, sound doesn't get much better than this.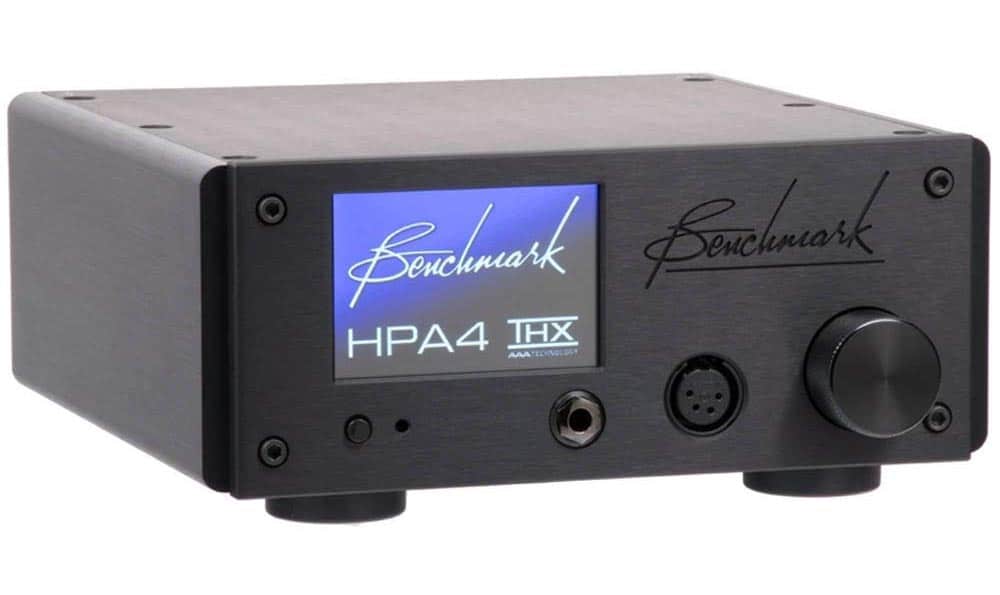 7. Benchmark HPA4
The best headphone amp… where money isn't a concern
Type: Desktop Solid State
Built-in DAC: No
Output Impedance: near 0Ω
Inputs: 2 x RCA phono, 2 x balanced stereo
Outputs: 1 x unbalanced stereo, 1 x balanced stereo, 1 x balanced mono
Dimensions: 8.65 x 3.88 x 8.33 inches
If price isn't an obstacle then it's difficult to find a headphone amp better than the Benchmark HPA4.
Based on the THX-888 amplifier design, this amplifier has it all. Clean power that doesn't distort at higher output levels, a bandwidth that extends from 0.01 Hz to over 500 kHz,fantastic dynamic range and perfect channel matching with low headphone output impedance.
Benchmark have used every trick in the book to deliver the cleanest headphone amp to the market. 4 independent 256-step attenuators, 64 precision relays and gold plated contacts throughout.
Capable of delivering 11.9 Vrms into 300 Ohms and 6 Watts into 16 Ohms, they've even implemented several protective systems to make sure all that power doesn't damage your headphones or the headphone amp itself.
There's no doubting that the HPA4 was made for a very small minority of audiophiles. Its price alone makes it inaccessible to many, and the audible difference between this and a good headphone amp costing a tenth of its price won't be huge. With all that said, it's nice to see a company like Benchmark pushing the boundaries.
Most headphone amplifiers are solid-state, but vacuum tube technology is also often used. Tube amps have characteristics such as more distortion and roll-off at the extreme frequencies. The result is a sound many people deem to be more organic and pleasing to the ears.
The Brave Audio V2 is a great way to get started with tube amplification. Every tube amp adds a different color to the sound, and the V2's stock Shuguang 12AU7 tube produces sound best described as soft and warm.
The exposed design lays bare the tube and surrounding engineering, which makes it all the more satisfying to look at while your headphones are plugged in. The blue which lights up the tube from below is also a nice touch.
This is a simple headphone amp with little more than RCA and headphone jack for inputs, a headphone out and gain control, but it makes for an interesting auditory experience without breaking the bank. While we would recommend the Schiit Magni Heresy for audiophiles on a tight budget, the Bravo V2 is a cheaper alternative which brings a unique set of characteristics.
With high-end tube amps costing four or five figures, it would be wrong to claim that the WA7 is the best tube headphone amp out there. But, for those of us don't want to take out a second mortgage, it doesn't get much better than the Woo Audio WA7 Fireflies.
If looks are important, you simply can't do much better than the WA7. An aluminium housing with absolutely no screws showing and glowing tubes that really do resemble fireflies, you'll spend more time focusing on its beauty than the music you're listening to.
This is a pure tube, class-A transformer coupled amp that features a built-in 24/384 ESS SABRE DAC. Its stock Electro Harmonix 6C45 tubes produce a warm, mellow sound with a less emphasized treble. If you want a more balanced sound, you can replace them with the Electro Harmonix Gold Pin tubes which might even be a bit too 'solid-state' for some.
With its stunning design, quality built-in DAC and tubes that pleasantly color the sound, the Woo Audio WA7 is the perfect gateway tube headphone amp that might end up turning you into a tube aficionado down the line.
Headphone Amp Buying FAQs
Do Standalone Headphone Amps Need An External DAC?
Technically speaking, no. You can connect a standalone headphone amp to your computer's sound card or smartphone's headphone jack. In this case, your computer or smartphone's built-in DAC will perform digital-to-analog conversion.
However, this is far from ideal for two reasons. First, if you're going to the effort of buying a headphone amp you'd want to be using a better DAC than the one built into your audio source. Second, your computer or smartphone is already performing amplification, so you end up boosting a noisier signal. (Note that some computer sound cards have a line out which bypasses the built-in amp. In this case, the second point does not apply).
Solid State Amps Vs Tube Amps
There are two types of amplifier, solid state and tube (a.k.a. valve amplifiers). Solid state amplifiers use semiconductor devices to amplify the signal, whereas valve amplifiers use light-bulb-like vacuum tubes. Some 'hybrid' amps (like the Brave Audio V2) use a combination of the two technologies.
Before the silicon transistor, tube amps were widespread. However, solid state amplifiers slowly replaced them in the 60s and 70s. They were cheaper to manufacturer, more reliable and produced less distortion. They could amplify the signal with better precision, accuracy and detail.
However, some of the most expensive amplifiers use vacuum tube technology. The reason is because tubes color the sound with unique characteristics. There is more roll-off at the highest and lowest frequencies, the sound can be mellow or harsh depending on the tube, etc. Many people find this colored sound to be more pleasing to the ear.
With guitar amps, valve amps are almost always considered superior. They give off that natural, beefy and distorted sound that solid state guitar amps actually try to replicate. But with headphone amps, there is no such consensus. Many people believe it is not a headphone amp's job to color the sound. Rather, they believe the amp should perfectly reproduce the sound which was already colored during recording and mastering.
Will The Headphone Amp Be Powerful Enough For My Headphones?
Many people get worked up over whether or not the headphone amp will be powerful enough to drive their headphones. In practice, most of these external headphone amps will be fine, especially at volume levels that won't cause hearing loss.
However, there are power-hungry headphones that really do need powerful amps. So, let's talk about which headphones fall into that category.
A common misconception is to simply assume high impedance headphones need more power. However, that's only half the equation. Alongside impedance, we also have to factor in sensitivity/efficiency. For example, the Hifiman HE-6 have an impedance of 50 Ohm, but their 83.5dB sensitivity puts them among the hardest to drive headphones.
To further complicate things, impedance ratings are not constant across the entire frequency range (for dynamic headphones). The 600 Ohm Beyerdynamic T1 can hit impedance spikes of 1400 Ohms, and are far more demanding than your average pair of 600 Ohm headphones.
The best thing to do is to do your own research around your own headphones. First find out whether they are considered to be notoriously hard to drive, and if so narrow down your search to the more powerful amps.
What Is Impedance Matching?
Impedance matching is making sure your headphone's impedance and your headphone amp's output impedance are compatible. Sound quality can suffer when the headphone amp's impedance approaches the impedance of your headphones.
The safest thing to do is to follow the 1/8th rule. This simply means your headphone amp's output impedance should be no higher than an eighth of your headphone's. For example, if your headphones are 32 Ohm, you don't want an amp with an impedance of greater than 4 Ohms.
Fortunately, most solid state amps are rated around 0-5 Ohms, which means you're unlikely to run into problems with impedance matching. With tube amps, however, you have to be more careful.
Are Desktop Amps Better Sounding Than Portable Amps?
Desktop amps are bigger, affording them more inputs and outputs, and typically more output power, since battery life and size is not a consideration. However, they don't necessarily sound better. A good portable headphone amp like the AudioQuest DragonFly Cobalt can sound better than a poor desktop amp, provided the headphones are not too power hungry.