It's impossible not to be blown away by how far PC and video games have come over the last few decades. But it's not just the graphics. The improvements to audio are just as important when it comes to creating the most immersive experience possible.
It's no secret that headphones are the way to go when it comes to games. When Mark Cerny unveiled the Tempest audio engine for the Playstation 5, he noted that headphones would be the optimal way to experience its revolutionary 3D audio.
But you can't just pick up any pair.
They need a wide frequency response to give explosions oomph and let wheelspins squeal. They need an open soundstage that captures the vastness of the dangerous lands you traverse. And they need accurate imaging to make sure you can trace the origin of each and every gunshot.
In this buying guide I'll be taking you through my personal recommendations for open-back headphones that will take your gaming to the next level. After that, I'll discuss the various considerations you need to make before making your purchase.
The Best Open Back Headphones and Headsets For Gaming
Narrowing my favorite open-back gaming headphones down to just five options was a seriously tricky process.
Big and small brands have released a number of quality headphones. Even when you only consider those coming from one audio manufacturer, there are often multiple headphone models worthy of a spot.
To make things digestible, I scored extra points for things like comfort and soundstage which make the biggest differences for gaming.
I also considered the fact that the extra detail provided by $4000 Focal Utopia headphones would be overkill for gamers. After all, game audio engineers still prioritize reducing file size and processing overhead.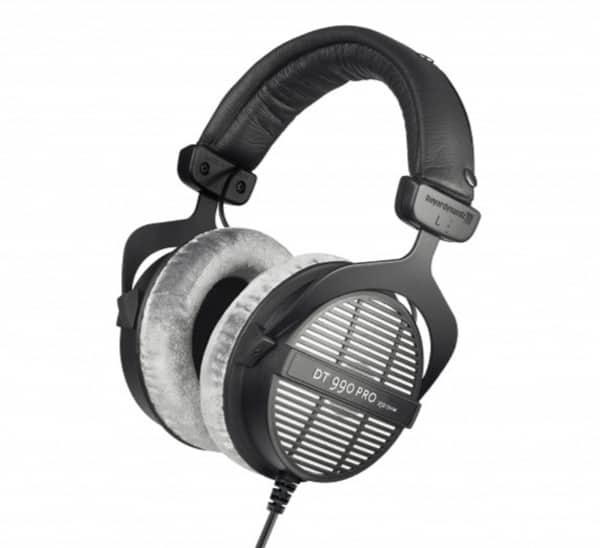 Best Overall: Beyerdynamic DT 990 PRO
German audio equipment manufacturer Beyerdynamic might not be a household name like Bose or Beats by Dre, but the rise of Fortnite superstar 'Ninja' put them on every gamer's radar.
The DT 990 Pros have been Ninja's headphones of choice since his humble beginnings. They may not have the cool name or LED lighting that you get with 'gamer' headphones, but they do a better job in almost every other aspect.
First, these headphones are very comfortable. The headphones have a lot of padding in the earcups, and the earcups don't squish your ears. Of course, they have an open back design, so your ears won't sweat.
In my opinion, most people will find these headphones comfortable, even during extended use.
Of course, it's the sound where Beyerdynamic did a really great job. Gaming headphones should have a very wide soundstage, and the DT 990 headphones do not disappoint in this respect.
Beyerdynamic headphones have a slightly bright sound signature, which is well-suited for cinematic and gaming audio. Mids and highs are crystal clear. There's also plenty of bass, though it doesn't have quite as much sub-bass extension as the more expensive Sennheiser HD650 (below). But in this price range, the sound quality is unmatched.
There's not much to fault with these headphones. The high quality polymer plastic construction is durable but lacks the touch of class metal can bring. The audio cable is hardwired to the earcup, but in fairness it's hard to find detachable cables without paying a lot more.
Positives
Incredibly comfortable padding. Perfect for longer gaming sessions.
Great audio reproduction with a wide sound stage.
On the affordable side of high quality open-backed headphones.
Negatives
Slightly tight on the head before they've been broken in.
Slightly peaky treble
Final Verdict
These headphones are my top choice for gaming. The quality you receive for the price is great. And most importantly, your ears won't hurt if you wear these for an all day gaming session.
These blow 'gaming' headsets like the Steelseries arctis or Razer Kraken out of the water in both build and sound quality. The cost difference isn't significant, so unless you need a microphone or don't want sound to leak, get these instead.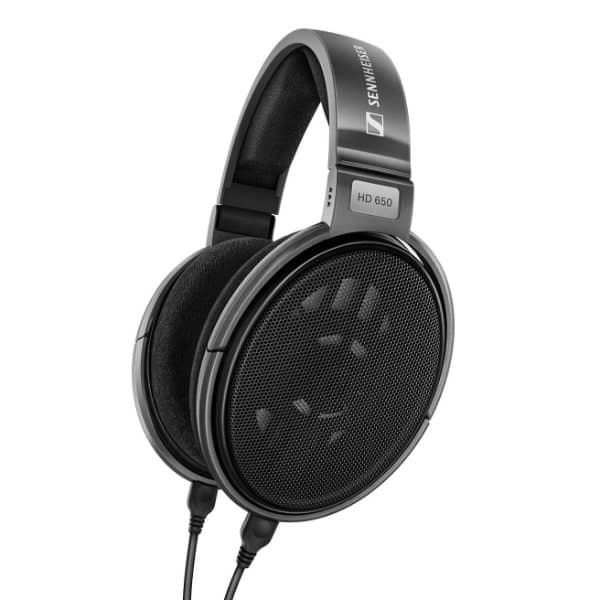 Audiophile Pick: Sennheiser HD 650
If you indulge in critical listening as well as gaming, you might want a slightly more natural tone that you get with these Sennheiser HD 650s. Few headphones can match the detail they provide, especially at its price.
Most of the detail comes from the aluminum response coils. Basically, these coils reduce the amount of harmonic distortion, so you hear sound almost exactly how it was produced in the studio.
The HD650s are known for their brilliant midrange that make them especially well suited for listening to classical scores and vocal-heavy tracks. The sound signature is more balanced than the DT990 Pros which are brighter.
The terrific midrange also works well in gaming. Common audio sources in gaming (background music, dialogue, team chat and most ambient SFX) belong in the mid-range, so you can really appreciate the extra detail these headphones provide.
These headphones also scale extremely well with the rest of your audio setup. If you run them through a premium DAC and clean headphone amp, you'll get an even better sound.
The build quality on the HD 650 is what you would expect from a pair of Sennheiser headphones. Sure, it is made from (high quality) plastic, but that just makes it lightweight at 0.57 pounds. The ear pads actually feel like soft velvet, so you don't have to worry about feeling like you have a rock pressing on your ears. Speaking of that, these headphones have plenty of adjustment room, which means you should never have to deal with the ear pads squeezing your ears.
These headphones do cost quite a bit of money. And for the majority of games which rely on heavy DSP for 3D audio, the difference compared to the DT 990 Pro might not justify the additional cost. However, if you also spend time listening to music, they might be worth considering.
Positives
Natural and detailed audio reproduction.
Incredible soundstage with great height, forward depth and layering.
The bass and treble compliment the mids – great for audiophiles! This also works great for gaming.
Comfortable and breathable, even after extended use.
Detachable cable
Negatives
High level of detail may go unappreciated when listening to heavily compressed game audio files.
Better paired with an external DAC to get the most from them.
Final Verdict
If you want the most accurate sound, then the HD 650 headphones are the way to go. In the HD650, Sennheiser developed something that saw audiophiles shelving their $500+ headphones. They're great for gaming, but the heavy audio compression used in most games means their superb detailing might not have a chance to shine.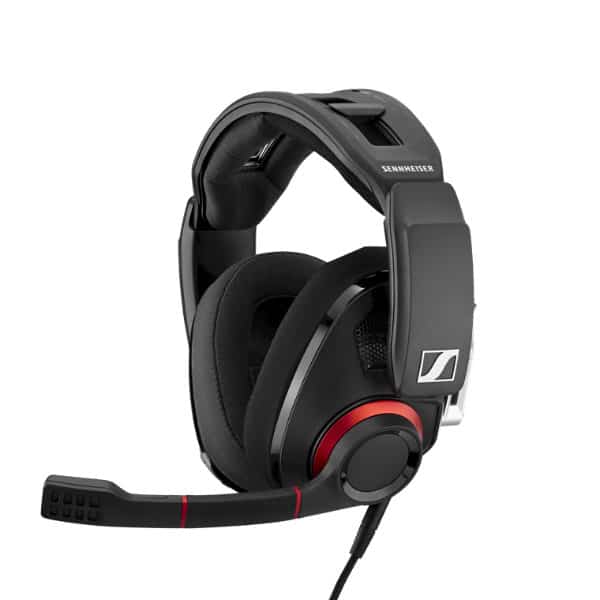 Headset With Mic: Sennheiser GSP 500
You very rarely see open back headphones featuring a microphone. The practicality of combining an open-back design with a microphone usually doesn't make sense. Sound leaking from each ear cup would be fed back into the microphone.
However, open back headphones have acoustic characteristics that make them better for delivering wide soundstages with superior spatial imaging.
This poses a problem. Many gamers want a wider soundstage but they also want a built-in mic.
Well, Sennheiser brought open-backed design to gaming headsets with the GSP 500. You need not worry about the leaking sound, because the headset mic has sophisticated noise cancelling technology that removes most external sound (breathing, outside noise). It also automatically mutes when flipped up, which is convenient.
As far as comfort goes, it's comfortable enough for long gaming sessions. The padding is thick and the earcups are huge. Your ears definitely won't feel like they're being crushed by these headphones. Sennheiser also made the cabling fully removable, so you don't need to worry about things getting too messy when you're not using them.
The most important part of headphones is how they sound, though. These headphones are Sennheiser's, so they have an expectedly balanced sound profile. The soundstage is definitely wider than the closed back GSP 300/GSP 350, making them better unless you're playing in noisy environments.
Positives
Open-backed headphones with built-in mic. Not many exist!
Noise cancelling microphone and auto-mute feature are convenient.
Thick padding, huge earcups, and plenty of room for adjustment make the GSP 500 great for long gaming sessions.
28ohm resistance, so you will not need a headphone amplifier.
Split 2x3.5-mm and standard 3.5-mm audio cables included for PC and console compatibility out of the box.
Negatives
Sound quality isn't as good as the similarly priced Beyerdynamic DT 990 Pro.
The noise cancelling feature will reduce your local range. This isn't a problem unless you plan on using the microphone for karaoke.
Final Verdict
If you like to talk while playing online games, then the GSP 500 headphones will work great for your needs. They work best for console gamers, who really benefit from a headset as using an external desktop mic is not really an option.
However, PC gamers will probably do better buying a standard pair of headphones and pairing them with a quality USB microphone.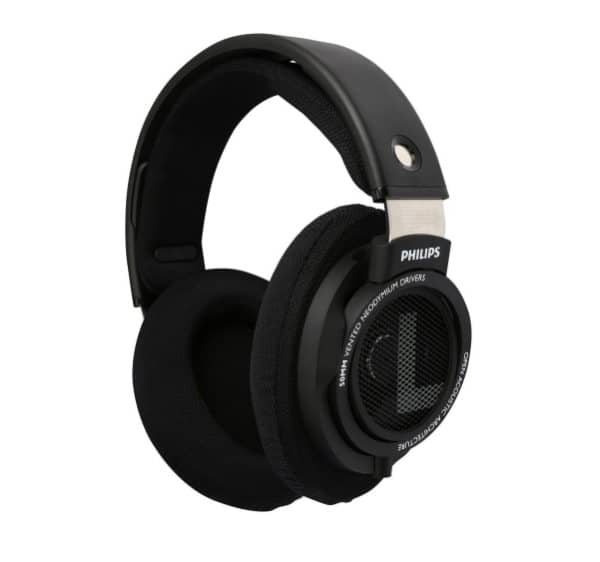 Budget Pick: Philips SHP9500
Philips might not be the sexiest name around, but the SHP9500s are a massively hyped pair of budget headphones that are widely considered a steal for the price.
I'll cover comfort first. The utilitarian design features a quality steel headband, which makes them a tad heavy at 10 ounces. Some may find the shallow ear cushions and low clamps a little uncomfortable, but overall they're well-built and okay for extended use.
The sound quality is excellent on these headphones. The mid and treble accuracy is top notch. The bass lacks the sub-bass extension you find on the DT990 and HD650, but still has a noticeable kick to it.
Positives
Very affordable
Good mid and treble accuracy
Strong and durable construction which belies its price
Negatives
Low end lacks the fullness you get with more expensive headphones.
Final Verdict
The Philips SHP9500 are the perfect stepping stone for those wanting to get into high-fidelity, open-back headphones.
I don't really have any complaints about these headphones, especially at the price. They're comfortable, have a good sound profile, plenty of clarity, and are very durable. Overall the sound quality isn't in the same league as a good pair from Beyerdynamic or Sennheiser, but they aren't far off.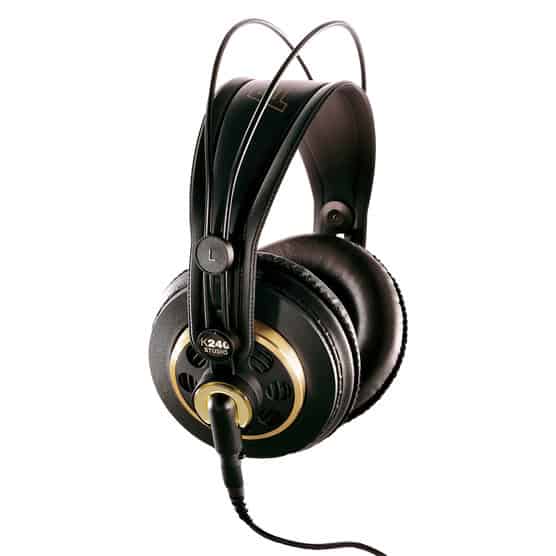 Semi-Open Back Headphones for Gaming: AKG K240 Studio
As you may know, open back headphones have one major disadvantage – they leak sound. Semi-open back headphones partially remedy this problem by having a partial plastic cover on the earcup. This doesn't prevent all sound leakage, but it does prevent some of it.
The K240's semi-open back design does reflect some of the sound waves within its cups. But not to the extent of fully closed back designs. As a result you get a more open soundstage and a more natural sound than closed-back headphones.
While the sound quality is good, it lacks the punch and dynamic range you get from the other headphones in this list. Everything ends up sounding quite soft, which means you won't be jumping out of your chair when you play the next Resident Evil.
The leather earcups and headband pad are quite thin, but still super comfy. The semi-open back design is very breathable, too.
These headphones also have a fairly advanced headband adjustment mechanism. This means you don't have to adjust them yourself. They will fit themselves when you put them on your head. It's neat but also feels over-engineered; and all those moving parts make things easier to break.
It's also worth noting that the high efficiency and sensitivity of these cans means you won't need a headphone amp.
Positives
Affordable headphones with a semi-open back design.
The spring adjustment is very convenient.
The leather headband and earcups are very comfortable.
Negatives
Everything sounds quite soft, lacks dynamic range
Final Verdict
If you want to get some of the benefits of open-back cups, but also want some sound isolation, the AKG K240 Studio are the headphones for you. Just don't expect them to pack the same punch that some other headphones do.

Open Back Gaming Headphones: Buying Guide
Audio equipment is rife with specialized terminology such as frequency response, soundstage and sound profile. Everything can be rather confusing for those just looking to get a new pair of headphones.
However, equipping yourself with some basic knowledge can go a long way. To get the perfect headphones for your gaming needs, you should at least know about the key things to look out for.
Soundstage
The soundstage is, in my opinion, the most important factor in a pair of gaming headphones.
A soundstage is an imaginary three-dimensional space created by the high-fidelity reproduction of sound. A wide and open soundstage means you can feel that different sounds are coming from different locations. This could be to your sides, above and below and close or far away.
For obvious reasons, having this notion of locality is important in gaming. In competitive FPS, it can even have some advantages, like being able to determine where the footsteps are coming from.
Open-back headphones are naturally better at creating bigger soundstages than closed-back headphones. So by going down this route, you're already off to a good start.
Sound Profile
Sound profile is an important factor in choosing your headphones. It describes how the headphones emphasize certain frequency ranges.
There are various types of sound profile:
Flat: This is the most neutral sound profile. Treble, Mids and Bass are true to source.
Balanced: The treble, mid and bass and slightly tweaked in a balanced manner to make the audio more pleasurable to listen to.
Bright: The treble and mids are boosted for a 'brighter' sound.
Bassy: The bass is cranked up for a more noticeable low end.
V-shaped: The treble and bass are artificially increased so everything sounds more exciting.
In gaming you'll typically want to stick with balanced or bright headphones. Bright headphones are great for cinematic and gaming audio, where dialogue and crashing sounds are common.
Comfort
Gamers generally don't game for short amounts of time. In my experience, gamers will often not leave their chair for hours at a time. This means they need headphones that are comfortable for extended periods.
Generally, the best way to determine headphone comfort is to look at the features of the headphones.
Comfortable headphones are highly adjustable, are lightweight, and have lots of padding on the earcups and headband. Most of them should have plenty of room for your ears, too. But you will have to check out the reviews to determine that. Keep in mind that comfort is subjective. If you have bigger ears or a big head, you will have a harder time finding comfortable headphones.
Open-back vs Closed-back
From a gamer's perspective, are open-back headphones the way to go?
The answer to that is quite subjective, but many believe they are.
Since you're gaming at home, it's unlikely you need to worry about sound leaking and disturbing others. You also don't need to isolate yourself from outside noise, provided that your room is a quiet place.
Given that open-back headphones have a more natural soundstage and generally sound better, it just makes a lot more sense to go with them.
Learn more about the differences between open-back and closed-back headphones.
Open Back Gaming Headphones: Frequently Asked Questions (FAQ)
Will sound leak out or into open back headphones?
Yes. Sound will leak out of these headphones. In my experience, you can use these kind of headphones at 50% volume without an offensive amount of sound leaking out.
You will also have to deal with background noise leaking in, because their open nature lacks noise isolation.
For those reasons, I only recommend them if you have a quiet place to game.
Do I need an amp for these gaming headphones?
If the impedance (measured in ohms) of the headphones is above 32 ohms, then you will begin to benefit from an amp.
An amp isn't strictly necessary in most cases. However, hard-to-drive headphones will benefit immensely from having a headphone amp.
Go ahead and check out my headphone amp buying guide if you want to learn more about them.
Are audiophile gaming headphones worth it?
In my opinion, yes. You will literally hear sounds that you didn't hear with lower quality headphones. And the sounds you did hear will sound so much better with higher quality headphones. Plus, they will be much more comfortable to wear.
What makes open back headphones so special?
Because they don't have a plastic exterior on the earcup, sound does not reverberate in them. As a result you get acoustic qualities which are widely-regarded as superior.
As for comfort, they are breathable, which means things won't feel clammy. The only real downside is that sound leaks in and sounds leaks out.
What about Surround Sound?
You don't really find open-backs with true surround sound, which would require several discrete speakers within each ear cup. That's because these type of headphone are traditionally aimed towards listening to music.
Even most gaming headsets only give you virtual surround sound, with some exceptions like the Asus Strix 7.1 gaming headset which has 10 discrete neodymium-magnet drivers.
Do I need to upgrade my audio card?
If you buy budget headphones, then you shouldn't need to update your audio card. Integrated sound cards have come a long way from where they were just 10 years ago.
However, if you purchase high fidelity headphones, then you will really want to consider investing in a better internal sound card.
The other option is to run everything through an external USB DAC and headphone amp. This is the more popular way of doing things these days.
Are there any wireless options?
You won't really find any wireless open headphones (Wifi or Bluetooth), because wireless signals generally suffer from a loss in audio quality. However, you can pick up a wireless headset, like the HyperX Cloud II Wireless or Steelseries Arctis 9X, if you really need it.
Will better headphones make me more competitive?
Possibly.
Improved imaging can potentially mean you can better locate those approaching footsteps or make out otherwise unheard audio cues.
A lot of this depends on a game's sound design. Games with excellent sound design (such as Rainbow Six: Siege) make it possible to infer more information via sound.
Of course, the sound does not play a critical role in a lot of competitive genres. MOBAs and fighting games are obvious examples. But it's still nice when everything sounds better!
Final Thoughts
Hopefully this buying guide has equipped you with some basic knowledge about picking the right headphones for gaming.
The headphones recommended in this guide are my personal recommendations. There are plenty of other headphones worth considering.
If you have any questions or feedback, please leave a comment below and I'll get back to you as soon as possible!