The biggest draw for active speakers has always been their ease of use. You don't need to worry about how the amp and speakers wire together, nor do you have to worry about fine tuning them to sound good together. The Fluance Ai40 is one of the very few active speakers in its price bracket that sounds as good as it does. Those looking for an affordable all-in-one audio system won't find much better than the Fluance Ai40.
No products found.
Design
Available in Black Ash, Lucky Bamboo and Walnut, the Ai40s will be easy to fit into any decor. The MDF (medium density fibreboard) enclosure feels solid, unlike the many plastic alternatives you'll find for under $200. The grille-free cabinets make sure you can see the attractive 5-inch woven glass woofer and 1-inch silk soft dome tweeter in all their glory.
The right speaker is the active speaker, containing the 2x35W class-D amplifier. It powers the passive left speaker over speaker cable that will be connected to the high-quality gold-plated binding posts on either speaker.

Connectivity
For connectivity, the Fluance Ai40 doesn't offer a great number of options, but offers enough for what you'd expect the vast majority of people investing in an affordable pair of all-in-one speakers would probably end up using.
The RCA inputs, along with the included RCA to 3.5mm cable, make it easy to connect to a variety of audio sources like computers, turntables and CD players.
Meanwhile, the Ai40 also features bluetooth connectivity with aptX support. The aptX support means you can wirelessly stream music at a higher bitrate than bluetooth 4.0 or older standards, effectively giving you CD-like quality.
The Ai40 lacks any optical inputs, which are useful when connecting directly to TVs. These are rarely present on speakers on speakers within this budget, but would have been a nice addition for an all-in-one pair of speakers. The bigger Fluance Ai60, on the other hand, does feature a digital input.
There is also no subwoofer out, meaning connecting a subwoofer will be quite complicated and depend on the rest of your audio setup. These speakers do sound very good on their own though, so a subwoofer is unnecessary.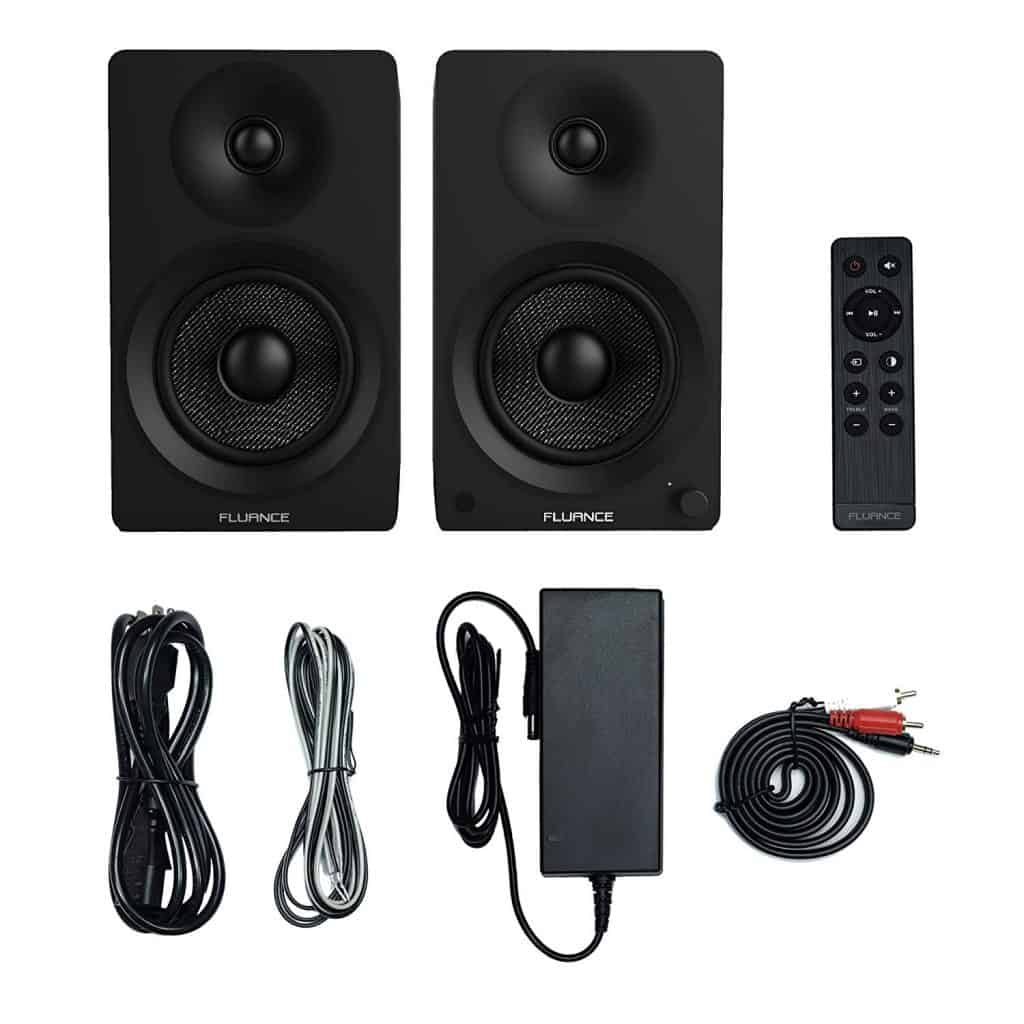 Controlling the Fluance Ai40
On the front of the right speaker is a volume control knob. This multi-purpose knob can also be pressed to control the input options and power the system off.
The Fluance Ai40 also comes boxed with a remote control that can send commands to the speakers which feature an IR window. This can be used to adjust the volume, mute the system, switch inputs and control playback. It also lets you adjust the bass and treble EQ.
An indicator light makes it easy to identify what input it is currently using as its source. Yellow for RCA, blue for bluetooth. It also turns red as it powers off.
Performance
The Fluance Ai40 impressed me with its sound quality, especially given its price. For under $200, I would typically expect active bookshelf speakers to sound too bright or otherwise muddy. Yet with the Fluance Ai40 I was met with a wide soundstage, detailed midrange reproduction and a good amount of depth.
The tonal balance is nice and neutral. Sometimes it felt like the treble missed a bit of bite (especially after 10kHz). Meanwhile, while the deeper bass was present and controlled, wasn't amazing. But then again, that would be expecting a tad too much from a $200 powered speaker package.
Verdict
Overall the Fluance Ai40 is an excellent option for those looking for an affordable pair of bookshelf speakers. Its main strength is its excellent sound quality for the price, which, let's be honest, is what speakers are for. I wouldn't hesitate to recommend these to people looking for a cheaper and simple audio setup.
It is currently my top recommendation for a pair of powered speakers in this price range.
Pros
Ease of setup
Excellent sound quality for the price
aptX support
Cons
Limited connectivity (no subwoofer out or digital inputs
Rating: 9/10