The EHP-O2D combines the award winning headphone amplification technology of the EHP-O2 and the critically acclaimed 24 Bit USB DAC from the E-DAC in one small desktop enclosure – perfect for your home head-fi needs.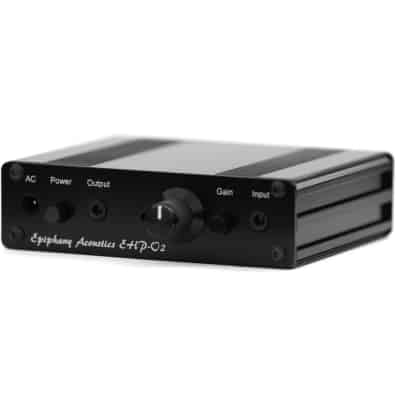 Taking the bit perfect digital output from USB or an analogue signal from your media player, the EHP-O2D offers premium quality and flexibility in a home environment.
The headphone amplifier section has been designed from the ground up to offer some of the best, if not the best, specifications and hi-fi functionality on the market today. This has been accomplished by months of development using top of the range audio testing equipment to fine tune and carefully select the most optimum design, layout and components. The specifications achieved speak for themselves. It is powered by the included AC adapter suitable for your region.
The DAC module is designed according to the same principles as the award EHP-O2 portable headphone amplifier and sports equally stunning performance.
This high end DAC is based on the TE7022L UAC1 engine and ES9023 24 bit DAC chip. It supports 16 bit and 24 bit at sample rates of 44.1kHz, 48kHz and 96kHz. The on-board filtered power supply ensures that noise is practically non-existent. The DAC is not clocked by the USB port/computer, instead using a high quality on board crystal controlled oscillator which further improves overall performance. The input signal and power is supplied via the USB input on the rear of the unit.
3.5mm headphone output
USB digital input
3.5mm analogue input – doubles as the DAC analogue line out, allowing you to connect the DAC output to an external amplifier
Plug 'n' Play – works straight from USB without any additional drivers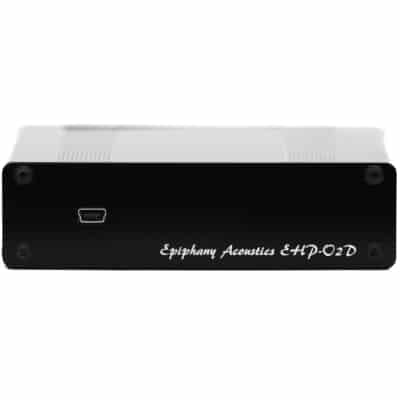 Technical Specifications (Headphone Amplifier):
THD @ 1kHz: 0.0017%
Noise level (ref 400mV): -105dB
Power output @ 33Ω : 641mW
Crosstalk: 65dB
Channel balance: 0.6dB
Output impedance: 0.5 Ohms
Dimensions (W x H x L): 108.5mm x 30mm x 82mm
Gain: 1x and 5x
Technical Specification (DAC):
Distortion: <0.005%
Dynamic range: >110dB A-Weighted
Audio formats: 44.1kHz, 48kHz & 96kHz @ both 16 bit and 24 bit
Interface: USB Audio Class 1
Computer compatibility: Windows, Mac, Linux
Line output: 2Vrms
What's in the box?
EHP-O2D desktop headphone amplifier/DAC
EHP-O2D instruction leaflet
AC adapter suitable for your region (UK, EU or US)
1m USB A to USB Mini cable
1.2m mini jack interconnect
4 self adhesive rubber feet
Noble Hi-Fi Review
"I am not going to do the usual comparisons here because I can sum it up much more easily, it beats everything else that I have tested here hands down."
Totally Dubbed Review
Chris at Totally Dubbed reviewed the EHP-O2D and awarded it 10/10 in all areas, including audio quality, build quality and value – something we are proud to say has never before achieved in a Totally Dubbed review. You can read the full review by clicking on the link above.